We feel that Hamburg's main focus on Techno has been opening up and that more genres are getting acknowledged.
There is something about Germany that makes you think of contemporary art, music and clubbing the very moment someone mentions it (yes we are a music-wired crowd). Berlin, Hamburg, and Munich are known for their techno-focused scene, and as the BPM rises across the country, we are taking time to shed some light on other genres and promoters that push the industry forward.
In our new interview, we had the pleasure to chat with the team behind Hamburg's Come & Groove, a music collective that offers a carefully curated selection of genres ranging from House, UK Funk, and Disco, to R&B, Hip-Hop, Afrobeats, or Amapiano. Come & Groove is dedicated to opening new spaces for music enthusiasts and party lovers to share their creativity and joy of life. Not only that, but they are also proud to provide a platform for local artists who have struggled in recent years to gain national recognition!
The freedom and creativity of the DJs are of the utmost importance in this concept that also places great emphasis on flexibility and diversity, with events taking place at various locations to cater to the diverse community that continues to evolve from event to event.
In the midst of Hamburg's nightlife scene, Come & Groove recognizes the need for a fresh perspective and is determined to bring change. Join us as we delve deeper into Come &Groove's team vision and how they plan to shape the future of music and nightlife in Hamburg!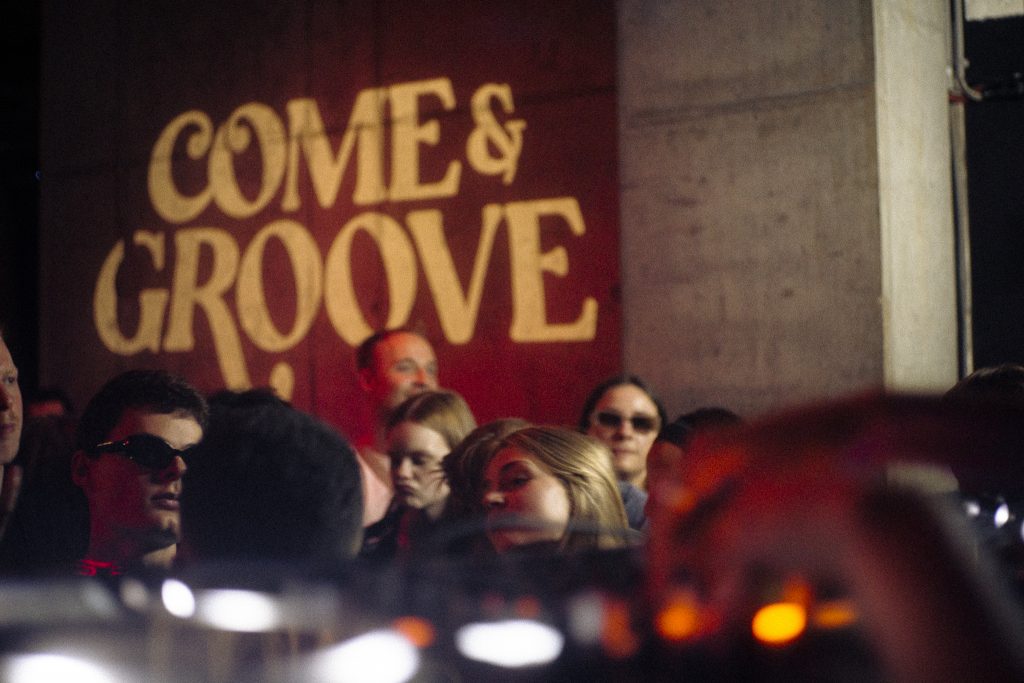 How it all started – can you describe your motivation behind starting Come & Groove, the team, the story, and the big idea? How many people are working on a project and how do they contribute to it?
Come & Groove came to life in October 2021 when there was still a soft lockdown in place. Clubs weren't allowed to open yet, but private events were allowed, so we gathered our friends that we missed so badly in these trying times. We had to wait until April 2022 to do it again so we had time to think about what we want to do differently.
The idea of Come & Groove has been in our heads for quite some time. We wanted to bring people together, people who might not meet each other in a conventional nightlife setting. Most events cater to a single genre and often that makes sense, but it can also be boring. Hip-Hop fans go to Hip-Hop events and House fans to House events. Why not bring them together and create something new? We also found that most of our guests really dug the music they were not actively coming for.
The founding team consists of Carl, Chris, and Lorenzo who are the main organizers of the events.
Chris and Lorenzo are also playing at the events as Piano Riffs. The team has grown with Malcolm, who's our main photographer. Philip supports him when necessary, but he is mainly responsible for the creative direction. The newest member is Val. She's been one of our first and biggest supporters and is now producing reels and other content for social media. Depending on the events, we sometimes need more hands and have plenty of friends who support us regularly.

Looking back on 2022 – what were the big wins, and big challenges?
The biggest win definitely was seeing our community grow and how fast we've been accepted as an event series in Hamburg. The people that come to our events have understood what we are aiming for, and a lot of them have been supporting us from the very start. This doesn't fail to amaze us, but it hasn't always been easy. A lot of people were sceptical, telling us that an event with mixed genres isn't going to work – but it did. We were learning things on the fly and all of us had their obligations in their day-to-day lives. We had an event every month – sometimes even two – and never really got to relax in between. Especially as things go wrong sometimes. Our first Open-Air was exceptionally stressful. We were planning on having 4 acts that day. In the end, 2 DJs got COVID and another was so delayed that he missed his slot. We managed to find new DJs just two days beforehand and covered the slot of the third DJ ourselves. At least the weather was on our side, which isn't always the case in Hamburg.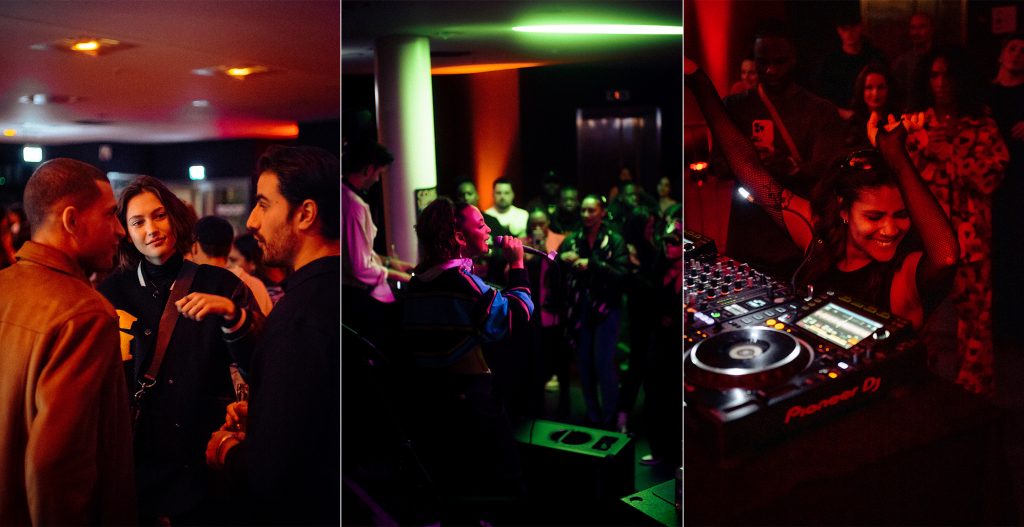 How was your experience with organizing events at different locations and the importance of this flexibility?
It is nice to know what to expect of an event, but we think that hosting your event in the same location every time takes away a lot of the fun. Obviously, having changing locations makes planning a little more complicated as you have new people that are responsible, and everyone works differently. Everybody who does events knows that you're always a little anxious before the event starts. You never really know what's about to happen. But seeing our events be successful in different settings shows us that we're onto something, something that works independently from the venues we use.
What was the best and most significant event last year for your team? Why? Any particular artists you can highlight?
The first Get-Together at the Roof-Location was a very special night. It was the biggest event we've had so far. With Melissa Audrey, Lou and Claire we had three fantastic Soul/R&B singers that immediately got people in the right mood. R Double S took over with an unforgettable Amapiano set and even joined the dancers in front of the stage.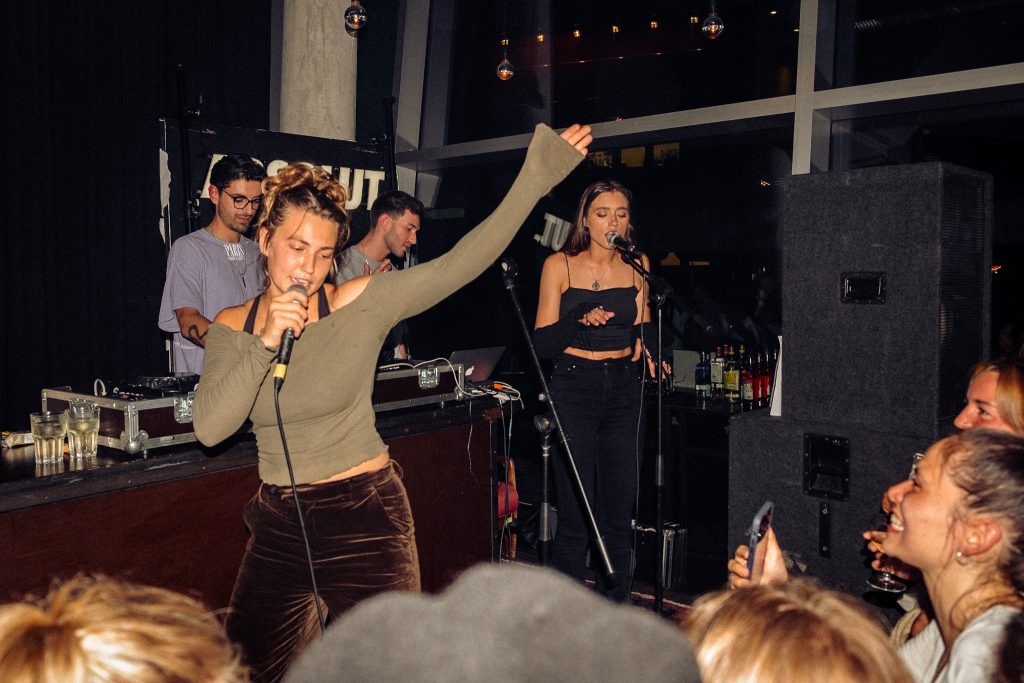 We've always had a focus on locals, since we know how tough it is to get your career going in Hamburg.
As a platform for emerging and local artists, how do you see the progress that has been made so far? What are the challenges still? What are the bigger plans?
We've always had a focus on locals, since we know how tough it is to get your career going in Hamburg. Due to us not being focused on one genre, we were able to give many people their deserved chance. Some had their first regular gigs with us, others were singing in front of a crowd like ours for the first time. The gratefulness of these people is amazing, and it is very interesting to see how they grow. They always bring their supportive friends, which makes the night special for everyone. The most interesting one for us to watch has been Shimmy Robin. She's a good friend of ours and after having her first gig at our event she has been taking Hamburg by storm. We're very proud of everyone who has joined us so far and feel an ongoing connection to the artists.
We're planning bigger and more international bookings in the future, which could boost some locals, but want to keep the vibe as it is.
Namedrop some best of the best, so our we check them out.
Definitely Shimmy Robin, R Double S and Jada!
What are the 3 things that you have learned as a team, event organizers and movement ideators?
How to work together and find solutions even in the most stressful situations. We had some arguments but always managed to find common ground and emerge from conflicts with a new sense of focus.
The way we tackle problems has changed a lot and we realized that we have to delegate some tasks to other people who might be better at certain things. The most important change has been planning ahead. Last year, we were planning from month to month, just because it developed that way and we wanted to realize our ideas immediately. But it took a toll on all of us, and this year feels a lot better, having the events lined up for the next few months already.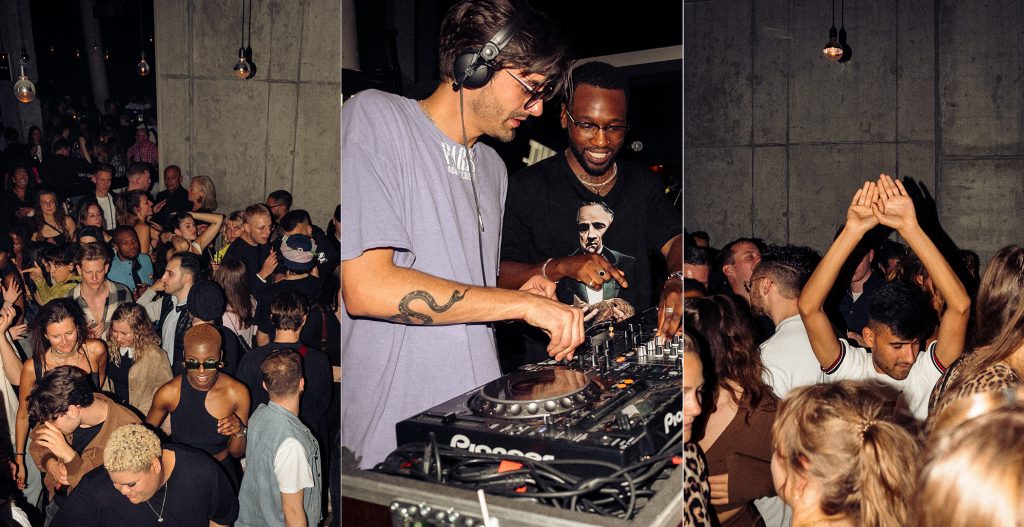 Get Togethers, Afterwork Sessions, Open Airs – how many locations and concepts are you planning to do this year? How will Come & Groove 2023 be evolving?
We have planned 6 different concepts as of now, but you never know how things might develop. Some are new, some are coming back. Stay tuned!

Hamburg and its nightlife and local scene evolution – give us a bit of a vision of the city's scene in the upcoming year(s)?
Hamburg's nightlife had become a bit stale even before the pandemic. There were only a few events and even fewer clubs that you could reliably go to.
We started C&G after the restrictions had been lifted and saw a lot of good and interesting events pop up around the same time. It felt as if it was the right time for a change and people were willing to try out what they'd been dreaming of. It is amazing to see them succeed, and we feel welcomed as an event series in Hamburg by people who have been doing events for quite some time. We connected with a lot of people last year. We're looking into possible collaborations to make even wilder dreams come true. Generally speaking, we feel that Hamburg's main focus on Techno has been opening up and that more genres are getting acknowledged.
If you could throw Come & Groove anywhere in the world, where would it be?
It's not so much about the place as it is about the people who come. But if we could take our community with us, we would love to have a crazy view. Maybe on top of a mountain somewhere in Brazil or at a rooftop party in New York.

If after reading this interview you haven't felt like attending the next Come&Groove event… Come back and read it again because this Hamburg reference has a lot to offer you! Follow them on social media so you don't miss a single detail of what's to come.
2