The history of the city of Berlin has a lot to do with its current status as the world's leading clubbing destination. Back in 1989, after the fall of the Wall and the reunification of Germany, Berlin's nightlife scene exploded, and completely transformed the city into a place that longed for freedom, lust, and rebellion after so much hard times.
Ever since then, the German capital evolved into the cultural and artistic center of Europe, and later on, clubs such as Tresor, Berghain, and Watergate gained worldwide fame for their music programming and aesthetics.
Today, Berlin's nightlife and culture remains one of the most vibrant and diverse in the world, with a wide variety of clubs, bars, and music venues that tourists and locals frequent every week non-stop. The city's rich history and culture continue to inspire new generations of artists, musicians, and partygoers, ensuring that Berlin's nightlife will remain a vital part of the city's identity for years to come!


Berghain – The holy techno temple where memories last a lifetime.  

 
Why you should go: The legend, the icon, the once-in-a-life-time must. Every raver around the globe knows about Berghain! The unique and world-renowned club attracts partygoers from all over the world. and has a reputation for its incredible sound system, legendary DJ sets, and wild parties that last well into the next day. If you're a techno lover, then Berghain is a must-visit destination.
Atmosphere: The vibes at Berghain are unmatched, dark, industrial and overall, mysterious.  The club is housed in a former power station and features concrete walls, steel pillars, and minimal lighting, which creates an intense and almost surreal atmosphere. The dress code is also notoriously strict, with the bouncers known to be very selective, which adds to the exclusivity of the club.
Music:  The club features two dance floors, Berghain and Panorama Bar, each with its own unique sound and atmosphere. Berghain is more intense and hard-hitting, while Panorama Bar is more melodic and house-oriented. The club has featured some of the world's most famous DJs, such as Ben Klock, Marcel Dettmann, Rødhåd, DVS1 or Freddy K.
Recommendations: If you want to experience the real deal and peak-time craziness with locals and regulars, go on a Sunday! Also, the club is notorious for its long queues, which can last for several hours mostly on Saturdays and late Sundays… so it's best to arrive early. And don't take photos/videos!
Prices: The prices at Berghain are usually around 25€ for a Klubnacht (Saturday/Sunday). Friday night events are cheaper, usually around 18€.
Sisyphos
–
The party paradise where every night feels like a never-ending journey of music, art and freedom

Why you should go: Festival, club? Sisyphos has the best of both worlds! This venue is famous for its distinctive vibes that are unlike any other club in Berlin. It is located in an industrial area and boasts a sprawling outdoor space that features a beach, a garden and a lake. Inside, you'll find multiple dance floors, each with its own vibe, as well as art installations, performance spaces, and a labyrinthine network of tunnels and rooms to explore.
Atmosphere: The vibe at Sisyphos is welcoming and inclusive, so don't hesitate to strike up a conversation with fellow club-goers
Music: The music at Sisyphos is top-notch, with a focus on techno, house, and electronic music. The club regularly hosts both international and local DJs, and there's always something new and exciting to discover. The sound systems are impressive, and the music is loud and immersive.
Recommendations: Be sure to check out the outdoor area during the summer months when the weather is nice, and don't be afraid to explore the various rooms and tunnels inside the club. Again…no videos/photos!
Prices: The prices at Sisyphos are around 30 € for normal all-weekend parties. The club is cash-only, so make sure you bring enough with you to cover your expenses for the night.
RSO BERLIN – Experience the underground sound at RSO, where the music is as raw and real as the people who come to dance

Why you should go: RSO.Berlin is a great club to experience the local Berlin nightlife scene. The club has a reputation for hosting both local and international DJs, providing a diverse range of electronic music. With a capacity of only 200 people, RSO.Berlin offers an intimate and immersive experience, perfect for anyone looking for a night of dancing and socializing. A great backup when Berghain is crowded!
Atmosphere: Engaging and welcoming, with its main focus on the music and the people. If you're looking for a place to experience the pure clubber feeling, you'll love RSO.
Music: The finest techno, with variants such as groove or hard as its main attraction. RSO has hosted epic raving nights featuring DJs such as Paula Temple, SNTS, Ellen Allien…and even a 65h festival within its walls!
Recommendations:  Check the club's website or social media for upcoming events and DJs to ensure you have the best night possible!
Prices: Their prices depend on the night. On any given Saturday you can get in for around 16€, but on a big night tickets can cost up to 30€. Unlike most other clubs they offer pre-sale tickets online which increase in price for different rounds!
Heidegluhen – Get lost in the heat of the rave at one of Berlin's most secretive places!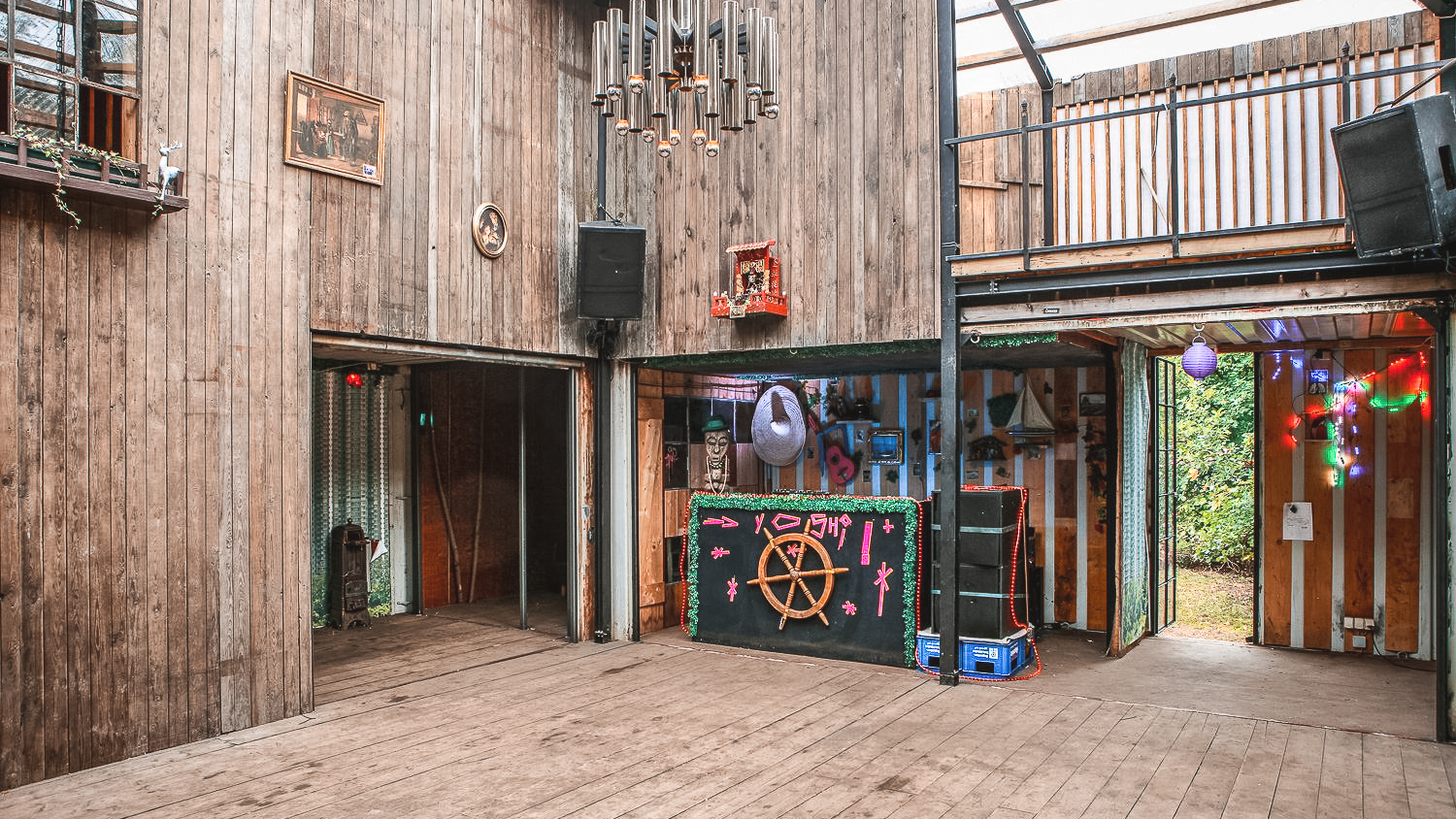 Why you should go: The essence of the Berlin dream lies in the mystery and the underground sound. All of the above and much more is what you will see reflected in the Heideglühen events. This venue, although far from the big names of the Berlin scene, is one of the most interesting options in the city. 
It is located right next to the great river Spree and it has open-air vibes, with one big floor with a glass ceiling and a big balcony, and a smaller outdoor floor that is open mostly during summer! At Heideglühen, they are quite careful to protect the vibe and want the crowd to stay local and special (which it is). They don't advertise online and you can only see events and line-ups via a newsletter.
Atmosphere: Friendly, open, free!  There is an overall good mood that will keep you going all night long!  Heideglühen is an ideal location to socialize and connect with individuals who you might even run into again and recognize later on. This venue is made to make you feel included in a huge family!
Music: Their house-centric music selection stands up to the typical Berlin techno that we are starting to "burn" so much on social media.
Recommendations: Come on a sunny Saturday morning to enjoy the peaceful vibes all day long!
OHM – Let the music pulse through your veins in the heart of Berlin!

Why you should go: In the case of this club it could be said that the pupil has surpassed the master. In the depths of the famous Tresor, hides an amazing more intimate experience with just one dancefloor and, according to those who've raved there, one of the best sound systems in Berlin. OHM earned its own spot on the list.
Atmosphere: In this space next door to Tresor, the interior is mainly tiled walls with exposed brickwork and piping and wooden blocks around the edge acting as seating. The definitive cozy clubbing experience!
Music: Experimental, acid, rave…The types of techno you can find in OHM are almost infinite with rising names such as DJ Gigola or Grace Dahl on their line ups.
Recommendations: Be prepared for a night all about music, as the club is very small and doesn't really have any chill-out areas. The only bar is right next to the dance floor!
Prices: The tickets at OHM are usually around 15€
Kit Kat –  Embrace your wild side at the most provocative and unforgettable club experience.

Why you should go: If you expect to find a regular clubbing experience, keep waiting. The focus at KitKat is totally different from other clubs in Berlin, as dancing takes second place and sexuality, nudity and fetish are in the spotlight. The venue is really unique and worth seeing just by itself, with a pool inside and very suggestive painted walls!
Atmosphere: The atmosphere at KitKat is perfect for getting to know yourself and exploring literally all your senses and limits. Chances are that if you're used to clubbing in Western and Southern Europe, your vision of the scene will broaden after a visit to KitKat.
Music: A bit of everything within techno, from mainstream to the more trancey tunes of the scene. 
Recommendations: The dress code is definitely something to take into consideration. Make sure to wear your kinkiest & sexiest outfit! Or wear…nothing at all?
Prices:
Anomalie Art Club – Where music and art collide in a stunning display.

Why you should go: If you're someone who enjoys the artistic and creative side of the scene as much as fast beats, make a note of Anomalie. This club is a great option for those looking for an alternative, as it also hosts other disciplines such as fashion, photography, tattooing and performances on its 'Anomalie Art Point Markets'.
Atmosphere: Arty, with an industrial-style interior and a large dance floor where you'll be able to let yourself go until dawn.  
Music: For those who are already in the "next" wave of techno, Anomalie's music and crowd may be too "mainstream", as it focuses mainly on hard techno. Also, the club has also hosted some interesting events, such as an official Boiler Room or Exhale, Gegen and Hex showcases!
Recommendations: If you are an artist, this might be a place where you can also network, who knows?
Prices: The club's entry fees and drink prices can vary depending on the night and event. Generally, the club's prices are moderate and reasonable compared to other nightlife spots in Berlin, with general admission for 13€ and final releases for 15€.
Tresor – Discover the legendary techno beats that have been pulsing through Berlin for over 30 years.

Why you should go: In the Mitte district of Berlin there is one of the most popular destinations for electronic music enthusiasts and clubbers from around the world. The iconic Tresor is a must-visit, a representation of Berlin's spirit, and as everyone thinks that…The crowd gets extremely touristy sometimes! Logically, the reputation of this venue is impeccable as it has hosted and still hosts some of the most wanted DJs in the scene. 
Atmosphere: The vibes are industrial and raw…Some say that the lighting on the dancefloor is very intense and it might be difficult to connect with people. But you can always exchange vibes in Globus, its second room!
Music: Tresor is obviously known for its sublime techno with resident DJs and guest performers from all over the world. Check their label where you'll find everything from emerging artists to established legends who have played in the booth!
Recommendations: Arrive early to avoid long lines…But you'll most likely have to wait anyway. And don't forget to wear black!
Watergate – Take a dive into the deep end of Berlin's nightlife scene!

Why you should go: Watergate is a great destination for electronic music lovers who want to experience a vibrant and trendy clubbing scene in Berlin, but again…This venue might be too touristy (as everything nowadays). It is also known for its stunning views of the Spree River and the city's skyline.
Atmosphere: The club's vibes are modern, with a focus on the music, lightning and visual effects. It features two dancefloors (the Mainfloor and the Waterfloor), a bar, and a terrace overlooking the river, which creates its own unique atmosphere!
Music: Solomun, Anna, Carl Cox, Paul Kalkbrenner…and the list goes on! The line-ups that Watergate manages to gather are truly impressive!
Recommendations: Be at least 21 years old or at least look like it and don't try to get in during the busiest hours! The door-policy is not one of the most strict in the city but still it can be tricky to get in!
Prices: No Pre-Sale! Tickets only at the door.

Æeden – Lose yourself in the most ethereal atmosphere!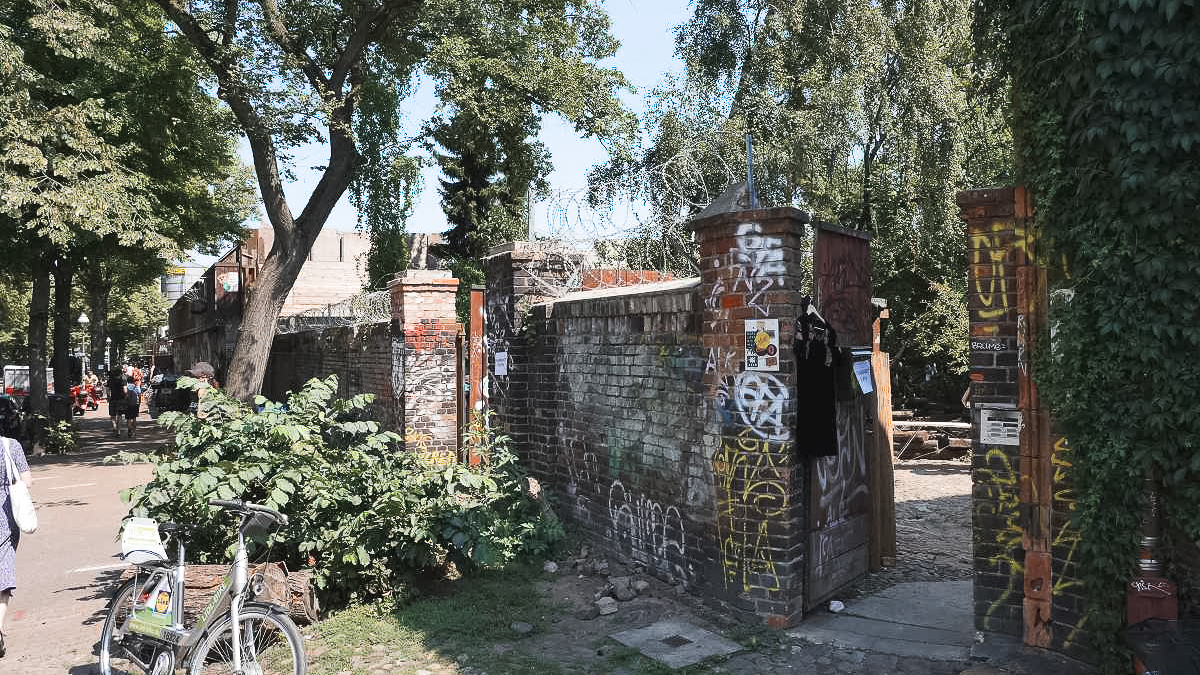 Why you should go: Located in the former Chalet club, which was split into two, Æeden remained with a nice garden to experience the most epic summer days! The club sees itself as a cultural location for live music, art, workshops and performance and wants to stand out from a classic club, and it really does! It has a capacity for 350 clubbers and it hosts live concerts on Thursdays and Fridays. Club music takes over during the weekends, as well as their Gællery Garden with outdoor art exhibitions. 
Atmosphere: The crowd is a good mix and the environment is very urban, with brick buildings full of graffiti! 
Music: Aeden's vibes invite you to enjoy organic, trancey, groove and reflective sounds.
Recommendations: Pick the event before going, since music and crowd varies a lot! 
Prices: Their tickets are relatively affordable, with Early Birds for 8€ and ranging till 12€ on Final Releases. But for some events they only sell tickets at the door for up to 15-20€!


---

After all that clubbing, you're bound to get so hungry you could eat a whale! That's why we wanted to end this article by mentioning some of our favourite culinary spots. Don't leave Berlin without stopping by Kink, Muschi Kreuzberg, Monkey bar or especially Paolo Pinkel, with 3 kitchens that completely turns into a bar at night with music and a lovely queer progressive crowd. 
1