From the bustling beaches of Camps Bay to the trendy neighborhoods of Long Street, there is always a place to let loose and have a good time in Cape Town, especially after a day full of sightseeing.

In this feature, we'll l take a look at some of the best clubs and bars that Cape Town has to offer, showcasing the various options for an unforgettable day and night out in the city. From beach clubs with a laid-back atmosphere to hip and trendy bars, you're sure to find something that suits your preferences – check out Xceed's Top-10 right now.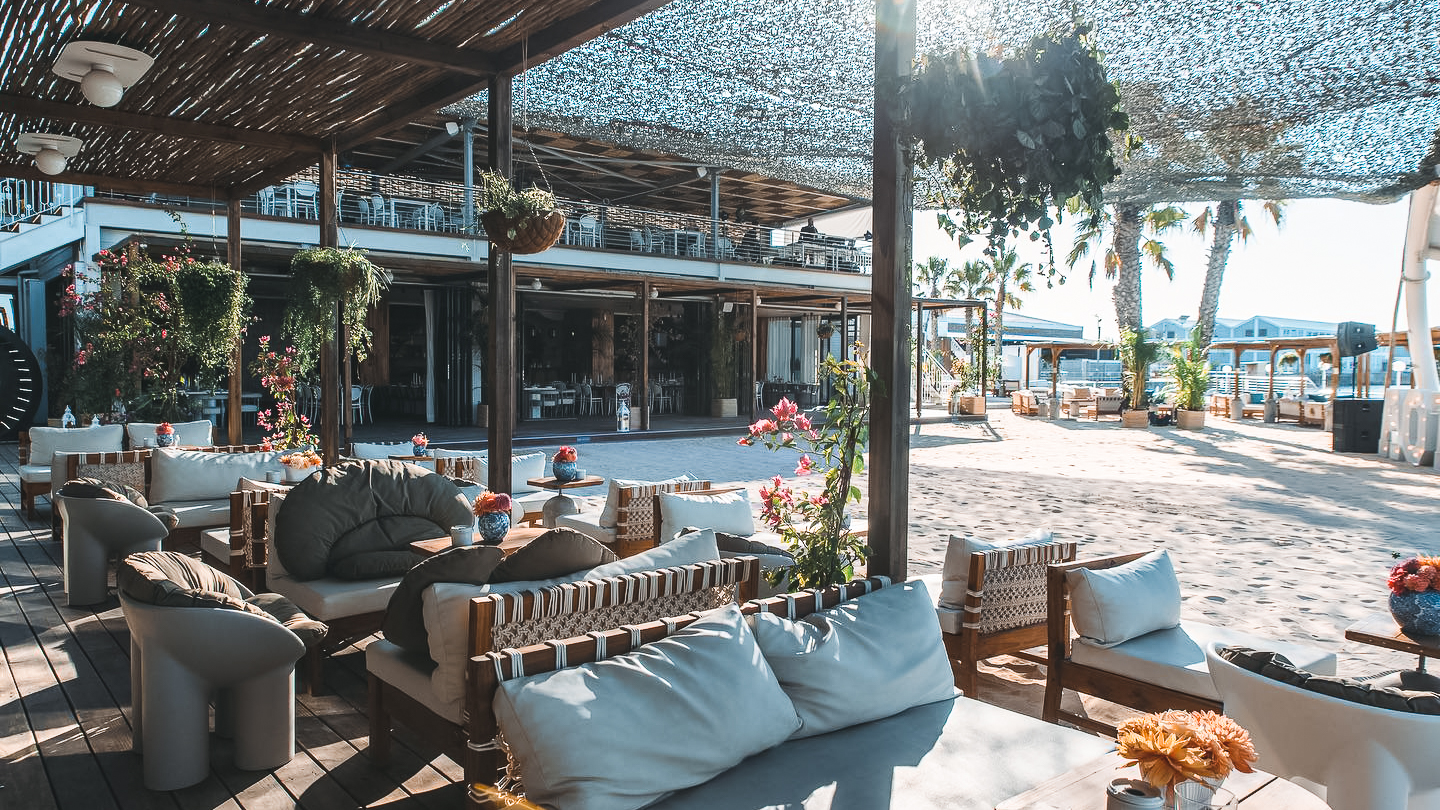 © Cabo Beach Club
Why you should go: The Former Shimmies Beach Club has transformed into its upgraded version called Cabo. This is a perfect place to go for tropical beach vibes and sipping cocktails by the pool. Self-proclaimed first European-style beach club in Cape Town, Cabo ticks all the boxes for those who know exactly what the "premium beach club" means.

Atmosphere: Ibiza meets laid-back Cape Town in a frenzy of style, sophistication, and premium entertainment. Spectacular waterfront views, a restaurant area, as well as loungers, day beds, and poolside cabanas, are all available to book.

Music: On the weekends Cabo is hosting a handful of big-name (inter)national DJ's such as Black Coffee or Stephan Bodzin and Defected, and Glitterbox showcases, to name a few. One of the best events they do at Cabo is Pacha on the 1st of January.

Recommendations: Book in advance, dress to impress and show up to try their cocktails and unforgettable pizzas.

Prices: Food items vary between R150 and R2250 (which is a dish that can feed a couple of people). Cocktails, wine by the glass, and other drinks are around R100 each. The most expensive bottle of champagne on the menu is a Perrier-Jouët Belle Époque Blanc de Blancs, going for R40000.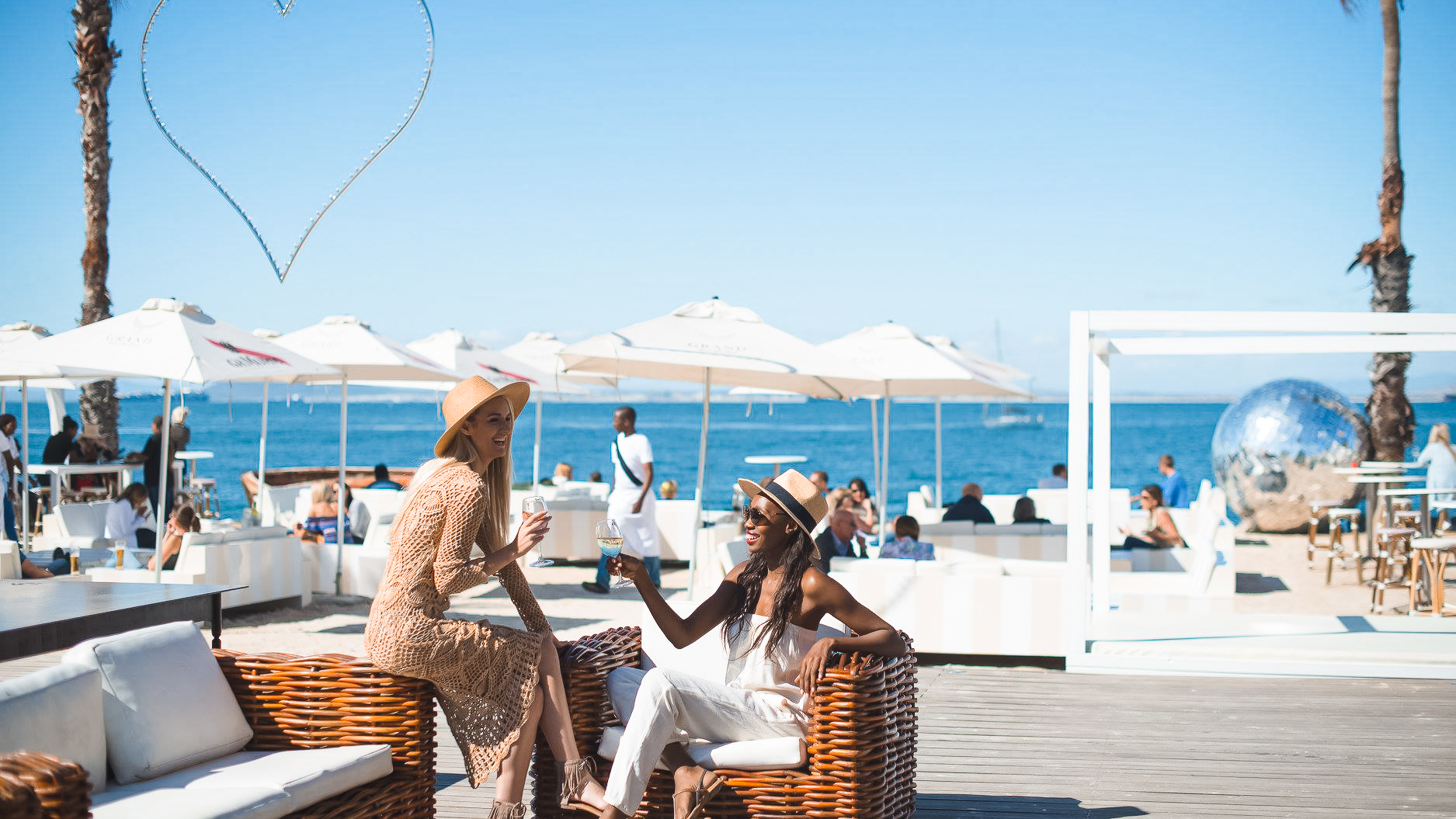 © The Grand Cafe & Beach
Why you should go: Right at the oceanfront, you can find The Grand – a restaurant and bar which turns into a dreamy venue for special events

Atmosphere: Go here for fresh seafood and a cocktail with your feet in the sand and stunning ocean views – five bars, ocean-view decks, nine private function venue areas, and on-beach dining. It's all yours for a perfect day by the beach at Cape Town.
Music: Electronic music parties powered by Corona, with the likes of world-known names, like Jan Blomkvist, Mykonos-style events, and Blue Marlin Ibiza showcases. The Grand Cafe  & Beach hosts pop-up, chic, electronic, house and hits experiences – make sure to check their website.

Recommendations: The dress code is summer chic. Grab a few friends, book a table and enjoy the best that Cape Town has to offer.
Price: The Grand offers good value for your money, especially if you are on a European budget. Food items average at around R180 per dish and drinks and cocktails are around R100 each.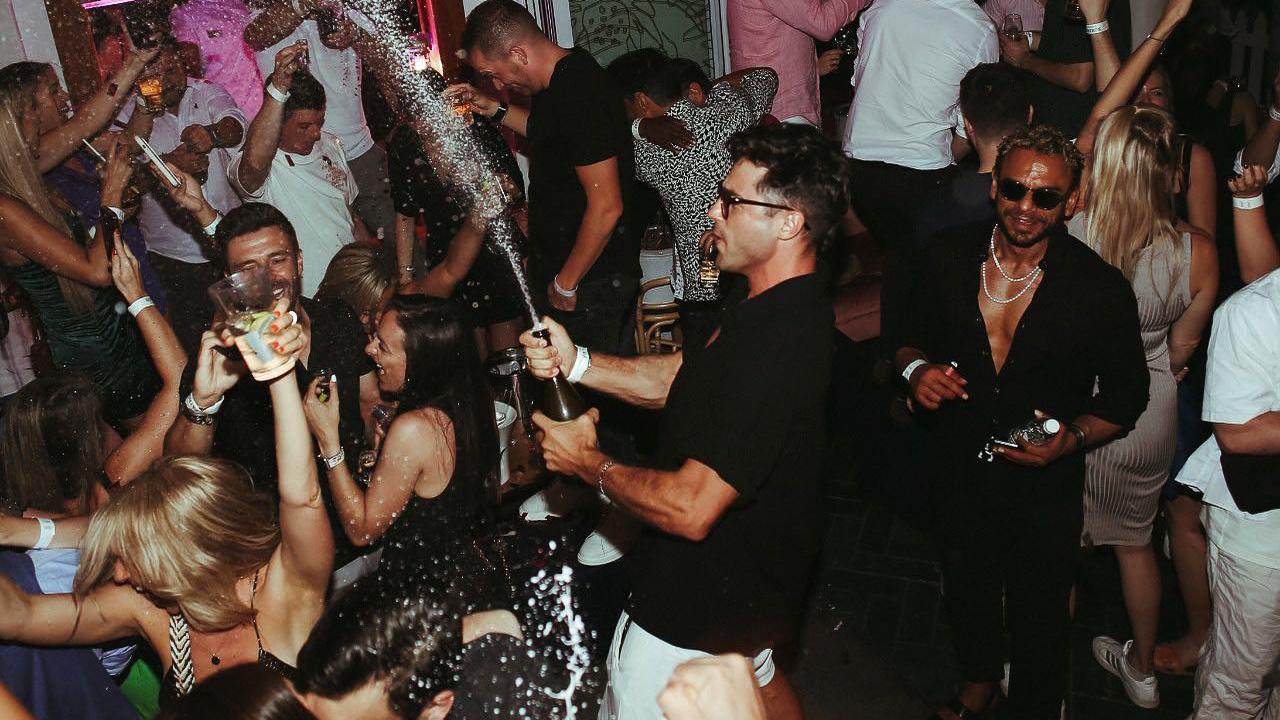 © Cafe Caprice
Why you should go: Sunsets! Camps Bay beach is the ultimate sunset spot and Café Caprice provides the perfect setting. 
Atmosphere: Café-style menu, signature cocktails and sidewalk seating to experience the epitome of Cape Town's cosmopolitan social scene. Equally loved by the trendy local crowd, Instagram bloggers, and travelers.
Recommendations: Leave your flip-flops at home and dress up. Sundays are packed! So make sure to make a reservation.
Music: On the weekend, this venue becomes a party venue that can't be missed. On Friday, they host a new event called Tropicalia Friday. House, lounge, funk, electro – the setup never disappoints.

Price: The food menu has a range of options varying in price between R30 and R460 per (side) dish. They do bottle service on a wide range of drinks such as tequila, whiskey, champagne, and gin. Prices per bottle vary from R750 up to R28000. Drinks and cocktails average around R100.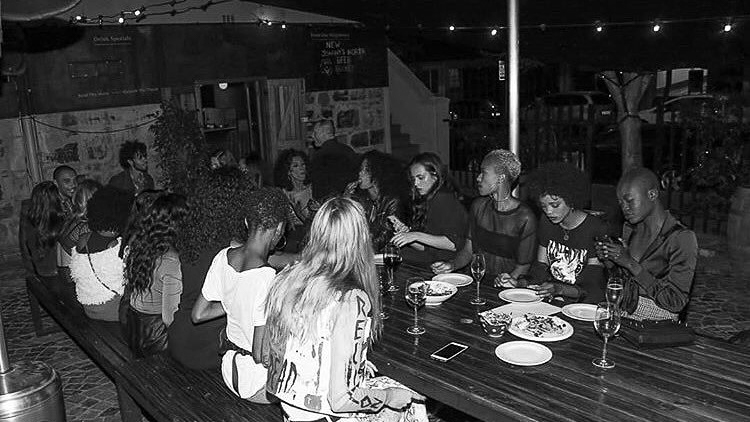 © Love Thy Neighbour
Why you should go: If you have this Mediterranean Greek food craving during the week, or feel like going on a techno music-discovery night . 
Atmosphere: Love Thy Neighbour, occupying the space that was formerly known as Beer & Wine Garden has a modern and cozy interior in winter and a terrace for the buzzing after-work hours in summer. Laid-back neighborhood vibes with feast-level food experience guaranteed.
Recommendations: Come with an empty stomach, because resisting Haloumi will be very hard. Book a table for lunch or dinner and check their events by night!
Music: They are hosting a variety of events depending on the month. The main focus is to expose the world to established and upcoming electronic artists in acid, house, and techno, as well as explore its subgenres. Don't expect big names, this place is for underground lovers.

Price: Craft beers and other drinks go for anything between R30-R70. The food is also well-priced and suitable for people on a bit of a budget.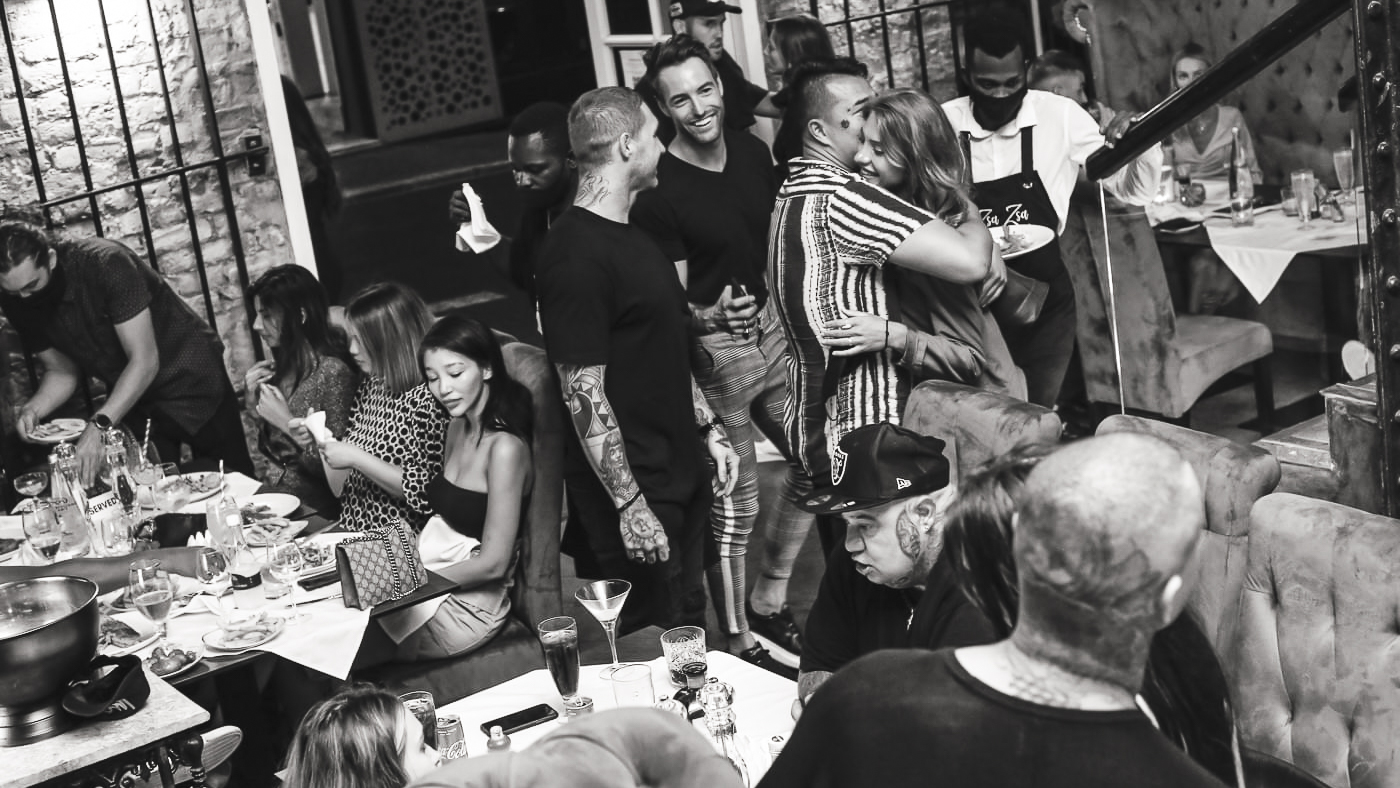 © Zsa Zsa
Why you should go: To have a drink and go to a party without changing location! Zsa Zsa – a Mediterranean-inspired restaurant sits below Cape Town's semi-secret club Darling.
Atmosphere: Chic, fun, and festive. Get ready to be entertained as Zsa Zsa it's never a "chilled" dining spot. Loft-like club, with exposed brick walls, and jewel furniture offers a great variety of excellent dinner dishes as well as a solid cocktail menu to start the night.

Recommendations: Girls get a free entrance. The dress code is casual chic, they are very strict when it comes to their no shorts no flip-flops policy.
Music: House, disco, electronica, and hip hop collide on the weekends, Nightly live performances during the week, and Wild Things Thursdays. You call the shots.

Price: Food & drinks are mid-range, dishes are around R200 and cocktails are anywhere around R100 each.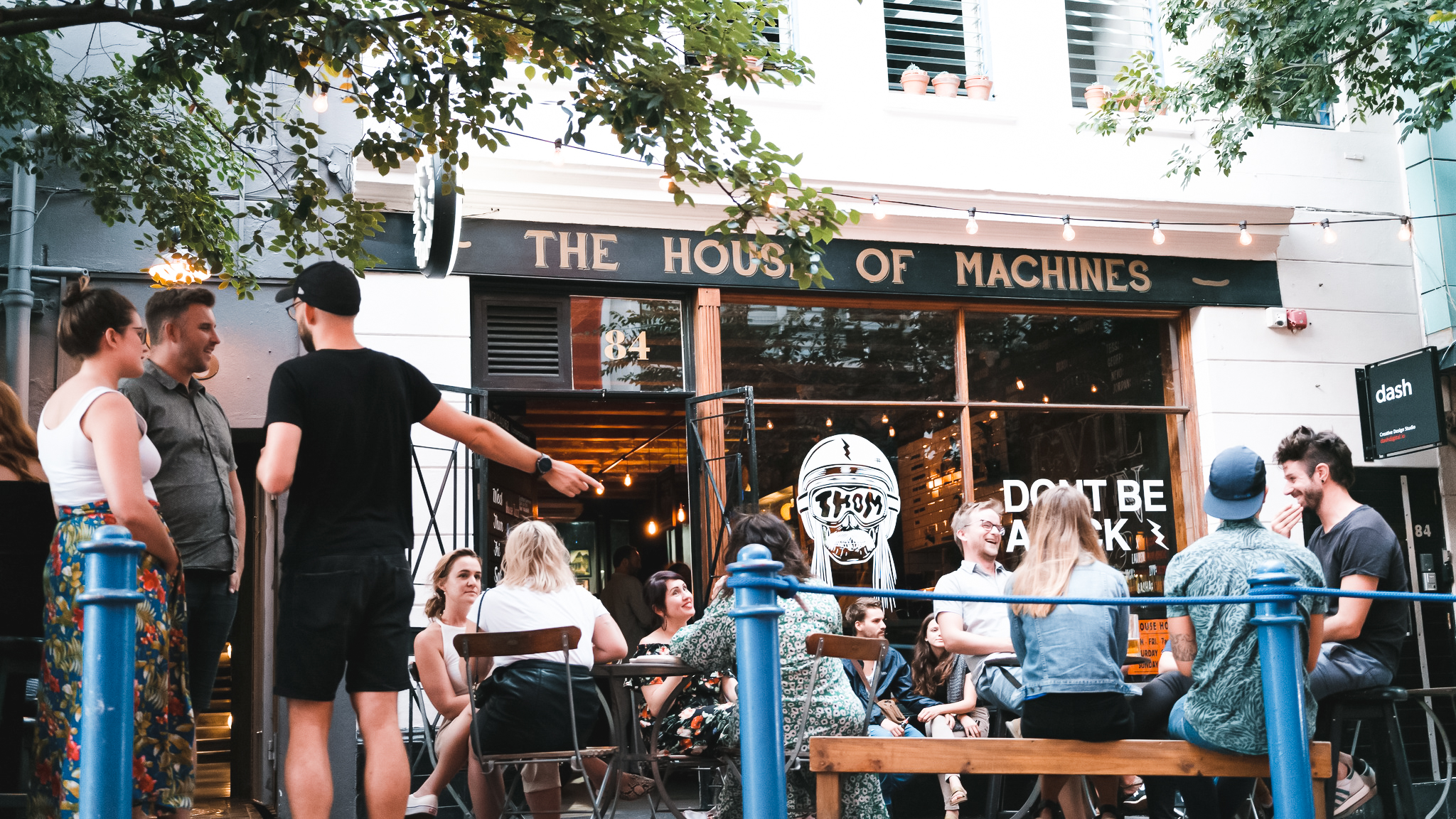 © The House of Machines
Why you should go: Great for a night out with a group of friends to have a couple of beers and listen to live music. Fancy a casual sitting outside with drinks and burgers – The House of Machines is your spot.
Atmosphere: The place offers a biker-enthusiasts cafe and bar vibe. Tattooed crowd, dogs, beers, coffee, specialty cocktails, and, of course, biker talk. 
Recommendations: They organize motorbike rides in and around Cape Town that anyone can join. This is a great place to stop by on First Thursdays!
Music: Sultry live music sounds take over the place after 7 or 8 pm. The crew books local and international talents – indie, rock, soul, open mic nights –  you name it.

Price: Craft beers and beers on tap for around R40 and cocktails for under R100.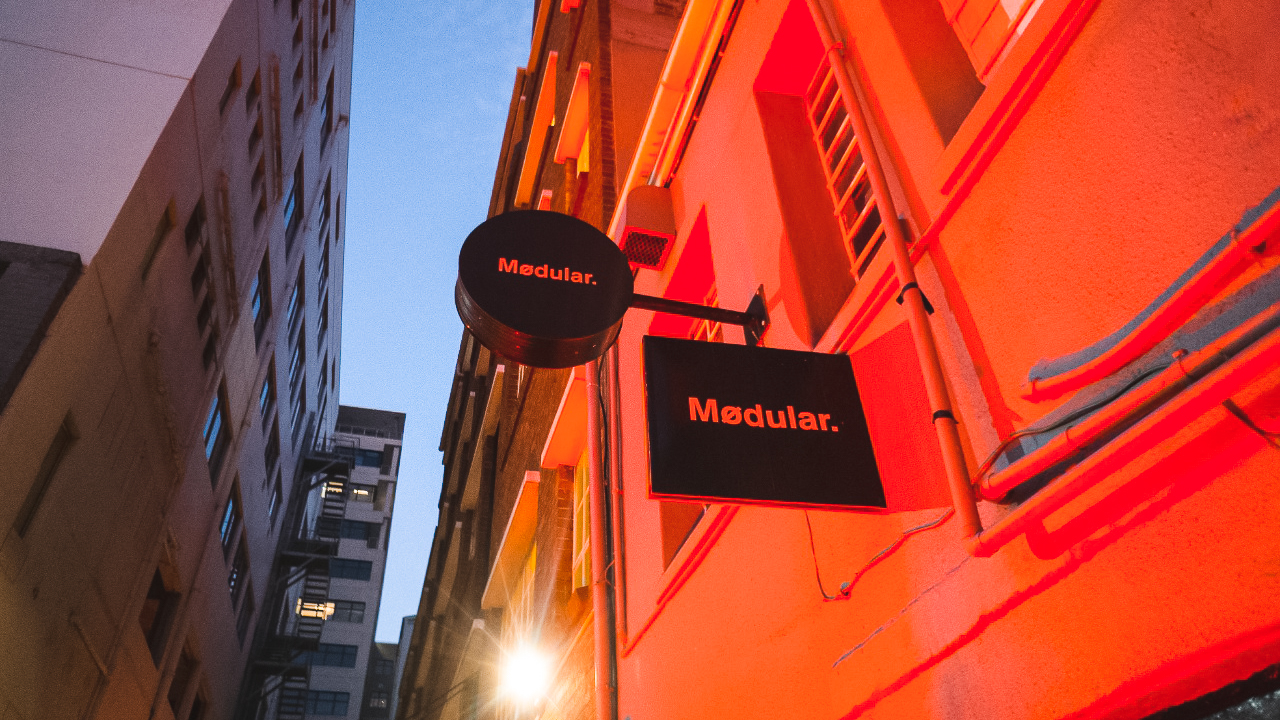 © Modular
Why you should go: Head here in search of a proper underground party and never get disappointed. Dance till 7am to the best up-and-coming names in the electronic scene – Modular crew knows the best recipe for a rave in Cape Town.

Atmosphere: A house and techno venue as it should be: Modular nightclub is dark, with an edgy interior and black and white checkered floors and one of the best sound systems in the city.

Recommendations: You're not allowed to take any photos or videos inside the premises, so you'll have to go find out for yourself what it is like!
Music: Underground techno, acid house, minimal, local and international bookings – Modular offers the finest selection of best emerging Djs and producers. They host their signature events on Tuesdays, Thursdays and Weekends. And good news –  during the summer season, they are open every night. 

Prices:
Entrance fees are usually around R100, except for special nights. Drinks are affordable, they serve a variety of mixers, beers, wines and other liquors.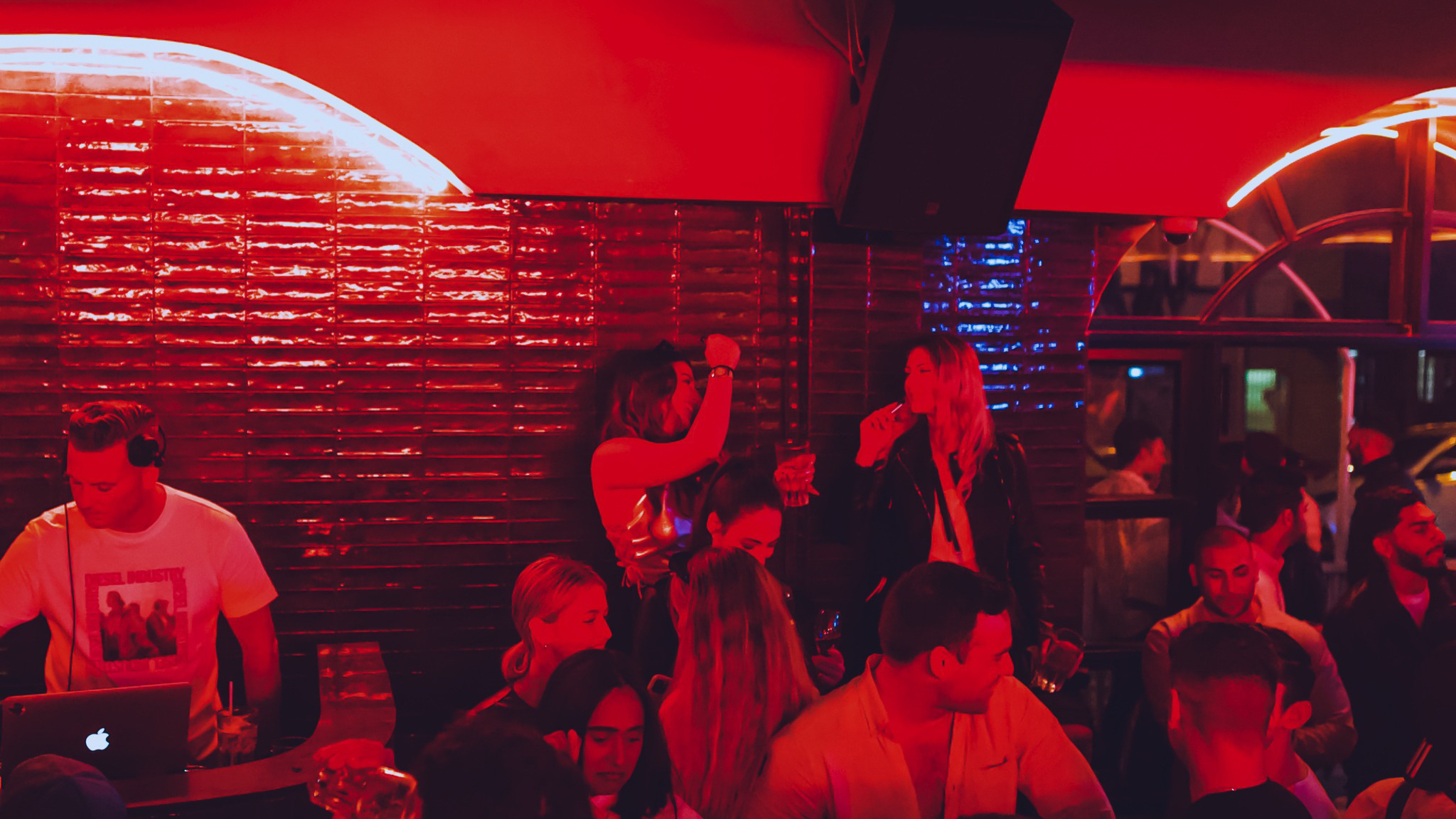 © Arcade
Why you should go: ARCADE is the first recognizable and prominent Hip-hop and R&B venue in SA. Go there for evening cocktails or a night out with bottle service and great vibes.
Atmosphere:  This is a great place to go on Fridays and Saturdays or during First Thursdays.
Having undergone a major renovation recently and having revamped internal affairs as well, ARCADE welcomes music, cocktail, and good-time lovers into its doors, ages 23 and 25 for ladies and gents respectively.
Recommendations: Table dancing isn't allowed, it's encouraged.
Music: House, Hip-Hop, and R&B always. Weekly "The Other Thursday" collaboration with Temporary Events.
Music: Free entry, but strict door policy. Cocktails are around R100, and food (sides and pizzas) are affordable, ranging from R40 – R120.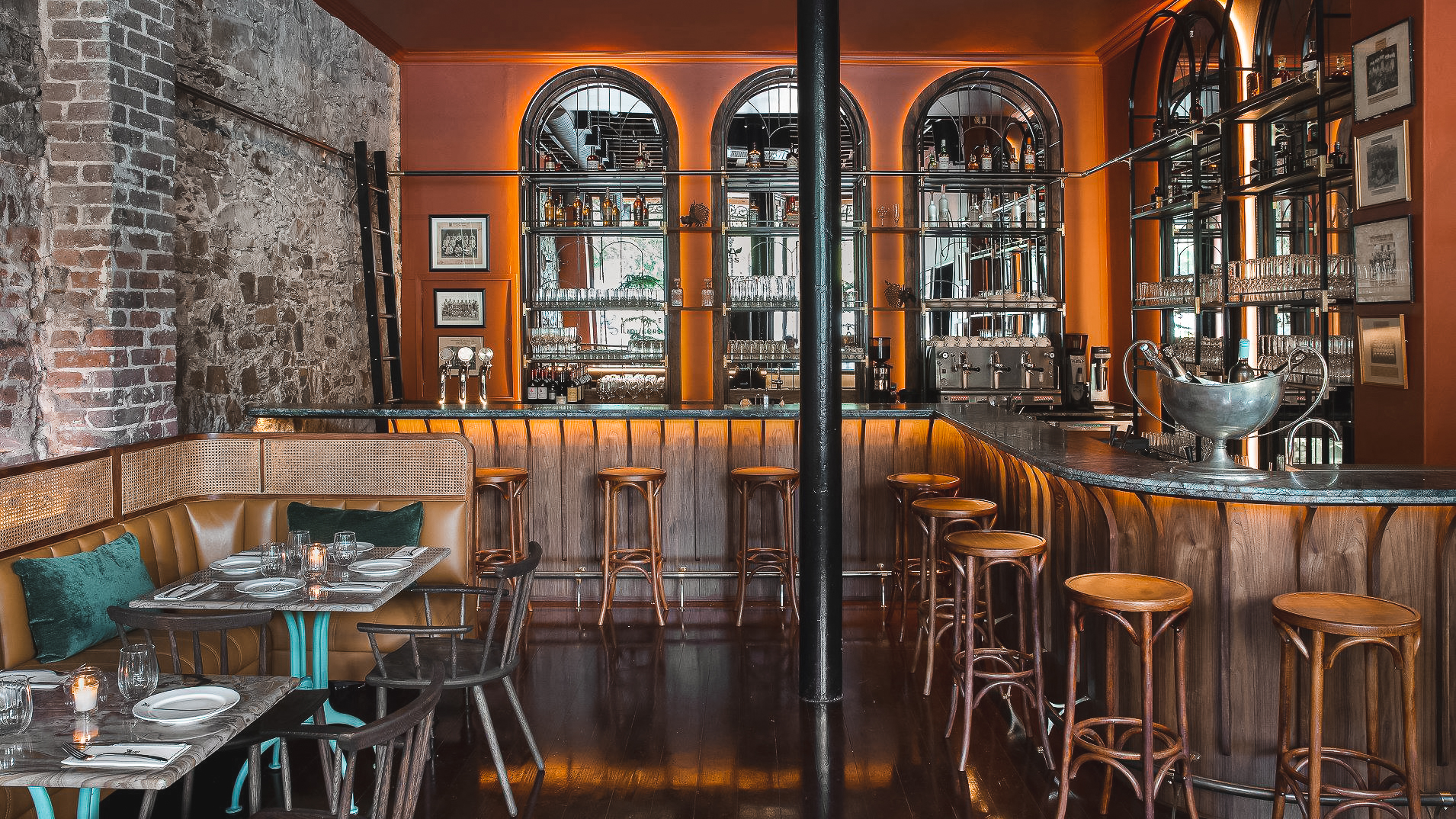 © Athletic Club & Social
Why you should go: This is a great place at Buitengracht Street to go for a date, dinner with friends or to have some of the best cocktails in the city to dance the night away.

Atmosphere: The atmosphere is fancy, cozy and buzzing. Athletic club & social can't go unnoticed with its casual ambiance and indulgent design. The food is delicious (be ready for Greek, Mediterranean and Middle Eastern flavours)  and the drinks menu has something for everyone, nothing but top-notch quality.
Recommendations: Anywhere from casual chic to dress-up goes.
Music: This is the place where the beginning of the evening is happening on Thursday, Friday and Saturday nights. On some nights, they have exclusive live music (mostly jazz) in their basement.

Price: Arcade is at the same price as most other clubs and bars in Cape Town and serves a variety of drinks, including bottle service. Drinks by the glass average around R100 each and bottles around R1200 each.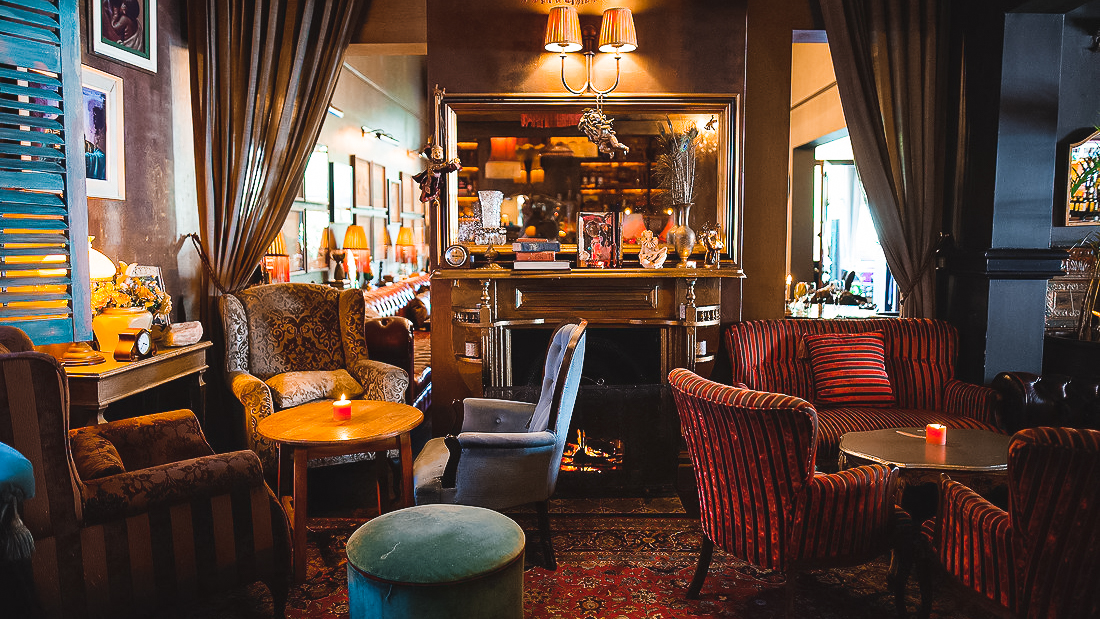 © Kloof Street House
Why you should go: The place to go for a high-end dinner with an amazing atmosphere and beautiful aesthetics. 
Atmosphere: Cozy outside garden has lights and intimate seating, the inside is like an old library in someone's living room. The food and cocktails at this place are some of the best in town, matched with the vibe and experience as a whole
Recommendations: The place is also known for its Saturday and Sunday Brunches.
Make a reservation, as it gets packed in the evening.

Music: Stop by for an easy Sunday lunch Jazz session.

Price: You get great value for your money at Kloof Street House. Cocktails are some of the best in town and are around R100 each. Food varies depending on the dish, expect anything from R120 up to R1000.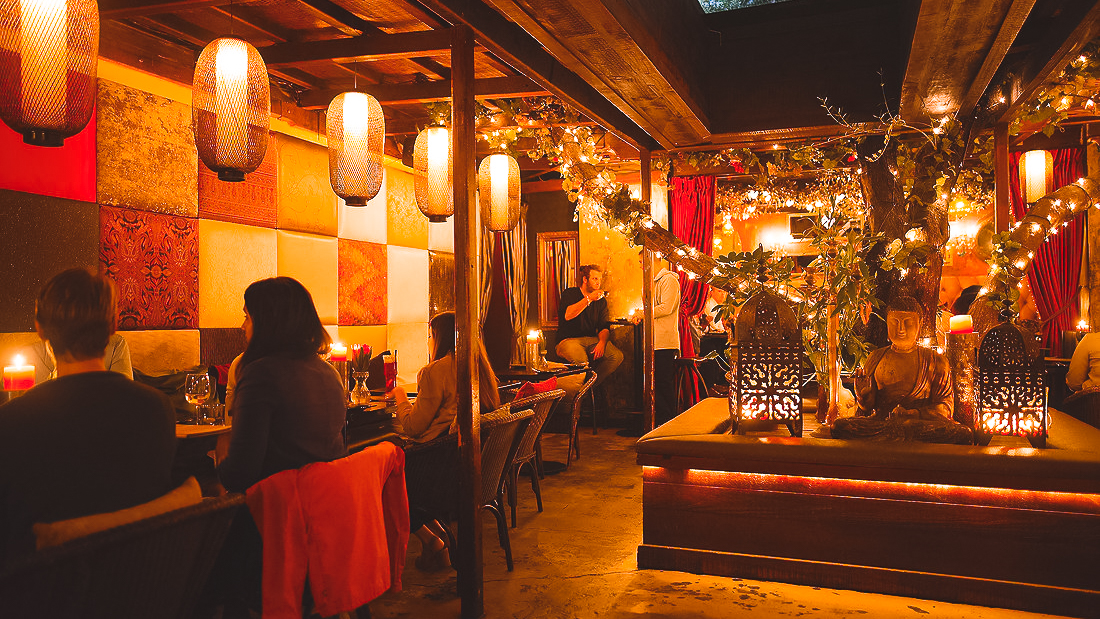 © Asoka
Why you should go: If you feel like transporting yourself to Asia in a blink of an eye.
For over a decade, Asoka has been the gem of Kloof Street – one of the best Asian fusion experiences the city has to offer – both aesthetically and culinary.
Atmosphere: Magical, Asian candlelight sophisticated ambiance. The highlight is the central courtyard dining area in which sits a real olive tree.

Recommendations: Must try the pornstar martini or espresso martini cocktails. This place is pumping, booking a table is recommended.
Music: Every Tuesday they have a live jazz band playing and a DJ that takes over the rest of the night.

Price: Asoka is the sister venue of Kloof Street House and serves some of the same cocktails in the same price range. Dining here comes out on an average of R250 a person. 
---
We'll be honest, a recommendation list for Cape Town's nightlife places can be endless. If you feel like exploring more underground venues- check out Club Paradise, techno club Reset or Decodance clubs. For those in search of fine dining experiences and cocktail bars, we got you covered, check the full list of best restaurants in Cape Town. Lastly, for all the party animals out here, don't miss out our Top Summer Festivals in Cape Town list.  


42