Cape Town summer is the time and place to be when it comes to best outdoor festivals, there's lots and all are amazing in their own unique way. Set in the most beautiful sceneries, with a mix of the best local and international DJs, and is visited by people from all over the world. Intrigued? Check out our top picks – 10 best festivals in Cape Town this summer.
Cape Town is the place where you can find festivals of all sorts, from one-day techno raves to weekenders with several genres and stages. Each event is one of a kind and an experience, that you don't want to miss out on. We are not sure if it has to do with the dreamy landscapes, the vibe of the people, or the music that takes you on a whole other journey. You'll have to go and see it for yourself!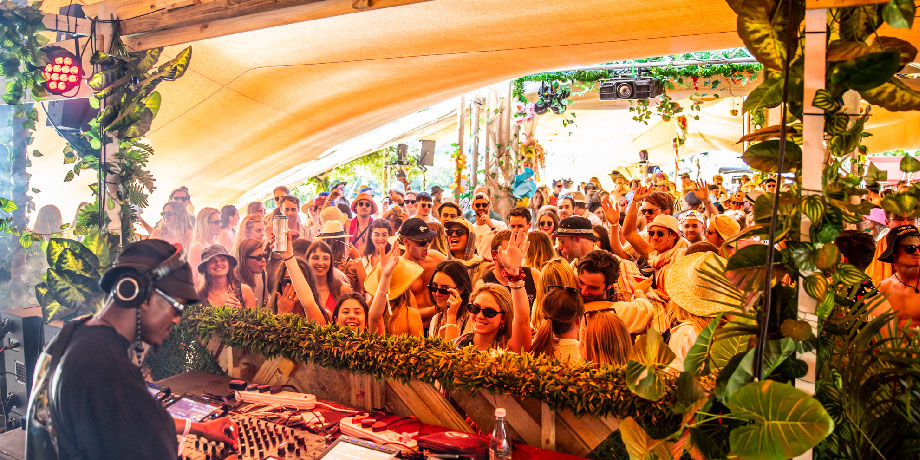 © Wolfkop Weekender
What's unique about this festival: This is one of our personal favorites as the vibe is just unbeatable. The location of this festival is in the Cederberg mountains, along a river where you can float around on lilo's with a whole bunch of happy shiny people, right next to the music stage. 
The vibe: Unmatched. People go all out at this festival with amazing outfits, happy smiling faces and lots (read; really a lot) of lilo's. It's a relatively small and intimate three-day (choose from two weekends and/or a midweek) festival with only one stage where all the magic happens. 
Music: Electronic dance music, deep house.
Good to know: Since this festival is in the peak of summer, it can get very hot! Even the river isn't enough to cool you down sometimes so bring lots of protection from the sun and drink plenty of water. They offer either a bring your own camping spot and have glamping tents set up to make your life easier (we'd recommend this option). There's nice food trucks and pretty decent showers at the campground. Tip: glamping tents have power plugs, bring an electric fan! 
© Pangea
What's unique about this festival: This festival is an art collective based, and the focus is on art, music and the experience as a whole. All creations such as their exceptional stage decors and lounges are in-house designed and made. When you enter the festival grounds you will be in awe of the decor, almost as if you enter into another world. This festival is a curated event that aims to bring like-minded people together. Tickets are generally not available for public sale but anyone can apply to be a part of the tribe.
The vibe: It is created by ravers, for ravers. Pangea does not announce their lineup, (inter)national artists play to cocreate the magical vibe. There are 8 stages out of which 2 are transformational workshop spaces. On Sunday the party continues in the chapel at the top of a hill. There is a corner with (healthy) food trucks, a bar, and a restaurant. On Sunday the party continues in the chapel at the top of a hill. There is a corner with (healthy) food trucks, a bar, and a restaurant. 
Music:  Progressive techno, nu-disco and afro house.
Good to know: The location of this festival is in the desert, which means during the day it gets really warm and at night really cold. The festival is a three day overnight event with the option to bring your own camping gear, book a glamping tent or a cottage. There is a pool and a natural pool so bring swimwear!
Prices: General access with a camping ticket starts at R1250 per person. Glamping tickets are R5900 and sleeps two. A car camping pass is R350.
Bazique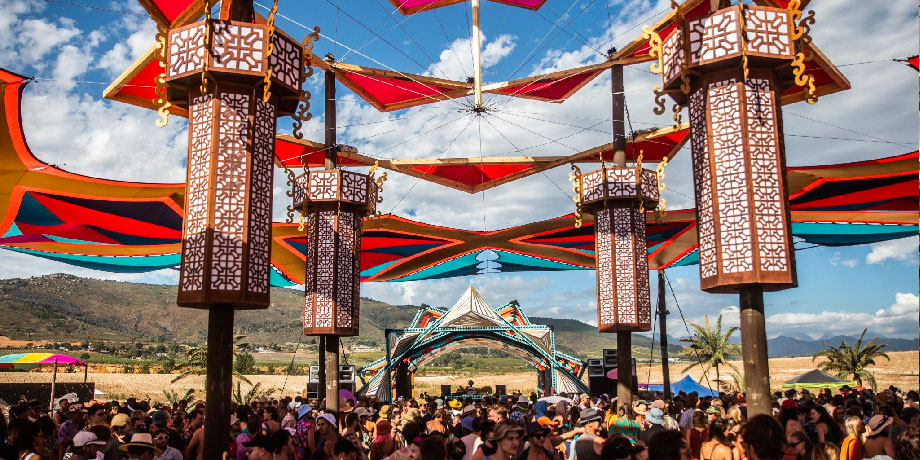 © Bazique Festival
What's unique about this festival: Art, art, and more art. This festival does not hold back on creativity and originality. The stages are one-of-a-kind and each is an experience on its own, that takes the festival to another level. The festival has a large open space with interactive art installations, a silent disco, 3 music stages, glamping/camping grounds and food trucks. 
The vibe: You could almost call Bazique the baby of Afrika Burn as it has a lot of similarities when it comes to art pieces and experiencing different environments. (Also a lot of walking over the baby ''playa'', so bring comfortable shoes). The vibe is artsy, international and expressive. 
Music: Electronic dance music, deep house, disco, techno. 
Good to know: Showers are available only in the glamping areas and are only accessible to glamping ticket holders. There are basically no showers for general camping, most people come with their own setup. It's super hot during the day and can get very cold at night so come prepared and basically bring your entire wardrobe. There's a lake that you can swim in. Dress code; whatever makes you shine! 
Prices: Starting at R865 for an early bird ticket that includes free camping if you bring your own tent. R600 for a vehicle pass so you can park next to your tent and glamping tickets start at an extra R1150 per person up to R3250 per person for a shaded bell tent. You can bring your own food and drinks and there are food trucks and a bar. Food & drinks are reasonable- to high priced. 
Sexy Groovy Love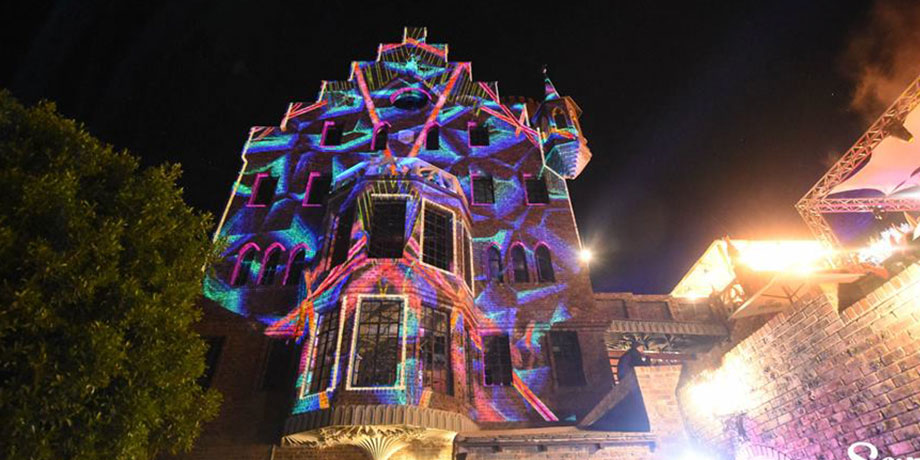 © Sexy Groovy Love Festival
What's unique about this festival: Young, hip, mindblowing locations, and great music. Sexy Groovy Love is a one-day festival held in different locations around Cape Town. Think colorful, diverse, and good vibes all over. 
The vibe: The name kinda says it all; it's sexy, groovy, and full of love. Each event has at least two stages, held either at an old castle or a mansion with a pool and garden not too far from Cape Town. Mostly a younger crowd, hip and great deep house music. 
Music: Electronic dance music, deep house. 
Good to know: Pre-order an Uber or driver for the end of the festival if you don't come with your own transportation. At the locations outside of Cape Town there are no Ubers or taxis around, though lifting back with a fun party car that leads to a good after-party isn't too bad either 😉 
Prices: From R550 for early bird tickets up to R790 for final release tickets. Tickets including a table for a group of 8 are R850 per person.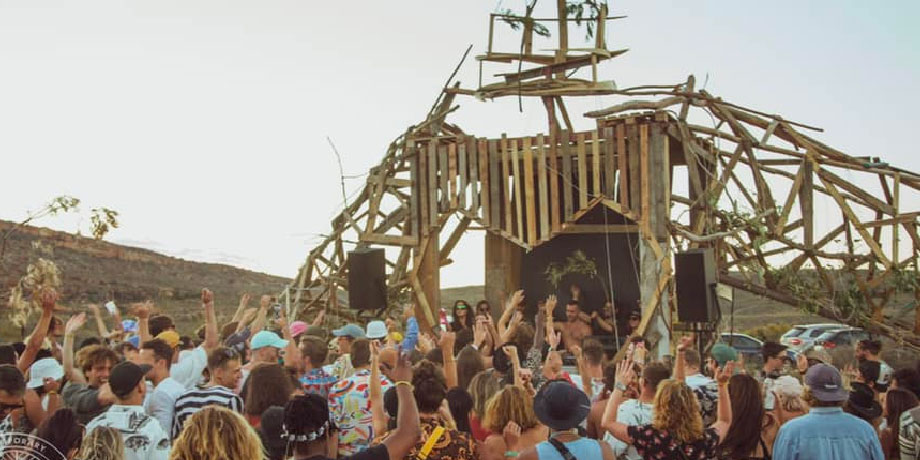 © Pandora
What's unique about this festival: Pandora is set in a beautiful location along a river with views of the mountains. This upcoming festival will have three stages with over 45 (inter)national DJs. Expect incredible stage setups, a cool crowd, and music that will keep you dancing all night. 
The vibe: Temporary Events organizes events that are more in the underground scene. They bring a European rave vibe to their events and the music is next level. Always at incredible locations, with one-of-a-kind stage setups and some of the top local DJs. Besides the Pandora festival they also organize techno raves in industrial buildings with insane visuals and music. 
Music: Disco, funk, house, techno, minimal
Good to know: Festivals and events are hosted in different (sometimes secret) locations so expect the unexpected! Younger crowd. 
Prices: R650 for early bird general admission and camping tickets up to R1050 late release tickets. They also have glamping tickets for R2000 per person (including general admission) and rooms for up to R3500 per person (including general admission).
We Love Summer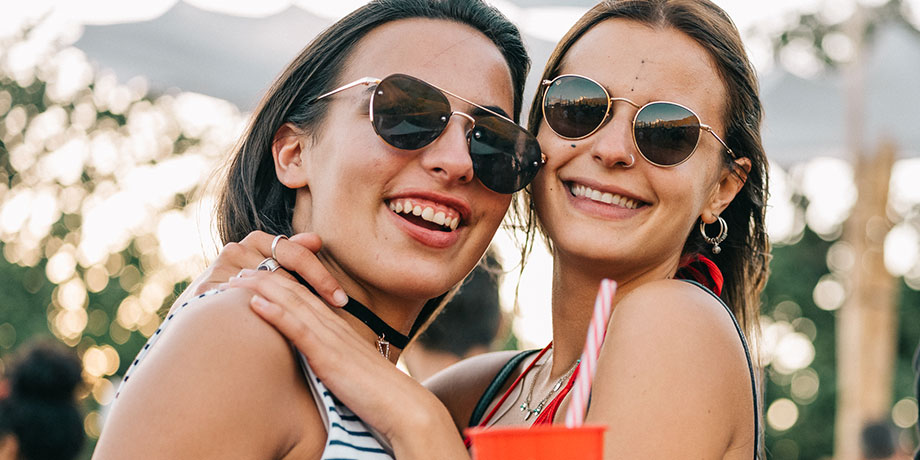 © We Love Summer
What's unique about this festival: We Love Summer is a one-day festival and the name really says it all. The festival happens at different locations around South Africa, each with their own unforgettable vibe. This year We Love Summer happens in Johannesburg, Cape Town, and a special in Plettenberg Bay. 
The vibe: Ultimate summer vibes! Beachy locations, happy people who are ready to celebrate summer, and great music. The festival in Cape Town has a dam where you can swim and do cool water sports! 
Music: Electronic dance music, deep house.
Good to know: We Love Summer is a day festival so there are not many logistics as a guest. All you have to do is show up and you'll have the best time! There are table options available including bottle service that are set out in a VIP area. 
Prices: Prices vary slightly depending on the location. Early bird tickets start at R250 and late bird tickets at R410. Table tickets include 1 bottle of gin or vodka, 1 bottle of tequila, and 12 mixers and go for R650-R850 a person. They sell discounted group tickets. 
Rocking the Daisies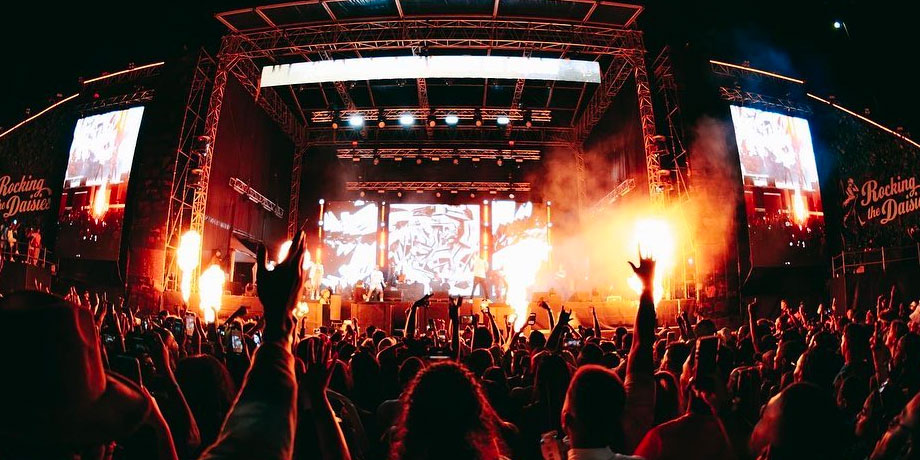 © Rocking the Daisies
What's unique about this festival: This festival is completely different from the other festivals in South Africa. It's mostly a live music festival with a great diversity of genres such as hip-hop, rap and deep house. 
The vibe: Think Coachella with an African twist; top artists, live performances, people are dressed up at their best and the vibe is just unbeatable. Mixed crowd; all ages, ethnicities and types of personalities. There are food trucks, merchandise vendors and bars. 
Music: Live music, hip hop, rap, r&b, deep house, techno. 
Good to know: This is a three-day festival where you can go all out! There are several camping options from standard glamping tents to super deluxe furnished tents and camps. People definitely don't hold back on this one. A lot of live music at several stages, there are some smaller stages too with deep house DJ's and techno. 
Prices: General admission passes go from R695 up to R800. Vehicle passes go from R350 for general camping, to R450 for priority to R695 for camping access to an inclusive space for women and LGBTQIA+ festival goers. Glamping options and luxury suites go for R3000 up to around R6000 a person. 
Retreat Yourself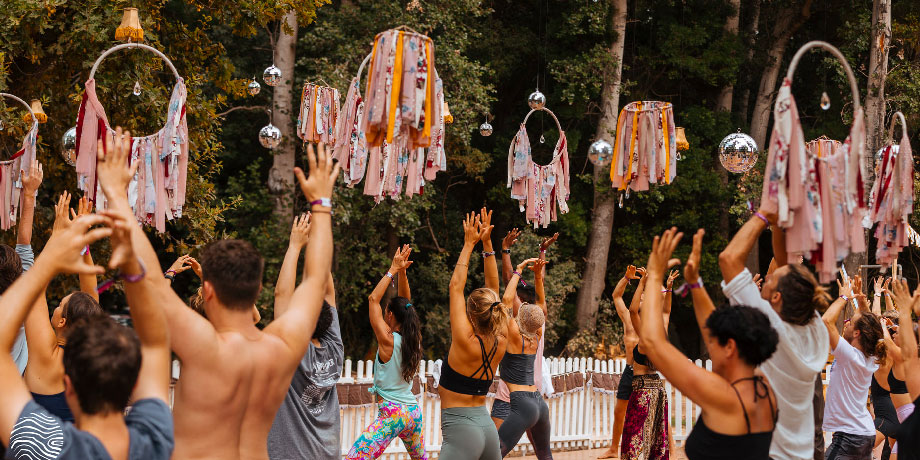 © Retreat Yourself
What's unique about this festival: This festival is not just a dance festival, it's also a wellness festival. In between dance sessions at the several stages, you can go for a yoga class, meditate to recharge yourself after a wild night or do an energetic healing of some sort. It's more of a – slow down and truly connect with yourself and others – type of festival. 
The vibe: A weekend festival to dance, relax, recharge and connect. It's for anyone who's looking for an experience that is about more than just really good music. There's music all day until about 2 am so you can rise and shine early for some yoga and soul and body nourishing sessions! There are workshops to attend, cooking classes, spiritual lectures, sweat lodges and kids activities. You can also go to an outdoor cinema for a (romantic) movie night and there is a village market with food, drinks and crafts. 
Music: Live music, jazz, disco and a little electronic house music. Late Night Comedy on Friday.
Good to know: Family friendly, meat-free, and conscious festival. There are a lot of different things to do so something for everyone. Accommodation options are cottages or glamping tents. The location is absolutely stunning and very peaceful, in the heart of nature. 
Prices: Kids tickets are R850. Adult tickets start with early birds at R950 and go up to R1950 for super late birds. Add-ons for dinners, brunches and sweat lodge sessions are R520-R580 and R370. Glamping tickets that accommodate 2 people vary between R1500 and R6600, and cottage tickets vary between R6800 and R13000 for two or three people. The vehicle camping pass is R700. 
Love & Light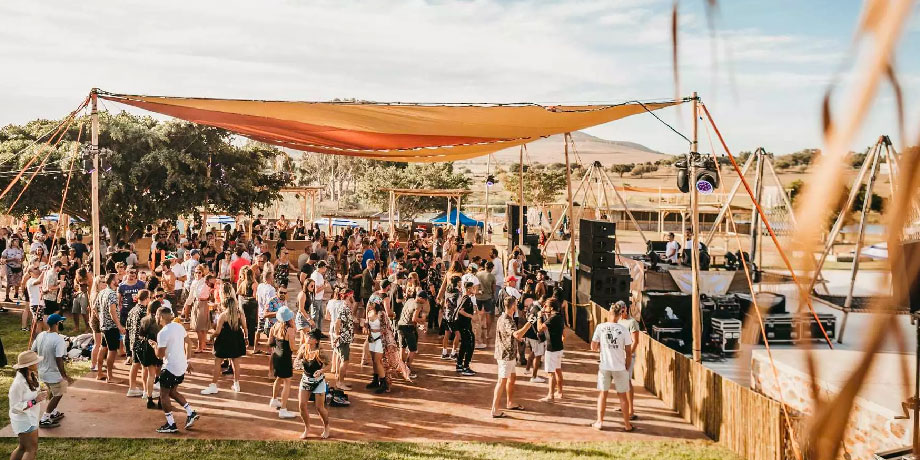 © Love & Light
What's unique about this festival: This is known to be the best psytrance festival in South Africa. This festival is oldskool, it's been the top psytrance event for over 10 years, and it's a place for truly authentic psytrance music lovers and rave OG's. Next-level production with an incredible sound system and stage designs. If you love psytrance you're in for a treat with this one! 
The vibe: Set on an ostrich farm just outside of Cape Town the organizers of Love & Light have transformed the venue for what is set to be an incredible gathering for all seeking world-class music and production. The older crowd and real rave OG'sm authentic psytrance music scene lovers. Production is next level, with an incredible sound system, and stage setups.   
Music: Mainly psytrance and a little bit of techno. 
Good to know: One-day festival about 40 mins from Cape Town. Possible to drive there or take an Uber, and pre-order one for the way home , as there are most likely no Ubers (or any taxi) in the area to take you back home. 
Prices: Party tickets go from R350 to R590 and VIP tickets from R550 to R790. VIP tables are available for a minimum of 8 people at R550 up to R1000 per person. 
41