1,062 days later, Barcelona will be welcoming again one of its favorite children: on the 16th of June, Sónar Festival will make its return to its hometown and everything suggests that it's going to be one for the ages.
From the 16th to the 18th of June, for three days at the Fira Montjuïc and two nights at Fira Gran Via, 150 artists will perform more than 100 shows during the 29th edition of Sónar Festival. 
The Chemical Brothers, The Blaze, C. Tangana, Eric Prydz, Moderat, Bonobo, Charlotte de Witte, Overmono, Richie Hawtin, Polo & Pan, and The Blessed Madonna are only a few of the incredible artists who will make, once again, Barcelona the center of the electronic music universe for an entire weekend.

Check the full list of Artists for Sónar 2022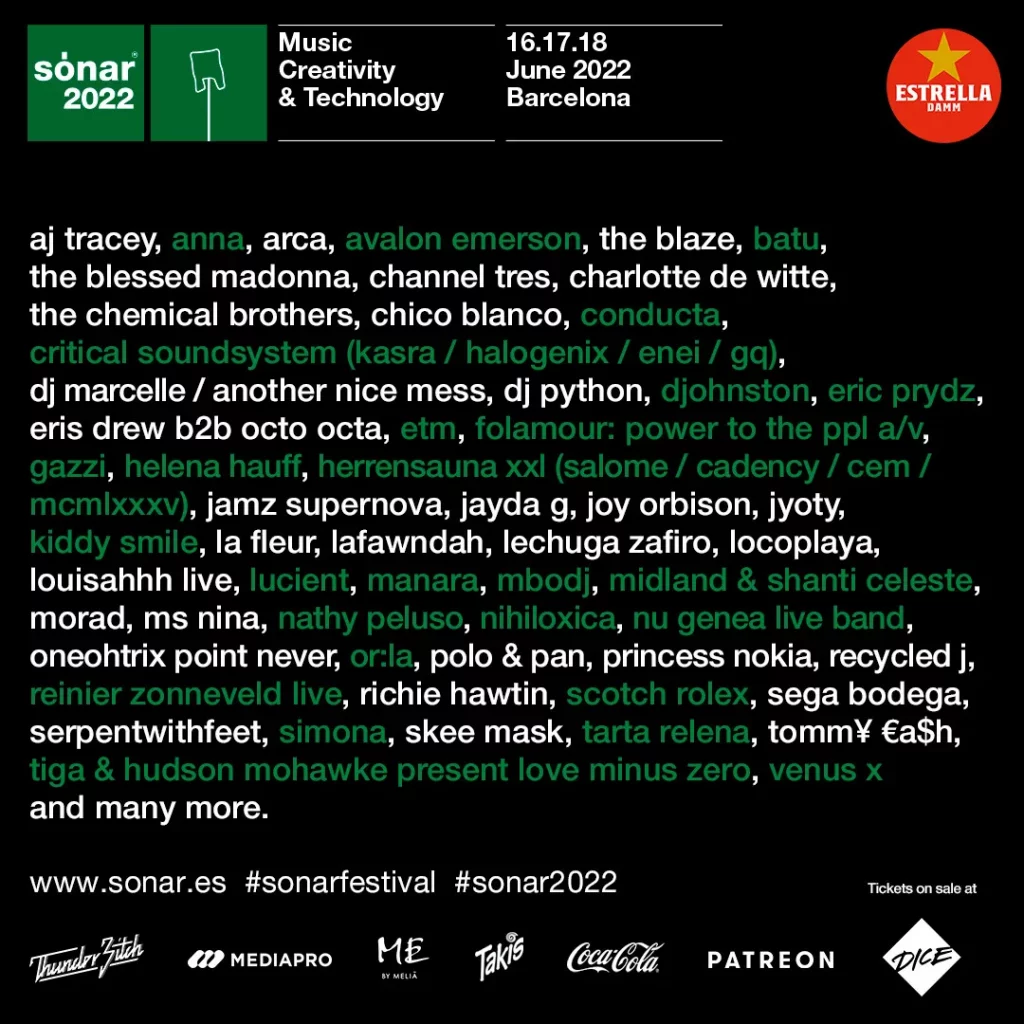 Image: © Sónar Festival
And because Sónar is the International Festival of Music, Creativity and Technology, Sónar+D couldn't be outdone! For the first time ever, this year it will occupy the all of the Palau de Congressos, inaugurating two new areas: SonarÀgora, dedicated to debates, and the new Stage+D, which will host talks with such audiovisual and performance components, that you won't know whether you just attended a concert or a conference.
If you too are feeling overwhelmed, no worries you're in good company… With such abundance, it's easy to get lost! At Xceed, we've been studying our festival route for weeks, and pretty much every time a new SonarMix came out, we had to start over again… Nonetheless, the 5 names that came up the most in our festival routes were:
Bonobo (Live): Sónar by Night on Friday the 17th, from 2:15 to 3:15 @ SonarPub by Thunder Bitch
Eric Prydz: Sónar by Night on Saturday the 18th, from 1:30 to 2:45 @ SonarClub
Jennifer Cardini b2b Perel: Sónar by Night on Friday the 17th, from 5:30 to 7:30 @ SonarPub by Thunder Bitch
Moderat (Live): Sónar by Night on Friday the 17th, from 00 to 1.15 @ SonarClub
The Chemical Brothers (Live): Sónar by Night on Saturday the 18th, from 22:30 to 00 @ SonarClub
(I'll make an exception and I'll give you one of my favorite best that didn't make the top5: Eris Drew b2b Octo Octa at Sónar by Day on Friday the 17th, from 21:30 to 00:00 @ SonarVillage by Estrella Damm).
What can we say… Although more than a thousand of those 1,062 days have already passed, we're so looking forward to this year's edition of Sónar, that this last bit is feeling like an eternity!
42