Do you know that feeling you get when you arrive at a new place, step on the ground and smile at yourself as you think about the adventure that awaits you? That moment has arrived! You are in Barcelona and you want to make the most of your stay in the city. To find a flat: done. To take a selfie at the Sagrada Família: done. To have a bath at La Barceloneta: done. To post some summer stuff on Instagram: done.
But now you are lost, you don't know where to go, you need help. Don't worry and take a deep breath: we have just what you need. In this ultimate guide, we show you the best spots to go for a drink, some cheap food, sunbathing and, of course, have some good party in the Catalan capital. Welcome to Barcelona!
Bars: where to drink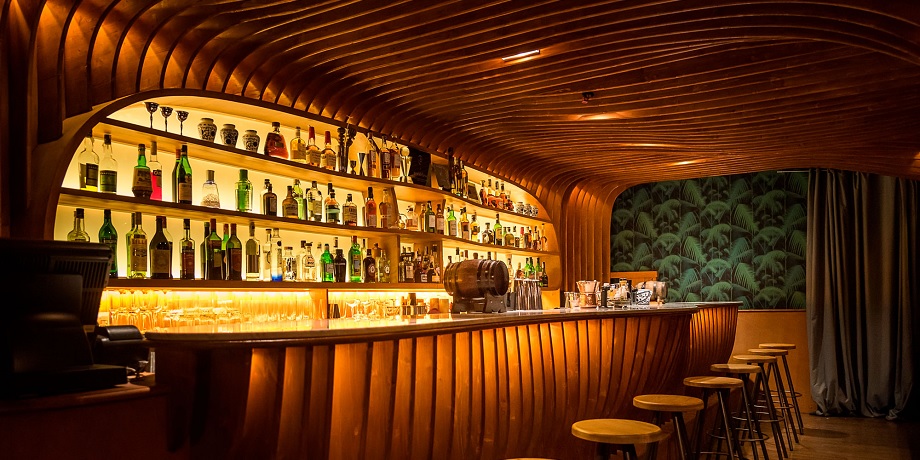 It may seem contradictory, but Paradiso is a clandestine bar and, at the same time, one of the most famous in Barcelona. It's considered by many to be one of the best cocktail bars in the world. Not in vain, in 2017 it was awarded the recognition 'On The Watch', and The World's 50 Best Bars closely follows in its moves. The atmosphere is rather elegant and it is very common to find there some tourists who are visiting Barcelona.
Address: C/ Rera Palau, 4 – 08003 Barcelona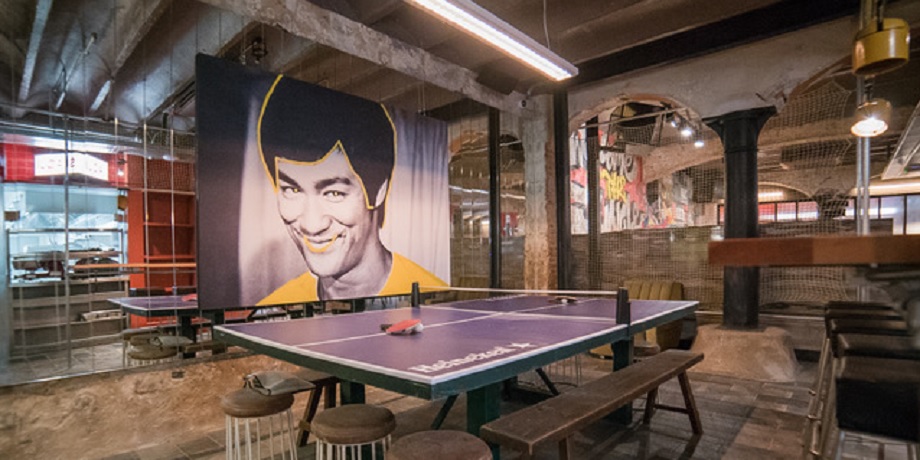 Without a doubt, this is one of the MUST of the most modern Barcelona. Clubhaus is a pioneering space in the city, as it combines food, art and games. Well… and, of course, drink. During the day, it also serves as a bar and restaurant, while at night it takes the form of a discotheque. The atmosphere is totally international and, don't worry, at Clubhaus, your friends and you will never get bored.
Address: Av. Marquès de l'Argentera, 13 – 08003 Barcelona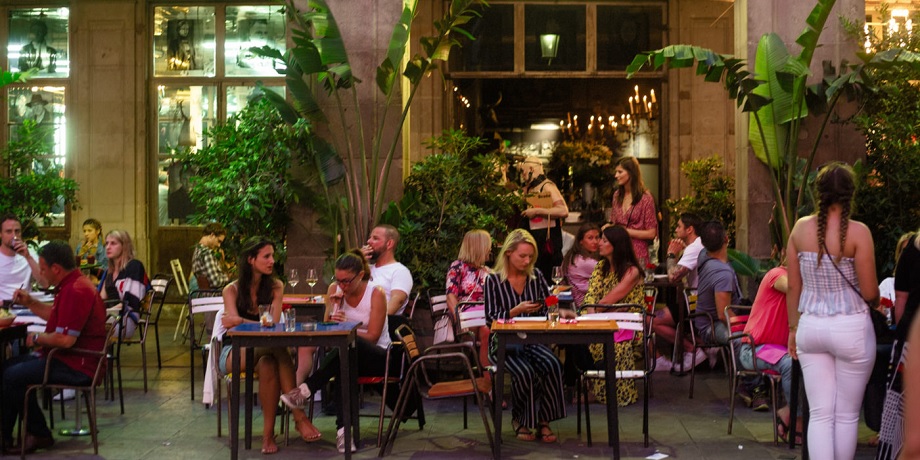 Its name means "pharmacy" in German. We don't know what the reason will be, but what is certain is that a cocktail on the terrace of Ocaña Apotheke is better than medicine. The atmosphere is always worthy of the greatest occasions and live music is very common there. In addition, its location, in the middle of Plaça Reial, is worth a visit. Highly recommended!
Address: Pl. Reial, 13-15 – 08002 Barcelona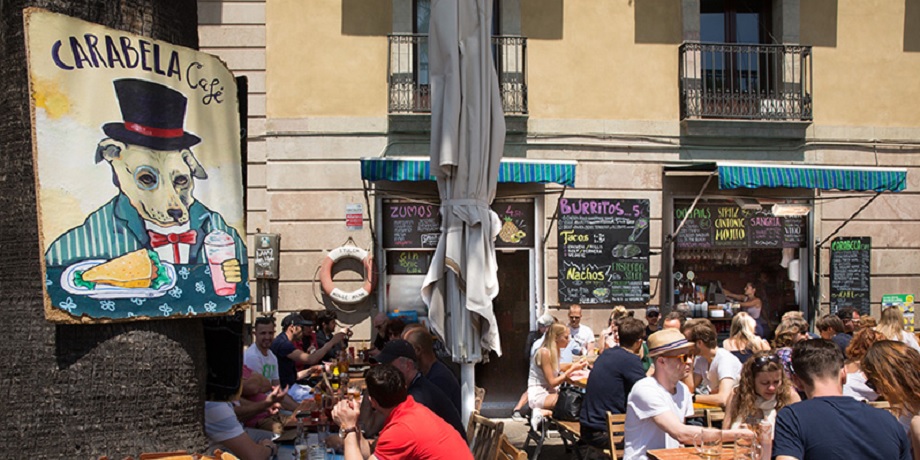 It is undeniable that one of the main attractions of Barcelona is the sea and, therefore, the port. And there is no doubt that the best terrace to go for a drink in the area of the Port of Barcelona is Carabela Café. The sun shines all day long and, although the appearance may not be the most elegant, both the drinks and the Mexican food they prepare there is awesome. It's an ideal place to go with friends and have a few laughs. Also, right next door is the terrace of Aperol Spritz.
Address: Pas de Sota Muralla, 3 – 08003 Barcelona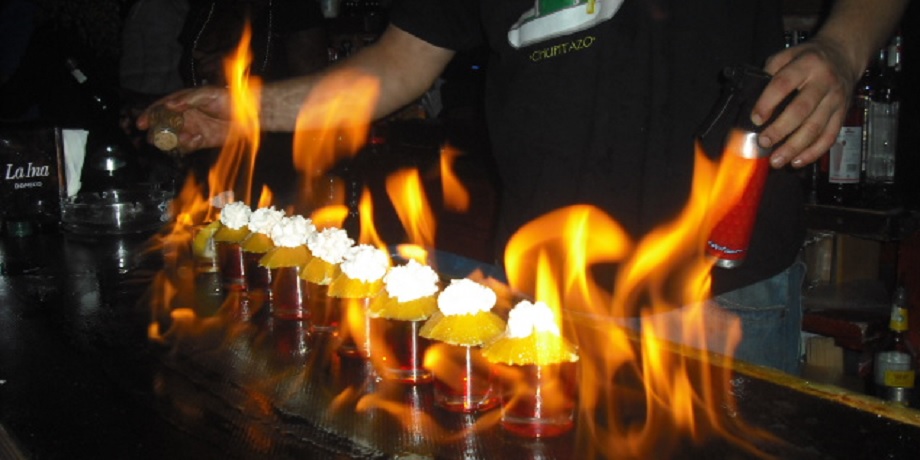 When we talk about Espit Chupitos, we're not talking about a bar. We're talking about a group that operates all over Spain. In the Espit Chupitos venues, frequented by many tourists, but also by some locals, you will find more than 600 different types of shots, all of them with a unique and unrepeatable set-up and at very, very affordable prices. Only in Barcelona, Espit Chupitos has got 4 bars. Choose yours and enjoy!
Address: Pg. de Colom, 8 – 08002 Barcelona
Address: C/ Consell de Cent, 268 – 08011 Barcelona
Address: C/ Aribau, 77 – 08032 Barcelona
Address: C/ Lincoln, 19 – 08006 Barcelona
Restaurants: where to eat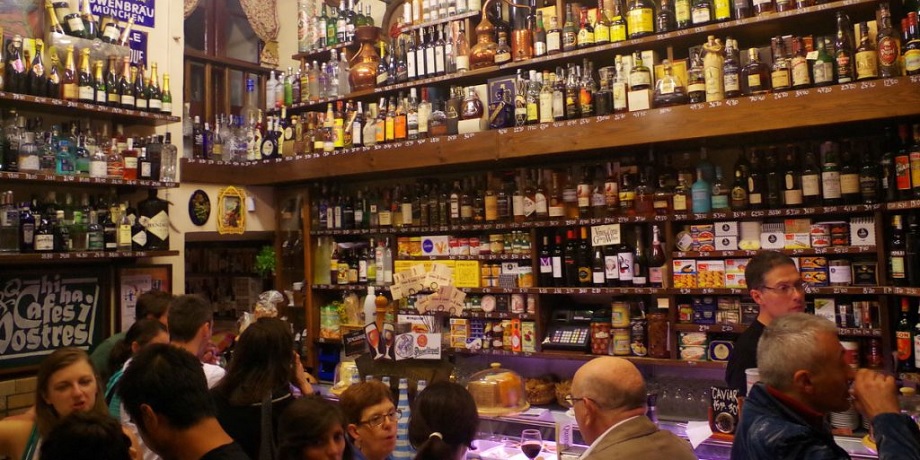 Quimet & Quimet is one of the most famous bars/restaurants in Barcelona. Its limited capacity (about 30 people) makes it almost always full. The good thing is that you eat standing up, so you don't need to reserve a table or anything like that. Their food is highly tasty and 100% homemade, plus they have more than 500 wine references. We recommend the montadito of salmon, the chipirones rellenos and the montadito of caviar, red pepper and leek.
Address: C/ Poeta Cabanyes, 25 – 08004 Barcelona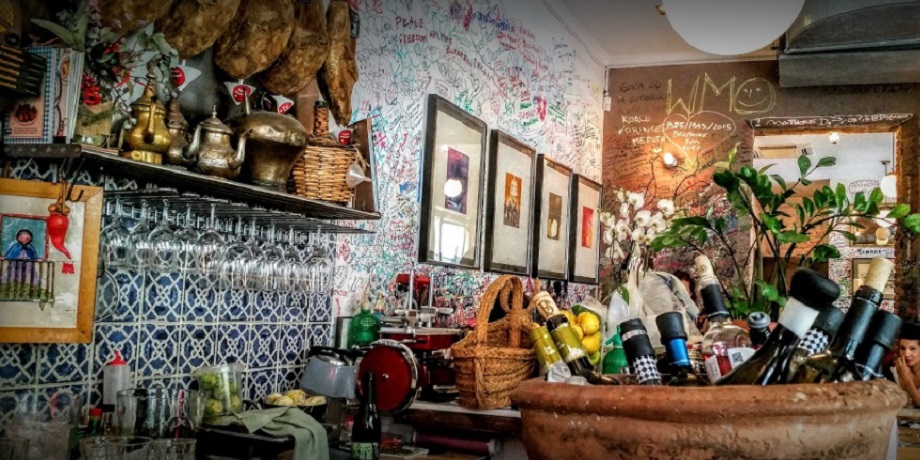 Located in the heart of the Gracia district (one of the most peculiar and beautiful in Barcelona), the restaurant La Pepita attracts attention for its curious looking. The walls are decorated with graffiti and attendees are allowed to draw, paint or write on them. At La Pepita, you can eat sandwiches, mixed dishes and tapas that are generally designed and thought to be shared by 2 or more people.
Address: C/ Còrsega, 343 – 08037 Barcelona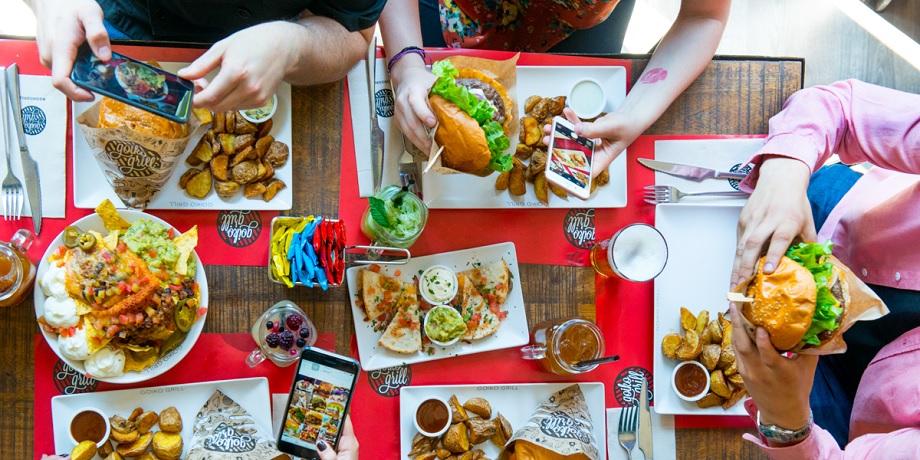 Who doesn't know Goiko Grill? They are everywhere. If you have not yet given them a chance, we don't understand what you're waiting for. It's a burger shop, yes, but it also has vegetarian options and salads. It always offers a great atmosphere and, despite having different venues all over Barcelona, they are always full. Call and book a table before you go!
Address: múltiples locales en Barcelona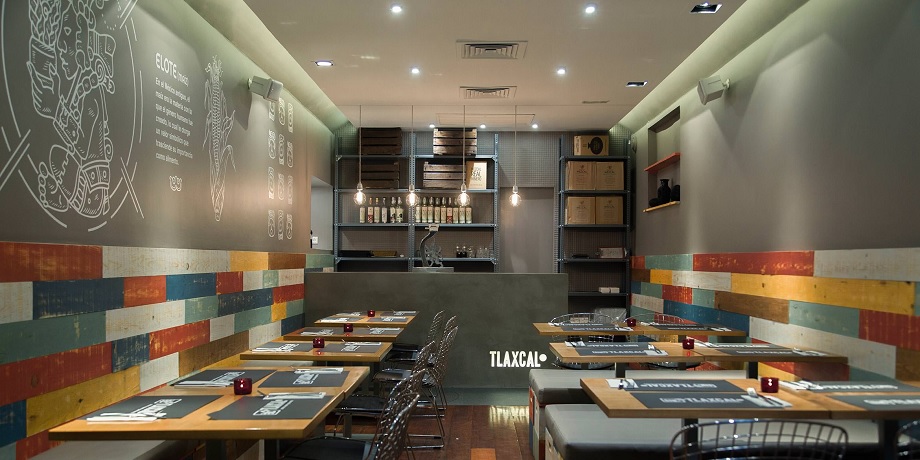 If you're a Mexican food fan, this is your place. Their tacos are famous all over Barcelona and their drinks or, as they say, "tragos" are absolutely spectacular. It is a very nice place, ideal for dinner in just over half an hour, but less than an hour. As soon as it's been open for an hour, queues can be set up at the door, so be quick… or call to book a table and be the smartest. This way you'll get to know the Borne neighbourhood!
Address: C/ Comerç, 27 – 08003 Barcelona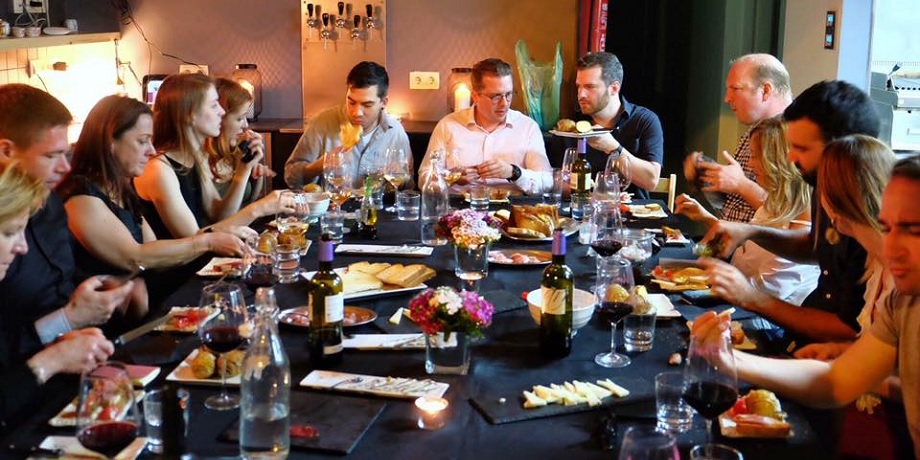 Do you know what dim sum is? Well, it doesn't matter. Visiting the Mosquito tapestry is an absolute MUST during your stay in Barcelona. Their Japanese tapas are excessively cheap. Don't be shocked by the place. It's small and not the most elegant in the world, but its food is simply unbelievable. Another of the magical corners of the Borne.
Address: C/ Carders, 46 – 08003 Barcelona
Beaches: where to sunbathe
1. Barceloneta Beach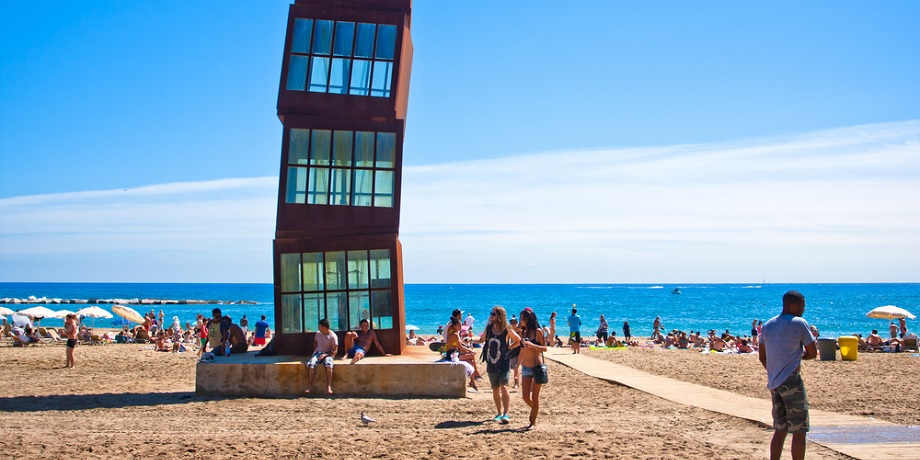 The most famous beach in Barcelona. It's not even the best, but it's the closest to the centre. It's a city beach, so keep in mind that there can be a lot of people, especially in high season. Oh, and the quality of the water is not from another world, let's say… But to chill there having a beer after work or during the weekend is priceless.
2. Sitges Beach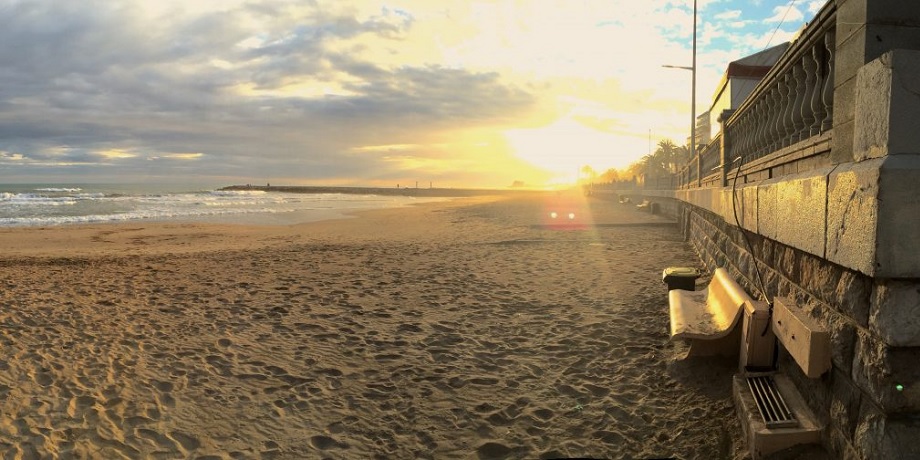 Sitges is a beautiful seaside village about 40 km south of Barcelona. By train, it takes just 40 minutes. During the journey, you will also be able to observe spectacular landscapes. Here, the beaches are very clean and the water, too. It's usually quite transparent. Sitges has a lot of good restaurants to eat in and they don't usually abuse of tourist fees. It's worth spending the day with your friends to get to know it!
3. Les Roques Beach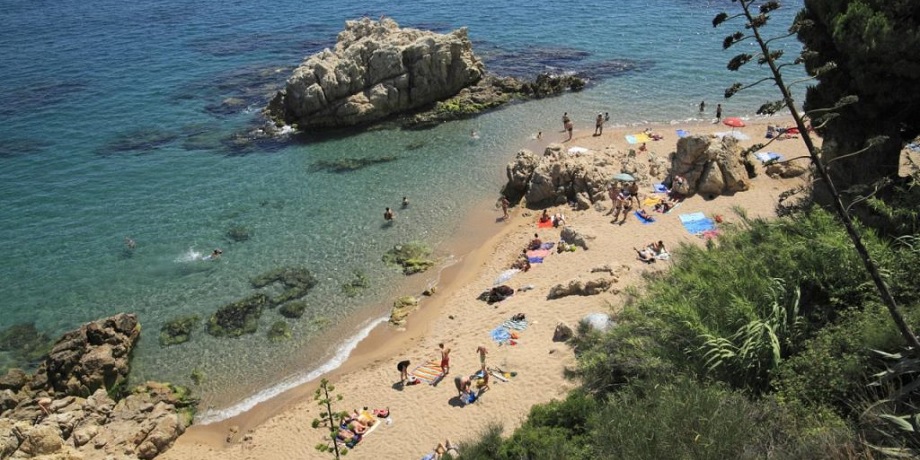 If you want to enjoy quiet coves and small beaches, Les Roques Beach is probably the one that best suits what you are looking for. This hidden beach offers crystal clear waters in an environment surrounded by rocks and pines. It takes about an hour (by train) from Barcelona. Without a doubt, this paradise is worth a visit.
Clubs: where to party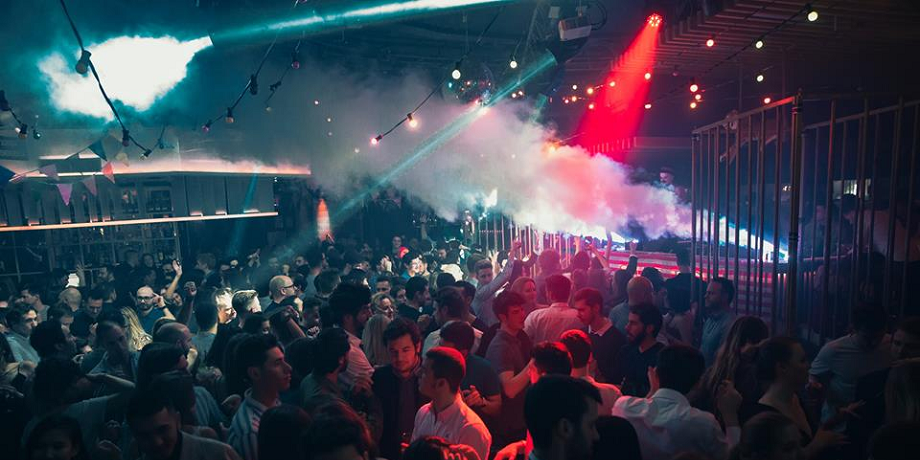 Barcelona is a city plenty of parties any day of the year. If your schedules at the university aren't too demanding, you're in luck, because here you'll be able to dance from Monday to Sunday. With no exception! Some of the clubs with the most history and/or fame in Barcelona are Razzmatazz (famous for its eclecticism with five halls on weekends and for its Dirty party on Wednesdays), Sala Apolo (with its famous parties Nasty Mondays, Crappy Tuesdays, Cupcake and Nitsa), Opium Barcelona (famous for its international atmosphere and its proposal full of hits), Sutton (reference of the high zone of the city and with a high standing atmosphere), Otto Zutz (known for its tendency towards hip hop and r&b music), Bikini Barcelona (which is full of students on Thursdays and Fridays) and, of course, Pacha (reference of the Barcelona night, open every day of the year and with a varied musical offer depending on the day).
In this article of our Xceed Night Mag, we give you many more details and tips about 13 of the best clubs in Barcelona and what you can find in each of them in terms of music, atmosphere, prices, dress code and much more.
13 BEST NIGHTCLUBS IN BARCELONA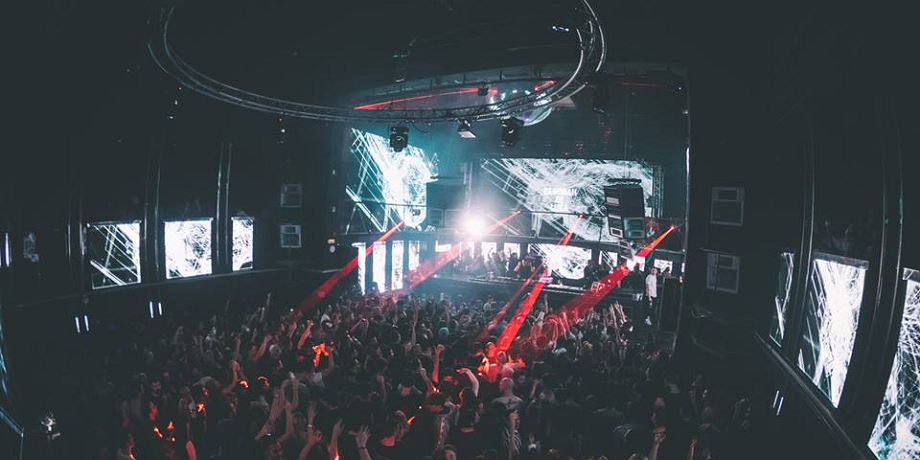 If the international or university environment is not your thing and you prefer to immerse yourself in the underground scene of Barcelona, you are also on the right track. Barcelona has a very interesting network of alternative clubs where you can listen to the best electronic music of the moment in the best sound conditions imaginable. In addition, the local scene is loaded with great talents in terms of visual art and lighting, so that the clubs of Barcelona are placed every year as a reference of the European underground party industry.
The above mentioned Opium, Pacha, Apolo, Razzmatazz and Bikini dedicate some of their nights to underground music, usually on weekends. However, there are other clubs where you will find electronic music every day. Macarena, Moog, City Hall, La Terrrazza and The Garage of The Bass Valley are the best examples. Again, we leave you with an article in which we give you much more detailed information about each of these clubs and venues.
TOP 10 UNDERGROUND CLUBS IN BARCELONA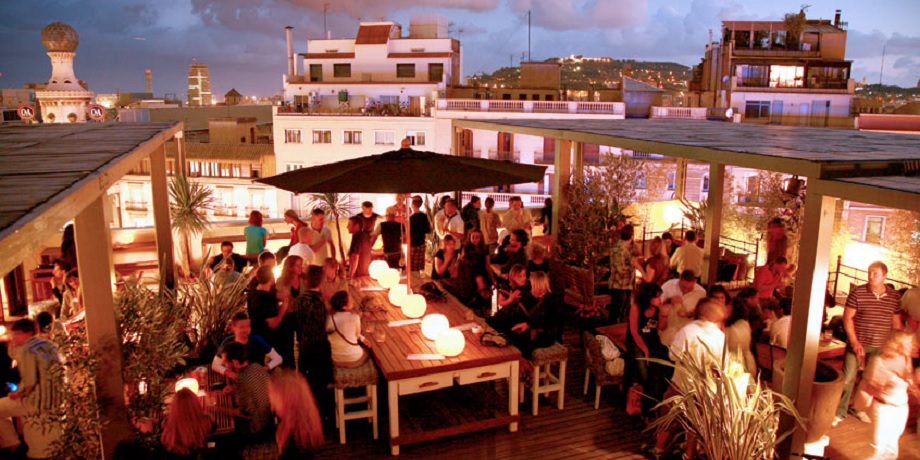 Another key factor of the party in Barcelona is the good weather, which makes open-airs parties on rooftops (usually at hotels) a very tempting attraction. Whether on weekdays as an afterwork or on weekends at a slightly more extended schedule, in Barcelona you can enjoy good music, from the 80s or 90s to house or disco, through hits, hip hop, r&b or commercial.
The rooftops of the Pullitzer, the OD Barcelona, the Gates or the SB Diagonal Zero are some clear examples, but there are many more. That's why we have cooked this specific article in which we show you (with words and images) all that happens on the heights of Barcelona.
(Cover Image: © Xceed)
0