Soel AKA Soel Sadiki is one of the emerging talents of the moment. Born and raised in Milan, the Italian fashion capital, he has always been a world traveller and a great music lover. His first Asian tour has just ended and he is working hard in his studio on some very interesting upcoming releases. We had a nice chat with him and spoke about his passion, his work and how it all started.
Who is Soel and when did this project start? 
I've always been passionate about music, even though I've never studied or played a musical instrument. I got into this world through clubbing. I loved dance music and travelled all around Europe to go and listen to my favourite DJs. Around 2007 the places I was going to the most were Cocoricò, Amnesia Milano and Magazzini Generali. I would say that the idea of the project Soel was born in those years. In the very beginnings of when I was asked to DJ, I was just playing for fun, but it very quickly became a real passion. Then going to clubs took on a more serious element – I would analyse the DJ's way of playing, of mixing, I would pay attention to the tracks selection. Also to the effect of each track on the dance floor. Luckily, not having studied music was never an obstacle to my creativity. In the studio I made and I still make mistakes, but I'm very intuitive and hard-working, and my past as "observing clubber" helped me a lot.
When did you start playing in clubs?
I used to go clubbing every single weekend, especially in Amnesia and Magazzini in Milan. By making friends and getting to know the organizers, I was offered a slot in the 2nd Room of Amnesia. Within a couple of years, I was playing there every month, on occasion even playing in the main room. When I moved to New York I discovered a whole new world of musical opportunities. For a musician, this is really the perfect city: jazz jam sessions, live concerts, street artists…. And above all, it's very inspiring. Although I only lived in New York for one year, it's there that I started making the music which is closest to what I produce today, melodic techno. Nothing was immediate; it took time and a lot of patience. This is a competitive world where it's not at all easy to emerge. Building an artist career takes consistency and a lot of commitment.
Your tracks have been played a lot by Tale Of Us. Could we say that your name started being known because of this?
Lately, my tracks have been played a lot by Tale Of Us, but my path didn't start there. My career has been a constant musical evolution, like it is for many musicians. At first, my sound was very groovy, my tracks were played by artists like Dubfire, Marco Carola, and Paco Osuna. Then I started to produce more minimal sounds and had a release on Oliver Huntemann's label, Ideal Audio. Over time I realized that my music was heading in yet another different direction. By producing and making mistakes, I was constantly learning and I realized that my style was closer to a melodic, dark, sometimes melancholic techno. For the kind of tracks I produce now, I'm supported by artists like Tale Of Us, Adriatique and Mind Against.
Leaving the world of clubbing aside for a moment, who are your favourite artists?
Cinema is another big passion of mine and also a great source of inspiration; at the end of each film I watch I get rather nerdy… I research the whole soundtrack, the composers, and if it's one particular artist, I study all of his works. Hans Zimmer, Clint Mansell and Junkie XL are amongst the composers I appreciate the most; in my opinion, they have made some of the most beautiful soundtracks ever. I see them as unattainable gods, to me they represent the pinnacle of a career. My dream for the future is to eventually stop travelling, move to Los Angeles and start producing not only music for the dance floor, but especially music for the cinematic industry.
In terms of electronic music instead? Who are your sources of inspiration?
I have a lot of respect for the Detroit techno scene, where it all started. I have always admired Derrick May, Juan Atkins, Kevin Saunderon and Jeff Mills both as DJs and producers. Another artist I respect a lot is Richie Hawtin, whose impact in the electronic music world has been, in my opinion, wider than the one of anyone else. He brought lots of people into this world and made so many kids fall in love with this industry. I also admire Recondite a lot, who manages to make music that comes from the soul, just by using a computer. Mathew Johnson, David August and Maceo Plex… To me, they are the apotheosis of electronic music for the dance floor.
We know that you are one of the artists of Recondite and you were released on his label Plangent Records. How did this relationship start? 
I met Recondite at an event in Germany, and because I obviously knew and admired who he was, I remember approaching him with a lot of respect, something which he really appreciated. At that time, inspired by a '98 album by Plastikman, I produced some tracks, which I decided to send him. He selected 4 and released them on his Plangent Records label. I remember how he described them, the particular attention on every single detail. Until then no one had ever talked about my productions in the same way. I was speechless! I still smile when I think of his kindness compared to the arrogance of other "Big" DJs of the industry, something which I've also experienced on occasion, unfortunately.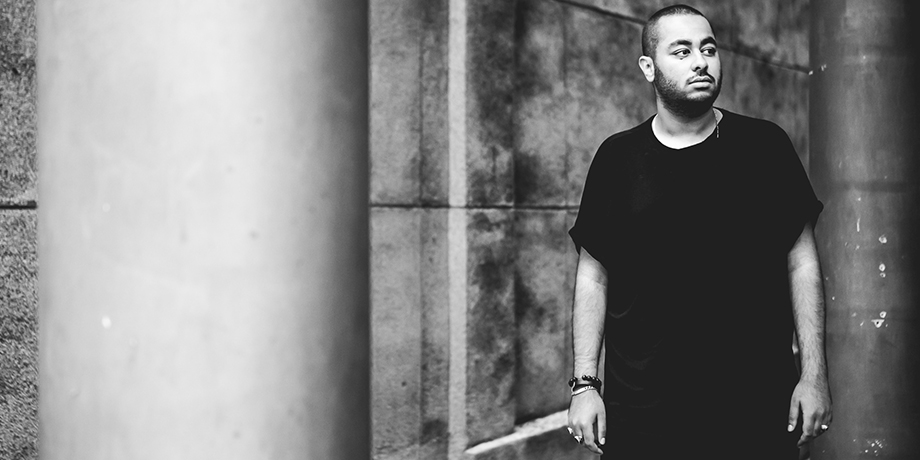 You've just joined Transmat Booking and Management Agency, by Derrick May. How did you start to collaborate? 
The first time I met Derrick May it was at Movement festival in Detroit. We would always see each other at Kappa Future Festival in Turin, which would give us the opportunity to talk more. One time he invited me to his show at Amnesia Milano, and this was where he proposed I join the Transmat Booking and Management Agency, associated with the historic record label Transmat, founded over 30 years ago by the legend himself. For me, it was really unexpected and an absolute honour. I'm still amazed I'm part of such a professional, precise and well-organized team, under every point of view. I'll always be grateful to Derrick and to Patricia – our manager and agent – for welcoming me to Transmat Agency!
What are your first impressions about being part of such an exclusive agency? 
It's actually great, it's a really professional agency. Having worked in the industry for a long time I realized that the best agencies are the exclusive ones, with very few artists. In these small realities, the agents have the opportunity to take care of the artists with particular attention to detail. One feels safe and protected. Transmat Agency is co-owned and managed by Patricia, who has been in the industry for a long time and is really experienced. She has a great team helping her and they are all very hard-working and respectful of everyone, which is not so common in this industry!
You have just finished your tour in Asia. How was this experience?
It was my first tour ever and it was really amazing. I always thought the most interesting parties took place in Europe, so I didn't go there with many expectations, but immediately I was pleasantly surprised. The dance music scene is relatively new in comparison to Europe or the US – but on top of the courtesy and good manners typical of their culture, the community of ravers in Asia is made of incredibly dedicated music lovers; a love which is fully expressed during the party in front of the DJ. In Hyderabad in India, I had one of the most beautiful shows I can remember – it was an open air venue with a stage under the stars, and the atmosphere was amazing. But what struck me the most was the dance floor's energy, how everyone went crazy with every drop, the way they were living every track I played. The biggest satisfaction was the response to my unreleased tracks – the crowd went wild, way more than I had expected. One can feel their love for music during the whole set, and it's fantastic.
Did you notice big differences between the western and eastern music scene? 
Electronic music in Asia is the new big thing, everything about the clubbing scene is still fresh – and you can really feel the passion. In their clubs there is no backstage, just the DJ booth and the dance floor. It's absurd how this would be considered "underground" in the western scene, when actually it's how it should be. Our society is so concerned about appearance to a point where it's becoming obsessive – the backstage is always full, everyone wants to be there because they think it makes them look cool. Having a video of the DJ up close is way much better than having an anonymous one made from the dance floor. But in Asia, they don't even think of pulling out their phone whilst they're dancing, they leave it in their pockets and enjoy the moment. Everything is still fresh there; clubbers just think about dancing. It's wonderful.
A particular moment in Asia that really made me smile was when one night, whilst I was packing up after my set and everyone was leaving to go home, the venue sound engineer approached me and asked if I could put my music on his USB stick. Many producers bring a USB stick with them so they can leave you their music. It's not all about organizing events just for economic purposes; there is still ingenuity, there are so many feelings, passion, a desire to create. The reasons why we got into this scene are still alive in Asia, way more than in Europe these days.
You spoke about producers who left you USB with their productions. That's something that always happens to the "Big" ones. How did you feel receiving other people's work?
It's not the first time it happens to me and every single time I feel extremely honoured. I receive a lot of messages every day to my email and social media mailboxes, but I'm working so much in the studio that unfortunately I don't have a lot of time to read or respond to them. I need to learn how to organize myself better because I'm so happy and grateful that people take their time to write to me, regardless of what their reason is. So it's even more amazing when artists contact me because they care about my opinion on their work; people who have so much respect for my music that they want my opinion and not someone else's – it's so humbling. One thing I've learned and imposed upon myself is that there must always be respect. Talking about and sharing music without an ulterior motive, that's what I love and that should be the point. Also because we all know that "Music is the answer".
What do you hope the Asian tour will bring and what are your future plans? 
This tour was a start, an introduction of Soel in the Asian market. It helped introduce my name and my music to a new crowd. The tour wasn't even over and I was already receiving new requests! And in addition to it being part of the whole "working experience" of the DJ, it was also a journey that opened my mind. I was such an amazing trip that a new tour is already being planned for next year.
In terms of my future projects…. I'm in a really creative space at the moment, very focused and working hard on several releases, but I can't say much about them yet. I'm also planning on setting up my own record label by the end of the year which will allow me to release the music that has been on standby for the last two years, something I get asked about a lot. And last, but surely not least, on the 12th of September, there will be my Afterlife debut in Hï Ibiza. I'm really thrilled and honestly can't wait to see what the future has reserved for me and my music. To finish, as I learned recently: Namaste!
(Cover Image: © Phlame)
0