Dance Spirit is much more than music. The duo formed by Chris Mohn and Reagan Denius has built a great legacy in the electronic scene of their city: Los Angeles. The music that comes out of their studio in Skid Row communicates with their spiritualism, a powerful feeling of contribution to their local community, as well as to the global community and even the universe. With their message, and with a musical product generated from homemade samples and analogue instrumentation, Dance Spirit has become an icon of brands such as Distrikt and Bedrock, as well as the world-renowned Burning Man festival. Dance Spirit has also been endorsed by a few of the biggest names in the most esoteric, shamanic and nomadic genres of techno and house music.
John Digweed, Lee Burridge, Damian Lazarus… It might be comfortable to get constant support from giants like these.
Chris: Indeed, it is a dream come true. The email we received from John [Digweed] regarding our first Bedrock EP choked me up. I will never forget that feeling of true manifestation.
Reagan: It's a reassuring nod to get the support of industry giants like those because it just makes me feel like what we're doing isn't bad shit.
It looks difficult to know LA's underground music scene better than you. What can you tell us?
C: We are experiencing a paradigm shift in listening values to the degree that the new generation has grown up on acts like Deadmua5 and Tiesto, so a musical genre that was once somewhat rare and nuanced is now a mainstay. As far as LA goes, you could go out every night and listen to world-class talent. Hollywood will always have its glossy clubs with over the top chichi bottles and models, while warehouse space is abundant in the downtown area and allows for a very healthy and thriving after-hours underground scene, which for me is where the real heads, effort, art, and people gather that understand what the music is about and make an effort to maintain integrity. Parties like Dialogue, Midnight Lovers, Temple Tuesdays, Deep, Sublevel, Subktlr, Superfreq, Cyclone, Into the Woods, and Stranger Than (and that's just to name a few) all keep it real featuring all the genres and flavours rotating consistently in an environment for responsible party people to have a good time. With the gentrification of the city, weed legalization, a burgeoning economy relative to the entertainment and tech industries, a flourishing arts scene, and a healthy flow of young people with money, the city has never been this exciting.
R: For those who have never visited Los Angeles, but maybe have been to Barcelona, Spain, for instance, would enjoy Los Angele's weed, art, and underground music culture. The weather is exceptionally similar to Barcelona, maybe slightly less humid. Our underground scene is thriving, and Temple Tuesdays as well as some other nights at the Pattern Bar offer a great place to check out both up and coming and established local talent while giving you a great way to meet people in our underground community. Clinic Wednesdays is also another popular spot, located at the Sayers Club in Hollywood, and you can frequently catch some amazing talent flowing through their decks. All in all, I couldn't be happier out here with the ever-increasing growth in the scene as well as the community's participation within it!
You collaborate with many other local artists and promoters to empower each other. That's nice to see!
R: Over the years, I have adopted a personal belief that collaboration will take us further in life than competition. To foster a healthy community both in our scene and the world at large, we must compromise our purely individualistic goals with the awareness that we all share this experience of life, and if we want to see the world change, it takes all of us working together to make it happen. In collaborating, we're all working to build something greater than ourselves: our scene. And the future, and I don't have hope, but faith that we can impact the direction humanity takes. That's what I love about Burning Man; it's a great example of strong community building in practice in a micro situation that you can bring knowledge and how-to back into the macro world.
C: My view of this collaboration is also an effort to honour and encourage artists in our local community, which is why we ran a quarterly print magazine titled Space Cadet the last couple of years. With so much fashionable emphasis on the European marketplace and now Tulum and Burning Man, it is easy for new and seriously genius talents to get overshadowed by the gatekeepers of the industry. Europe will always set the standard, but at the same time, I have learned in my travels that people are people wherever you go, and I took that philosophy to the hometown of LA. Just because we do this Rave thing differently doesn't mean we are any better or worse than Berlin, it's just we are doing it differently, and I wanted to honour that and commemorate the DIY culture that we have in our back yard. I also feel that Reagan and I have a lot of knowledge and experience that we can use to give love and guidance to other artists trying to find their way amidst the fear or doubts surrounding the pursuit of creative dreams and goals.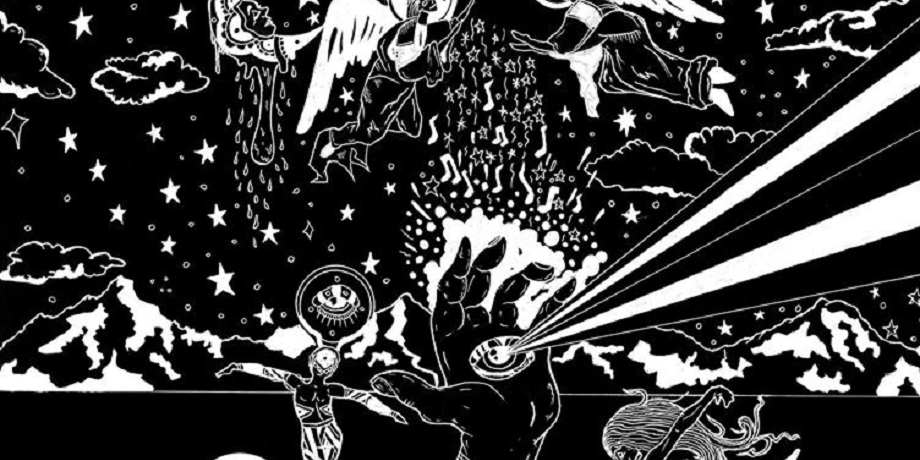 All this sounds quite the opposite of what normally happens nowadays in the industry.
R: I think it's easy to feel competitive in today's environment, where the accessibility to affordable synthesizers, drum machines, software, and technology is so abundant. I feel like you have to decide what kind of route you want to pursue as an artist: are you going for the fame, the glory, and the ride, or are you here to use music and the power that comes with being a public figure for good in the world? From my own experience, there's a whole range of selfish, debilitating emotions that can go along with competition, such as jealousy, hate, elitism, exaggeration, and when you're competing for your self-importance above others, the world or product your creating does a disservice to the rest of the community. If art is a reflection of the intention of a moment, and if the intention is money or fame, that's what you're trying to connect with people over. If all we have to connect over is material objects, that's a pretty unfulfilling life. When you are part of a community, there's a greater sense of purpose, and when you find how to be of service to the community and world, a greater sense of fulfilment.
C: Although people are very pragmatic about it in a sense, you can usually tell who is in it for the music and who is in it for the fame or whatever. I think if you give to the scene, the scene gives back. It is a game with no rules, and I have found over time that it has taken many lessons in failure to understand my own character and personality, learning to connect with other people in the culture by genuinely being myself and not trying to be accepted for something I'm not. Sometimes I feel like we are a "nice guys finish last" kind of act, but the truth is we aren't last, we are the first ones to see everyone succeeding all at once, it's fun to watch people prevail and grow right in front of you.
You are close to Distrikt, Mayan Warrior, Desert Hearts, All Day I Dream… In shorter terms, you are good representatives of Burning Man's spirit. What's the message in those desert vibes?
C: Well, I feel like we fit in a way that there is a psychedelic and/or esoteric quality to all the brands that you mentioned, so the music that we create appeals to a lot of those crowds. We can fit in as we have musically earned the respect of the people in charge of these events and gatherings. I would dare to say though that our music doesn't mirror a lot of the aesthetics that have made these big brands what they are today, so I am honoured that these guys find a place for us to fit in and do our thing. If you had to find the common frequency with these events, it is that they are all festival-oriented cool things to do that take place outside and offer people a chance to dress up to express themselves and get down to quality music.
You use purely analogue instrumentation and homemade sampling. Can you give a bit more details on that? What's your approach and processes regarding music production?
R: Listening to music is a very physical, emotional, and spiritual experience for me. It's a mind, body, and soul workout. Making it is as such, too. I think each song is a meditation, a world unto its own with a unique mood, feeling, and personality. First and foremost, we want people to dance, so a solid body moving groove is essential. From there, it just depends if we feel like tapping into the empowering vibe of techno, the moody mystic of deep house, or the psychedelic noodling of hyperspace music… These personalities blend and merge as new techniques emerge and develop through current and future sessions, which we then strip apart and incorporate into our live performance. Developing a deep-rooted understanding of the laws of nature (read the Kybalion), dualities, and the push and pull of the play between light and dark to invoke deep emotion has gone a long way to helping create moods and worlds in music. I have recently found myself in the modular world, which has ultimately made my world 100% easier in terms of being able to take the things I've heard in my head my whole life and finally getting them out. It's all about experimentation while merging the experiments with the more coherent aspects, learning how to take chaos and control it into something tangible for the mind to make sense of.
Producing vs. deejaying. Your thoughts on both and your fav?
C: I like them both. Producing is where I geek out in the studio and get whatever I happen to be listening and influenced by out of my system. The studio is my nucleus, my happy place, my world, so I never really want to leave whether I am making music or art. DJing allows us to get out into the world and share our music with people, and experience new places and people. So, they both offer a fair amount of solitude and connection, which is an excellent flow for an artist to have.
R: We get to DJ less than I like, however, as when we perform, it's a live performance of our music. Now and then, we'll have an opportunity to jump on the decks and trip people out with our musical selection. Lately, I've been collecting lots of music for more open format sets, breeding ambient and IDM with Jazz and Soul and exploring drum and bass and dubstep, mixing it up with some trip-hop and experimental stuff. It's a lot of fun.
Who influenced you the most?
C: The Grateful Dead.
R: Yea, he only ever listens to The Grateful Dead. (sigh) But lately, he's started listening to techno again, so we're cool. My earliest childhood influences are the moody melodies and vibes of bands like Garbage, Depeche Mode, Nine Inch Nails, Pet Shop Boys, eventually Sasha & Digweed, Björk, and Aphex Twin, then I went through a trance phase but was mostly into progressive house—really, I was just hungry for anything electronic, different, and weird. Over the years my tastes have refined, I was heavily into techno for a while, and about six years ago I found myself in love with the moods, textures, and grooves of minimal artists like Ricardo Villalobos and the Romanians. Also, a list of artists I listen to on the regular are Skee Mask, Aleksi Perälä, Floating Points, ASC, Kasara V, Underworld's new album is fantastic (that Altitude Dub both the vocal version and the 30 min. continuum dub… wow… I made an edit and stitched the ending of the 30 min. one to the vocal version and it's just perfection…), Massive Attack, Tricky, Pink Floyd, The Orb (I love The Orb) and a lot more! Maybe one day, I'll share my Spotify playlist.
You launched the EP Famous Last Words on Desert Hearts Black some days ago. Let's introduce it to our readers.
C: It's a pretty casual affair the way it came together. We had demoed a few things to the original Desert Hearts label, and then earlier in 2019, Evan and Marbs told us about DHB and gave us a tremendous amount of time to get our shit together and come up with something. Most of the EP consists of music we recorded in our new studio in Skid Row over the last six months. The title is a clever jab at those of us that say, "I'm not really gonna party tonight," and end up blazing a trail to the after-after-after party… I think it's relevant for most of us that like a good dancefloor.
You are in the final steps before launching your second album this year, which will also mark the launch of your new label and party brand: Communion. It looks like 2020 could be a game-changing year for you.
C: At this point, Dance Spirit is an art project that we have been living consistently for the past six years or so, and I would like to think the level of artistic authenticity is starting to be noticed by people that are still down for the cause and can pull on some strings, but honestly our talents have been praised for years. I have learned to accept it all with humble modesty and gratitude; otherwise, you get your hopes up and lose perspective on what is really going on and what you have to do to level up.
What would you say is your biggest learning so far in your career? A legacy or message you would leave…
R: This past December 2019, I found myself in a pretty bad mental spot. Suddenly, I had been thrust into a world of apathy and didn't care about anything or anyone. As some may know, we produced a quarterly magazine for Los Angeles' underground dance music community the past two years, which was a 100% passion project. It was a project that never slept. It was always at the forefront of my mind, even when we would work on music. Suddenly, the time I had set aside to practice health both mentally and physically disappeared in the piles of work I amassed for myself, and my mind began to unwind. Right before Burning Man, was when I felt the exhaustion creeping in, but I wasn't able to recognize it as such. Somewhere around December, I started losing the plot. My mind was unravelling before me, and I was in a state of panic, frustration, fear, anxiety, worry—all the worst feelings ever. I questioned myself, life, what I was doing with it, where I was going—nothing made sense. I conveyed my self-destructive thoughts to Chris on the phone, and he says, "Dude. Take a vacation."
I was so tired, the thought of being healthy or restarting my mediation in the mornings sounded exhausting beyond belief—I had no patience for it, for it was just another chore. Around mid-January I found myself getting bored and knew it was time to start working on myself. Since then, I've remained vigilant with my mental health routines and been getting back into shape, so life is starting to come together again. I think 2020 is a perfect year to find balance again, being that it's a balanced year number, and it's also a great year to refine my perfect vision for the future.
C: Be consistent. Be yourself. Make the music you want to make and NOT what is trendy (PLEASE STOP COPYING MEDIOCRITY). Be patient. Don't talk shit or take shit. Support your local artists and scene. Don't take rejection personally. Pay your dues and put in your time. Eventually, do your own thing. Always give love.
Next biggest plans and goals?
C: We are releasing relentlessly this year. We took a step back over the last couple of years to give ourselves time to grow and to have a space in the marketplace between the old and the new Dance Spirit. So far, we have lined up this release on Desert Hearts Black, a remix for Rowee and Robbie Akbal on Saturn Return, and a remix of Mont Blvck for Gari Safari both due out in March. We also have another EP coming out on the new LA label from Treavor Moontribe called Dreaming Awake, which will be out in April. Also forthcoming is a collab EP with Oona Dahl for Watergate Records at some point, as well as a track for DJ Three's label, Hallucination. We also have a folder of goodies that we are filtering through for our next Bedrock demo. Lastly, as Reagan mentioned above, we are releasing our second LP Lunatic on our new label, Communion, and will be campaigning that over the summer. We are really excited about that. Lastly, I started a new project called HELP (Humanity, Empathy, Love, Peace), which is a charity drive we run out of our creative space in Skid Row.
R: It's exciting to be able to give back service to the community in which our underground scene thrives. The warehouses we party in are on the edges of Skid Row, some even deeper in, so it's only right we show love to those with whom we share our space. You'd never let a dehydrated raver go without water, so never let a homeless person go without water, even if they chose to be there!
(Cover Image: © Galen Oakes)
0