In today's society, data has become king. Featuring data is no longer a luxury, but a necessity. And the right implementation of it is vital.
It's almost inefficient in today's competitive market not to use data as a crucial factor in operational and strategic decisions. The worldwide accessibility of internet means most users to stay connected with social media, applications and online search engines.
This results in information available, in the form of statistics provided by the consumer, at the click of a button. The correct analysis of this data can provide you with valuable insights that can help increase profits and prevent the repetition of poor business decisions.
Collecting, analyzing, and correctly putting data into effect gives you an overview of the cost-effectiveness of your campaigns. You can see the spike or drop in your revenues, the number of users who visited your platform and demographics such as gender, age, location, etc. This provides a better understanding of your company-client interactions and the psychographic profiles of your consumers.
In order for data to be useful, it has to be relevant.  A certain issue or problem should be in mind when searching your data for insights.
Are you changing potential clients into paying ticket-buyers? Is your marketing budget being consumed on the correct social media platforms? Are your links easy to find on your website? How do web surfers find your page, etc… Data can help you answer these inquiries with a 100 % accurate and literate summary.
The main tool to be used here is Google Analytics.
It is essential to set a (KPI) Key Performance Indicator that the data will be collected for, this will help narrow down your results to a specific goal, i.e. "Ticket Sales", which is a trackable conversion. In future planning, this conversion can be used to allocate your traffic sources and landing page performances.
When working with Google Analytics there are three main aspects to be kept in mind.
Acquisition Reports
Acquisition Reports are the source of knowing how users and potential clients reach your website or sales platform. It basically illustrates the different channels and platform that consumers found your online platform through.
Such information includes: 
Number of clicks on paid advertising campaigns launched by your business
Search engines, such as Google that led to your webpage

Social media posts that attracted people to go to your website, such as Facebook blog posts.
Clicking on a link in one of your email campaigns…and so on.
These reports can have a tremendous effect on your cost per conversion, which can be crucial in generating required profits for your venue. Basically, Acquisition Reports show you the outcome analysis of your marketing efforts.
Let's take online advertising as an example. When creating an event on your own platform or on social media you can check and track the post. Through the collected data analysis you can see if the post attracts potential customers if it actually generates traffic for your website as well as whether or not these site visits are resulting in conversions, in terms of ticket sales for your event.
These kinds of inquiries create healthy debates for your company, in addition to that the data collected will provide you with answers to these questions and help determine strategies for higher results in ROI (return on investment), as this is an advertisement investment you should gain the maximum ROI on your advertising budget.
Through collecting data you can identify which posts need to be pushed through advertisement and which posts generate leads organically.

Behaviour Reports
Now that you know who your potential customers are and how they reach your website or ticketing platform, it's time to track their movements. Figure out what they use your platform for and if there are improvements to be made to help increase ticket sale conversion.
This report can help you determine which posts generate more traffic and which pages on your website are particularly selling, more importantly, it shows why users leave your page without purchasing a ticket. Basically, it is an insight on users behavioral pattern on your websites. You can know what they like and dislike and what motivates or keeps them from purchasing a ticket after surfing your page.
Also, if you observe each of your content overviews you can tell which ones are worth repeating and which ones should be avoided. As well as, which posts should be pushed by advertisement and which should not.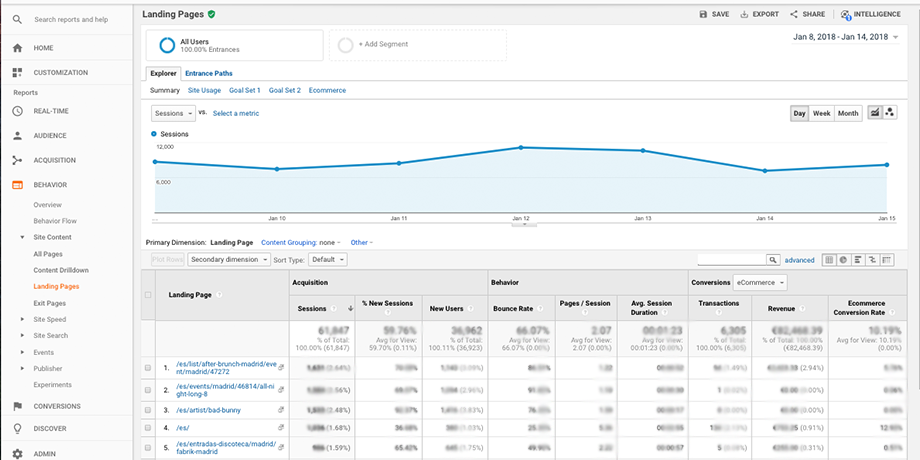 Remarketing
Now that you know who your potential customers are, where they're coming from and what they do when visiting your website or ticketing platform. If you feel that this still did not provide you with the outcome you expected and you want to achieve more ticket sales, then retargeting is your tool!
There are several ways to reach those potential clients, you can organize them into groups in order to collect more data while targeting. Using Google Adwords will help you remarket to your potential clients 
This can be done in simple or more complex ways.
An example of a straightforward approach would be by targeting those who visit your page and leave without a purchase. That is, so to speak, a further filter: clients who choose an event and book their ticket, yet fail to complete the final stage of the transaction. This usually happens when people get distracted or have to do something else that hinders them from completing the task. Now, you can specifically target those people as you know they had an intention of buying and all they need might be a reminder or an extra push.
Through an indirect approach, you can remarket to those who received or saw your ads but did not go through a transaction or surf your page.Those can be targeted as complex as you want. For instance, through targeting more niche audiences with custom ads.
Let's say you notice that a lot of page views are on your "Line Up" page. This can let you conclude that a lot of potential clients are interested in your DJs for that night.
Through custom ads, you can directly advertise to those potential clients by reminding them of the "Line Up". You can also customise a push notification with the name "Hottest Line Up" of the week, to interest those specific people into revisiting your page. This is Remarketing.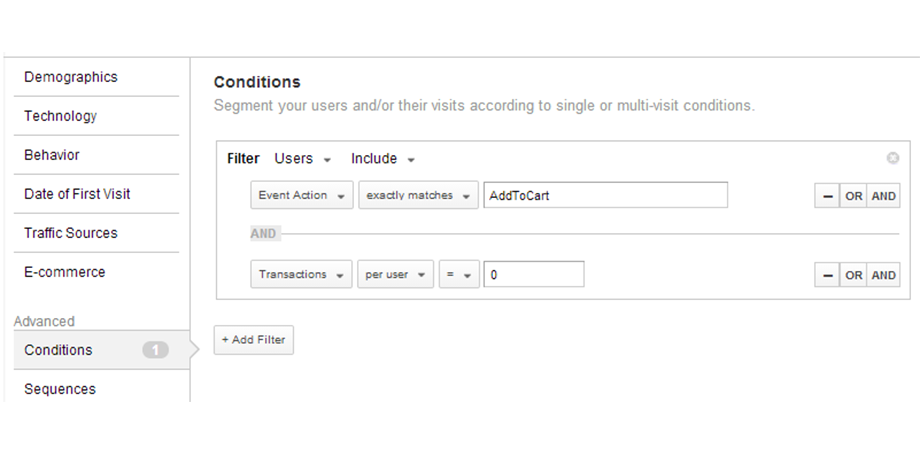 Summing up
Data is everywhere, and the right collection and implementation of it can provide you with a lot of insights into your business, as well as help you generate more profits by reaching potential clients.
Using Google Adwords you can target and market to your audiences with the simplest way as well as with as complex and specific approaches as you want. It is all up to you. So start now and take control of your sales.

Know more about your customers, your business and take ownership of your data.
0