It's not every day that you turn 15 years old and – it is fair to say – the directors of the Portuguese festival Neopop already warned that the event was going to face a historic edition. At the moment, Neopop announced three of the best live acts to be seen at the moment in the clubbing scene, four top DJ sets and the showcase of one of the cult labels of European advanced electronica.
The festival, which welcomes 35,000 people every August on the Viana do Castelo coast, at the very north of Portugal and very close to the border with Spain, will welcome the legendary Canadian trio Cobblestone Jazz, formed by Mathew Jonson, Danuel Tate and Tyger Dhula, in what will be a tribute to techno improvisation in a jam session format. The Germans Gernot Bronsert and Sebastian Szary will also be present as Modeselektor, exploring their classic techno and electro proposal. The third confirmed live is that of their compatriots FJAAK, now converted into a duo and always faithful to their rave personality and their accelerated half-industrial, half-acid techno.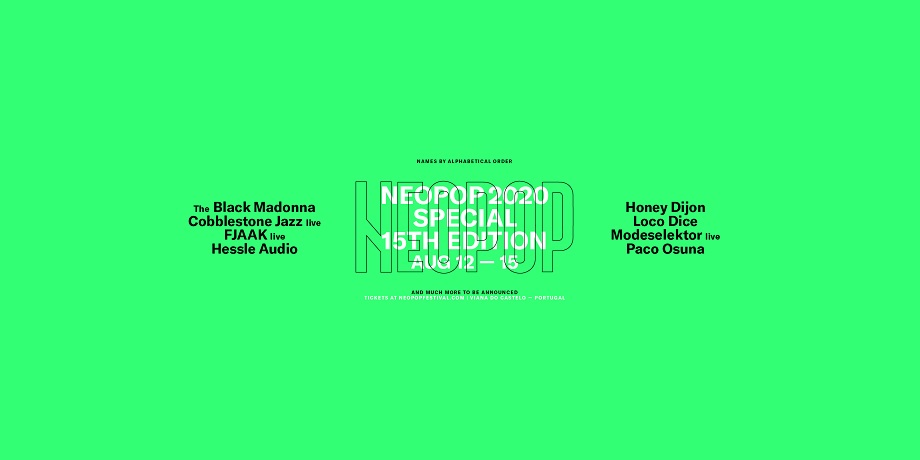 On the deejay side, Neopop will feature the sexy groove of Loco Dice, the minimal-techno sound of Paco Osuna, the big-room house of Honey Dijon, the disco-funk of The Black Madonna and the showcase of the British seminal label and collective Hessle Audio, formed by three masters of dance-oriented eclecticism like Ben UFO, Pearson Sound and Pangaea.
Neopop's 15th anniversary will take place from 12th to 15th August 2020 in Viana do Castelo, Portugal, and full festival tickets for the 4 days are already on sale here.
(Cover Image: © Neopop 2019)
0