The Mediterranean Sea, good paella, sun… and a structure of clubs that has nothing to envy to the main European capitals. In its day, Valencia was already the world epicentre for electronic music thanks to its leading role in the famous Ruta del Bakalao. Today, the city, also known as the Capital of the Turia, continues to play an important role in the Spanish clubbing scene. Here we go with six events that, for different reasons, you shouldn't miss this February in Valencia.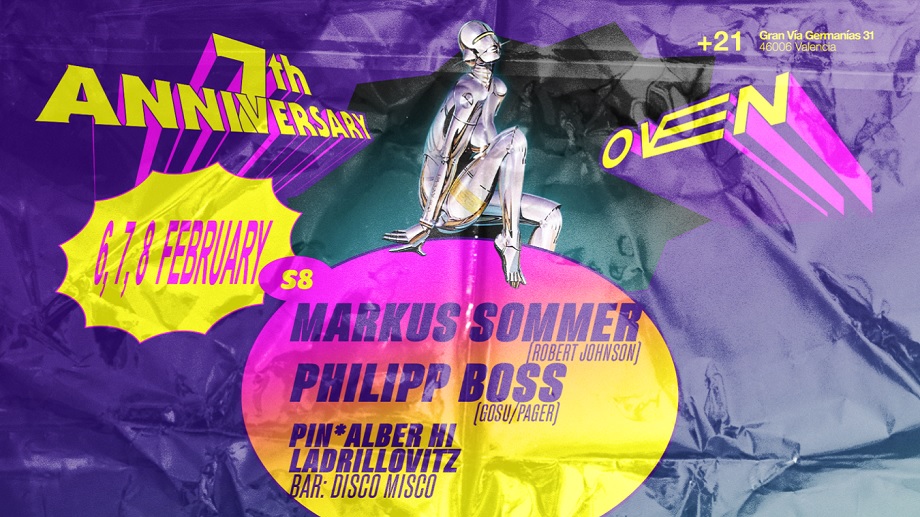 A night to remember in one of the most risky clubs in Valencia. We are talking about Oven Club Centro, which also celebrates its 7th anniversary on the first weekend of February. On Saturday night, it invites the Germans Markus Sommer and Philipp Boss, heads of labels such as Pager Records and Einfach Hören and residents of the legendary Frankfurt club Robert Johnson.
When: Saturday, February 8th
Where: Oven Club Centro
Lineup: Markus Sommer, Philipp Boss, Alber Hi and Ladrillovitz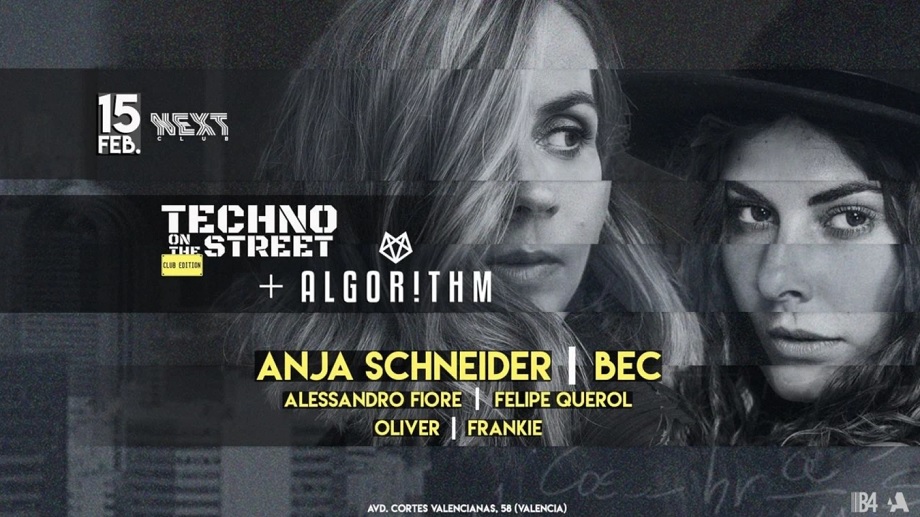 The Techno On The Street and Algorithm parties and the team from Next Club join forces at Valencia's top club to offer a unique night on February 15th with Germany's Anja Schneider as a special guest. The head of Sous Music is responsible for many discoveries on the German scene thanks to her radio programme, which she has been running since the beginning of the century. With her, there will be BEC, a new talent of the techno sound that, at the moment, has already signed its presence in Awakenings for this 2020.
When: Saturday, February 15th
Where: Next Club
Lineup: Anja Schneider, BEC, Alessandro Fiore, Felipe Querol, Oliver and Frankie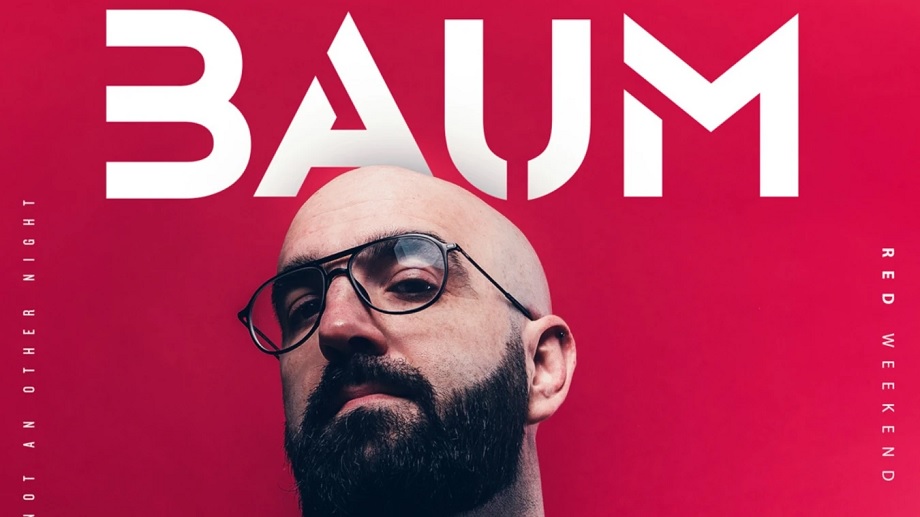 With a background in Suara Music (Coyu's label) and having also published on Mother Recordings, BAUM now has that card that many people crave: the one of elrow artist in residence, both as a DJ (his sessions in the Philippines are always a highlight of those parties), and as a producer (he handles elrow music releases). BAUM is always faithful to the house sound, sometimes more tech and sometimes more deep. His is a sure bet for dancing.
When: Saturday, February 15th
Where: Miniclub
Lineup: Baum, Danny Leblack, Don Santiago, Arantxa Pedraza, Jose Picazo and James Ro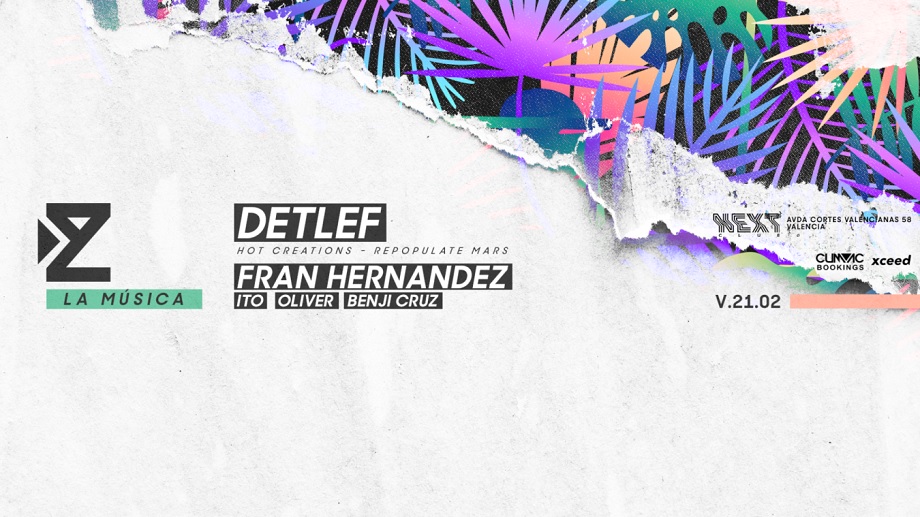 The ZIUR party celebrates its seventh chapter, baptized La Música, by inviting one of the hottest talents on the tech-house scene. Detlef has come to produce for Hot Creations and his sound, always fresh and colourful, has led him to perform at many of the best parties and festivals of the underground movement, being a regular at Ibiza's summer parties such as elrow, at Amnesia, or Paradise, at DC-10.
When: Friday, February 21st
Where: Next Club
Lineup: Detlef, Fran Hernandez, Ito, Benji Cruz and Oliver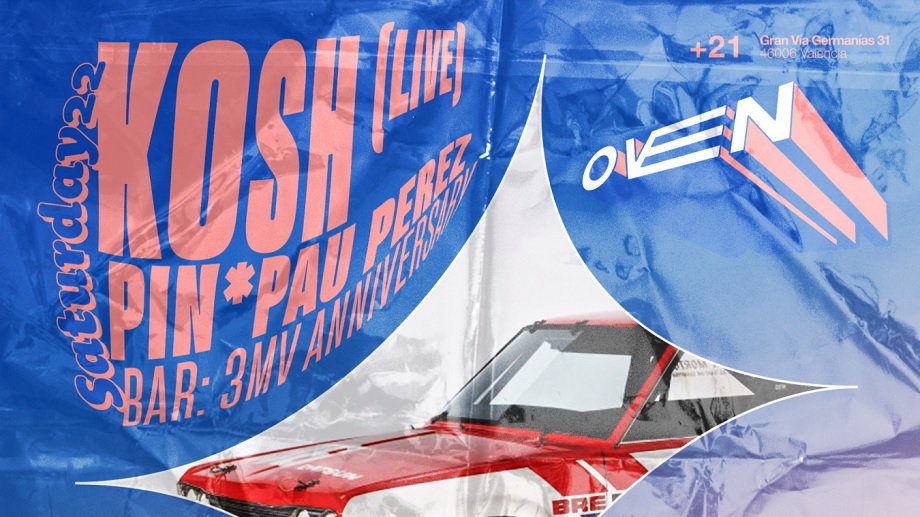 Born in Bahrain and based in Thailand, Kosh is one of those artists who move away from the mainstream way of house music to take refuge in atmospheric, subtle and stylish sounds, always surrounded by an elegant and warm groove. Kosh has started strong in 2020, as he has already been programmed for festivals such as Dimensions. Before that, his live show will visit some European cities. Among them, Valencia, thanks to Oven.
When: Saturday, February 22nd
Where: Oven Club Centro
Lineup: Kosh (live), Pin and Pau Pérez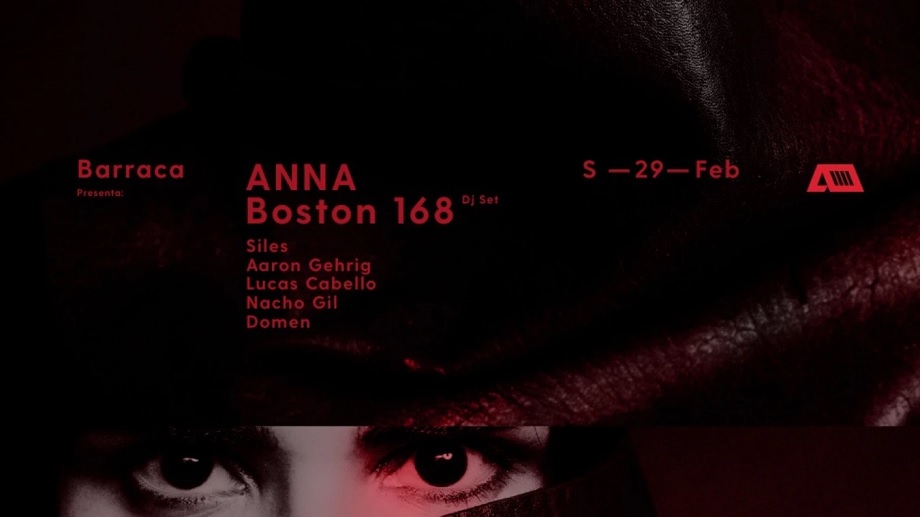 We'll close February in Barraca. The macro-club par excellence of the Valencian area, famous for its history during the ages of the Ruta, will receive on this bisected night the Brazilian ANNA, a talent of big-room genres both in terms of production and selection, who's living her best moment. Along with the producer of Drumcode, Hotflush, Clash Lion and many others, there will be the Italian duo Boston 168, kings of acid techno created live by modulars and a source of inspiration for many.
When: Saturday, February 29th
Where: Barraca
Lineup: ANNA, Boston 168, Siles, Aaron Gehrig, Lucas Cabello, Nacho Gil and Domen
(Cover Image: © Pexels)
0