Barcelona is a city that is famous for many things, such as its beaches, its gastronomy, its weather, the success of its athletes, its architecture and, of course, its street-life and terracing culture. After the COVID-19 pandemic and its consequent confinement, the de-escalation phases allowed Barcelona's bars to open their terraces first, and their bars and indoor areas shortly afterwards. It is time to return to the streets, to meet up again with our people and to raise a toast, either with your favourite beer, good wine or the much-loved vermouth.
At Xceed Night Mag, we open the doors of Barcelona -as well as those of many other cities- to you once again. We show you its best discotheques, its best underground nightclubs, its spectacular rooftop parties and, in case you are an Erasmus student, the best places to drink, eat or swim.
Below, we propose 25 options of bars in Barcelona, which stand out for their charm, their pleasant terraces, their cheap prices, their rooftops, their Irish tavern aesthetics and offers, their cocktails or their tapas. We have visited historic neighbourhoods and areas, such as the Gothic, Marina or Born, and we have even left our voice in karaokes. This is the result. Below, we present you 25 of the best bars in Barcelona.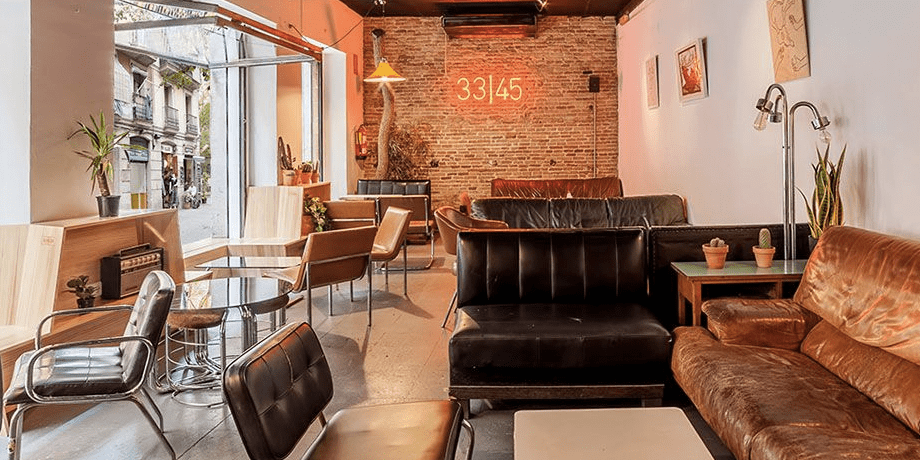 Where the It Café used to be, one of the most frequented corners of Barcelona's nightlife has been established. A wide variety of beers and cocktails invade its menu, although all of Barcelona will agree that it is its vintage seats and (numerous) sofas and its casual, laid-back tone that make 33|45 a must for anyone who feels comfortable among cocktails, laughter, young voices and beats of experimental and alternative electronica. The legendary dj Marc Piñol even offered a set there!
Address: C/ Joaquín Costa, 4 – 08001, Barcelona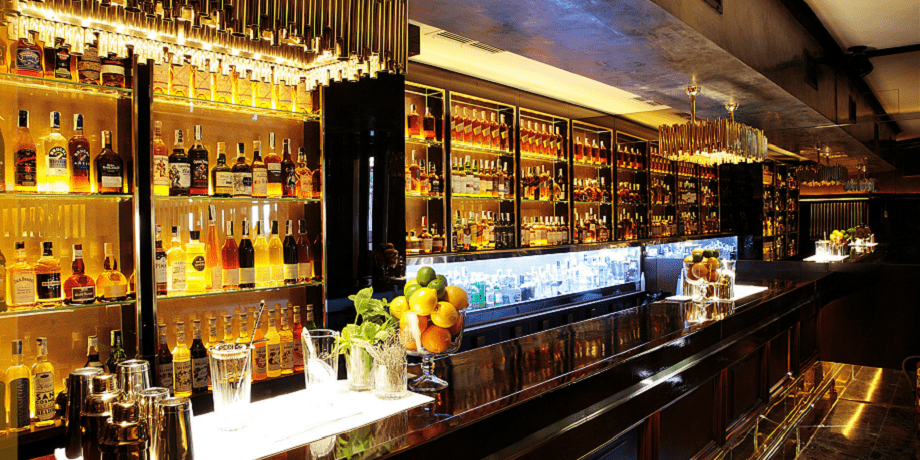 Are you familiar with the Tandem Cocktail Bar? From the same owners, Solange was born, a cocktail bar with a vintage air in which elegance and lordship vibes abound and in which James Bond would feel at home in one of his scenes – and indeed, Solange's name is inspired by the saga of the famous secret agent. The Solange is famous for staying true to the most classic cocktails, without modern flourishes.
Address: C/ Aribau, 143 – 08036, Barcelona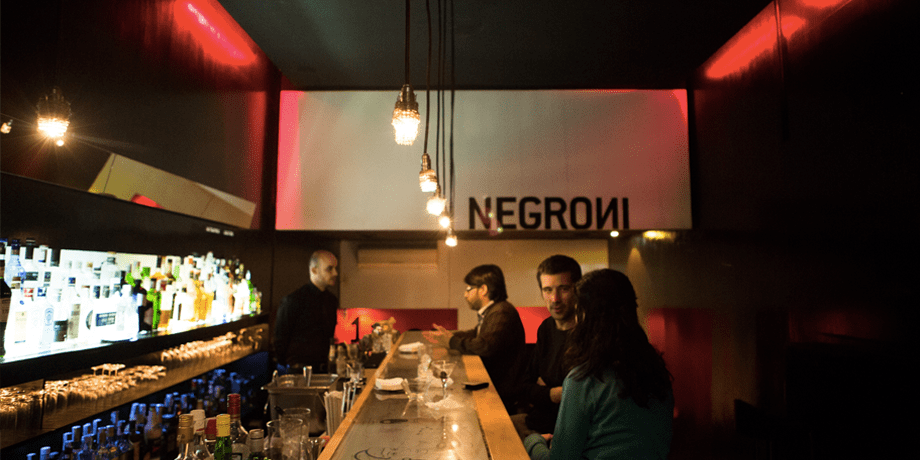 Negroni is, undoubtedly, one of the hottest spots in Barcelona's nightlife. Its main peculiarity is that it lacks a menu. For Negroni's staff, every client is a world full of adventures. They will be in charge of deciphering the enigmas of your palate to offer you a unique drink. All in a 100% bohemian environment. It is common to see artists, writers, musicians and other members of Barcelona's artistic scene there. Do you feel ready?
Address: C/ Joaquín Costa, 46 – 08001, Barcelona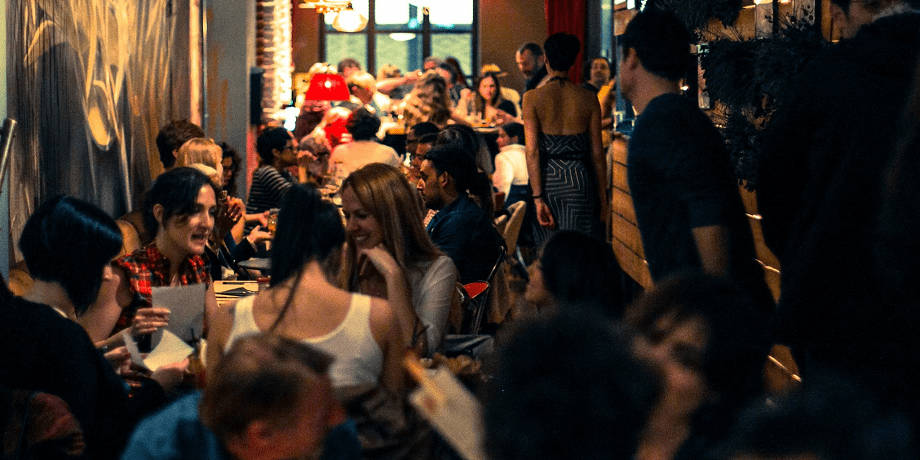 This is a classic. At Guzzo, you can have lunch and dinner, but the best plan is to order a cocktail while enjoying live music. Tuesdays are the perfect day to attend if you are looking for the latter, as it is usual for them to organize a jazz jam session on the second day of the week, always at after-work hours. Wednesdays are the day for after work on the terrace and Saturdays are the day for musical vermouth. Guzzo is a perfect bar to have the first drinks of the night before going to a club or disco.
Address: Pl. Comercial, 10 – 08003, Barcelona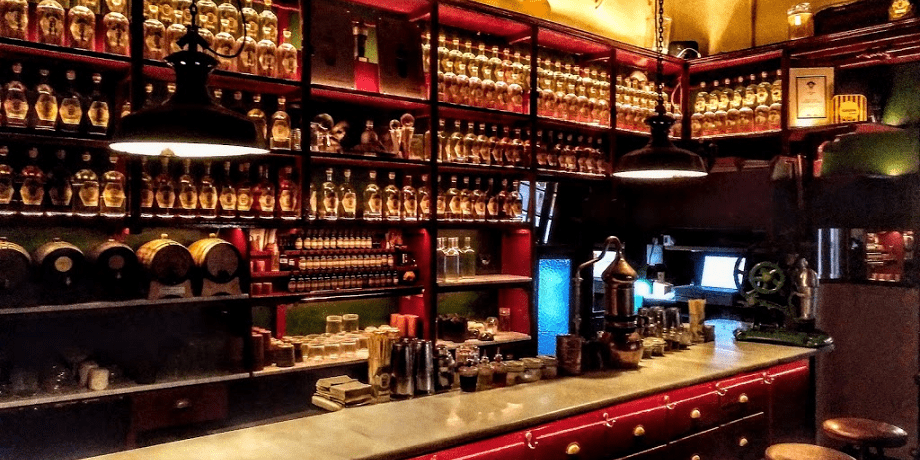 For many, the best cocktail bar in Barcelona. There is no ranking of the best cocktail bars in Barcelona that does not include Dr. Stravinsky in the top three positions -and, generally, in the first one-. It is hidden in the labyrinth of El Born and offers an endless list of cocktails, directed and designed by the great Antonio Naranjo. Distorting mirrors and other extravagant decorations make Dr. Stravinsky a 100% must-see in the city. A Dry Martini with truffle, please! Or rather a Camp Nou?
Address: C/ Mirallers, 5 – 08003, Barcelona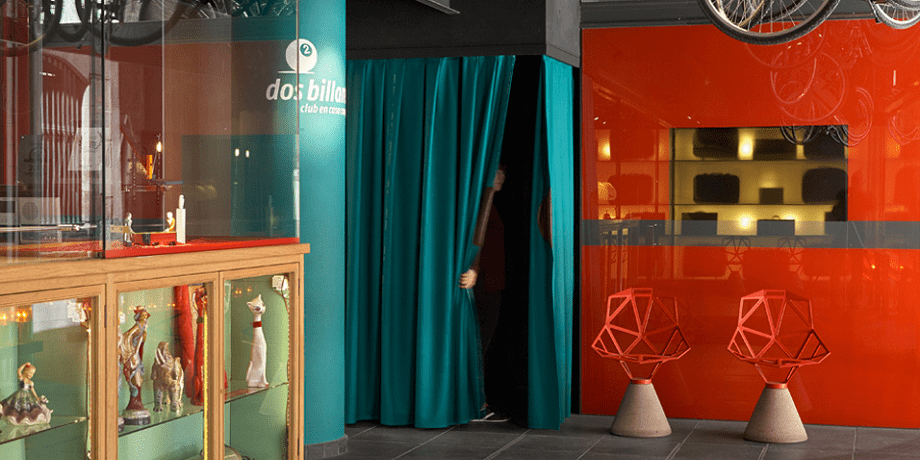 Every Barcelona resident will know the famous Casa Camper. What some may not know is that its basement hides Dos Billares, a hidden and clandestine cocktail bar that reminds us of mid-20th century Hollywood. Its own name suggests it: two billiard tables characterize the place. Archie, the bartender at Dos Billares, will be happy to greet you, ask you a few questions and decide on the cocktail that best suits your palate. And we warn you: he never fails.
Address: C/ Elisabets, 11 – 08001, Barcelona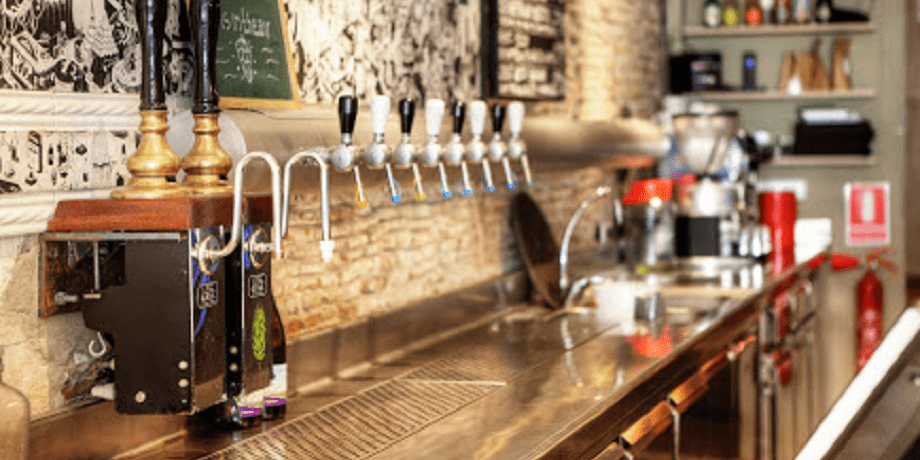 Are you a beer guy? This is your place. Ale&Hop is alternating between different types of beer from all over the world in its 10 shooters, always operational. You're not sure which one is yours? Come to this magic corner in the middle of El Born and let Ale&Hop and its expert staff make your taste buds fall in love. Do you want to add some snacks to it? Bet on their vegetarian tapas. You won't regret it.
Address: C/ Basses de Sant Pere, 10 – 08003, Barcelona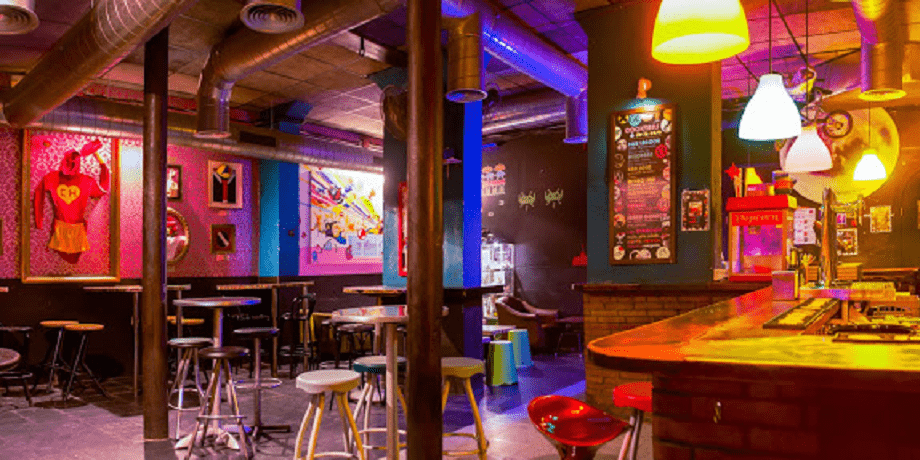 If you're looking for high-end and sophisticated cocktails… no, the Polaroid Bar is not your place. It's all very homey here. As its name indicates, the walls of the place pay homage to the famous instant print cameras, as well as other pearls of the 80's such as vinyls and VHS tapes. At the bar, you can grab a beer for one euro and look at loads of people who want to warm up for one of those intense nights in Barcelona. Do you want to get into a busy night? Then yes, Polaroid Bar is your place.
Address: C/ Còdols, 29 – 08001, Barcelona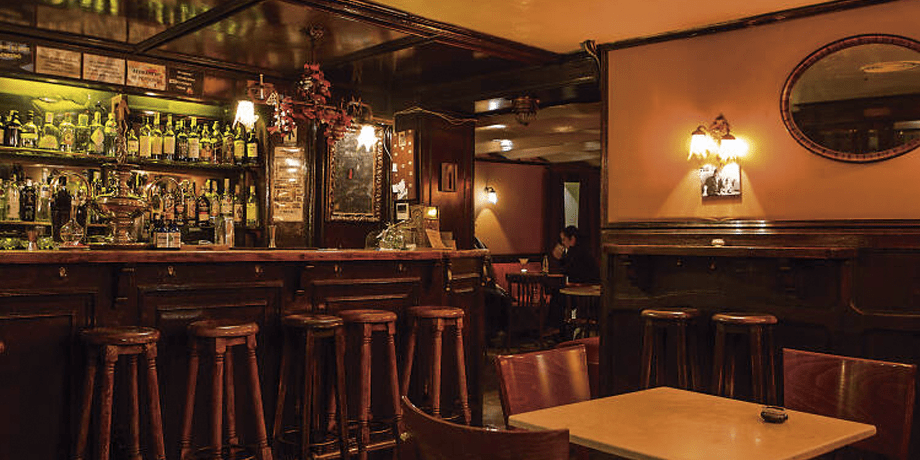 Do you feel like savouring a cocktail prepared with the greatest of affection while letting yourself sink into a classic style sofa with a reddish hue? Welcome to L'Ascensor, one of the few corners of Barcelona's Gothic quarter that still retains its original personality. You won't find super-loud music at all, but rather a relaxed, cosy atmosphere, ideal for a private conversation, whether serious or just for leisure. Ah! The bar is as classic as the rest of the place. High quality guaranteed.
Address: C/ Bellafila, 3 – 08002, Barcelona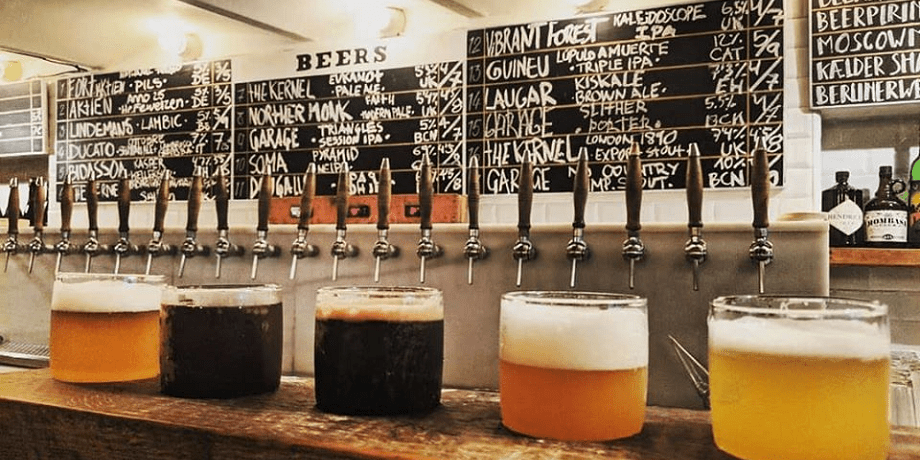 If someone from Denmark is reading us, they'll know what the picture is about. "Kælderkold" means "cold cellar" in Danish and we are in fact looking at a unique cellar, where La Rambla in Barcelona lets itself be enchanted by the charms of Danish beer. Wouldn't you have much of an idea of what to order if you were to travel to Copenhagen? Don't worry. The native staff of Kælderkold will know how to advise you and will serve you some of its 15 barrels in ideal conditions.
Address: C/ Cardenal Casañas, 7 – 08002, Barcelona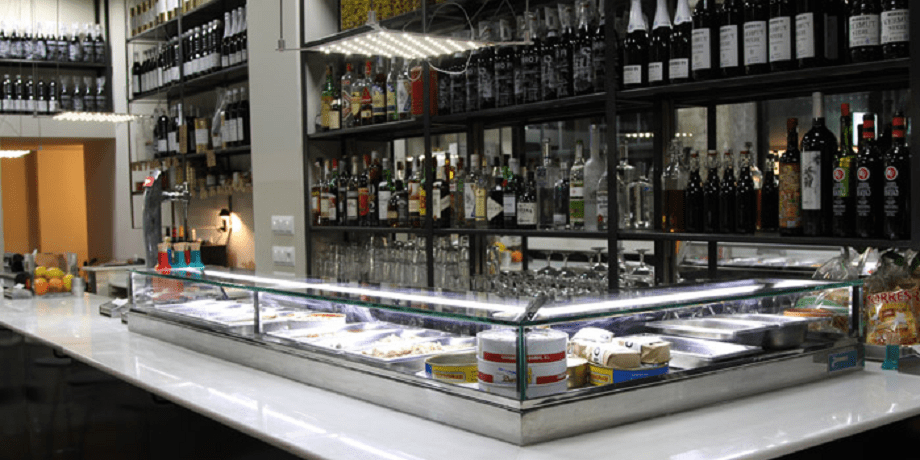 Half a life (that's what "Mitja Vida" means in Catalan). The neighbours of Sant Gervasi district already know well this mythical corner of Plaza Molina. Here, beer imposes its law, whether at a table with colleagues or in that legendary bar in the purest industrial style. If you feel a bit hungry, Mitja Vida will satisfy you with tapas from the sea, whether they are anchovies or squid. Is that noise your stomach roaring?
Address: C/ Brusi, 62 – 08006, Barcelona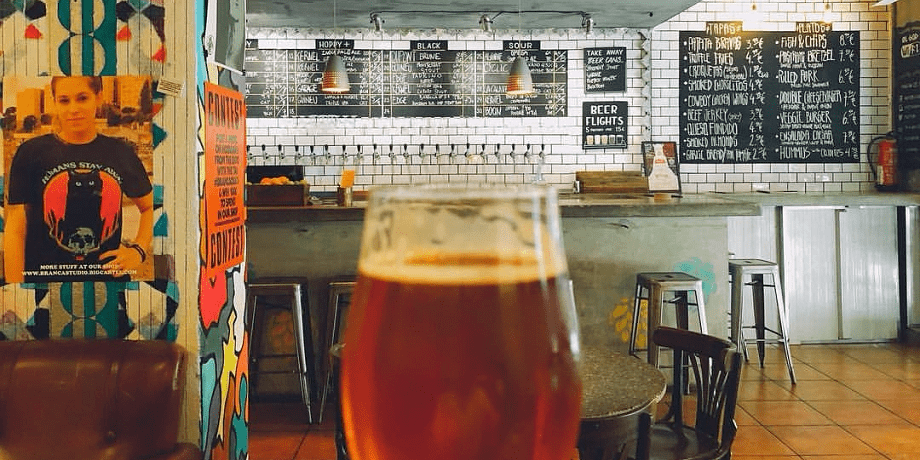 One more Danish heritage. Can you imagine a town called "god of beer"? That's exactly what Ølgod means and, yes, that's the name of a small town in Denmark. Amazing, isn't it? When you enter Ølgod – we are now referring to the artisan brewery in Barcelona's Raval – a Viking ship will welcome you. Behind it, nothing less than 30 taps with a great combination of Danish and Catalan beers, several tasting options and highly recommended veggie tapas.
Address: C/ Hospital, 74 – 08001, Barcelona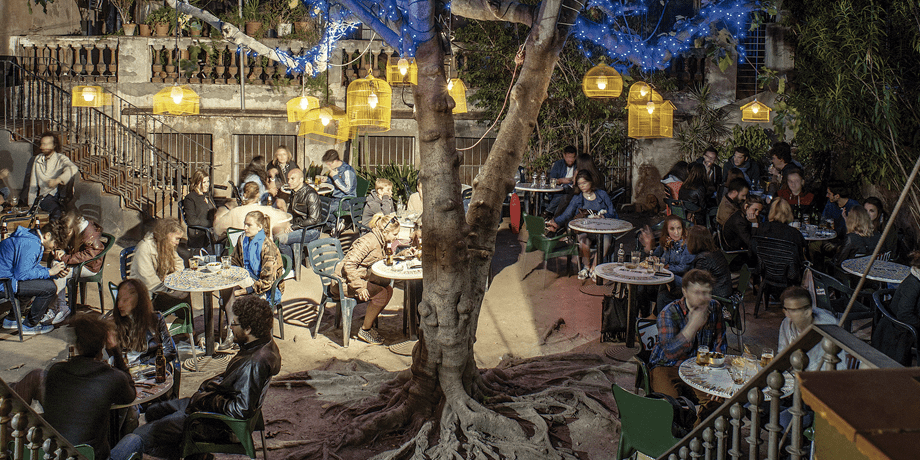 For those who say that drinking is not a good cause, here is the Antic Teatre to contradict it. Its bar is open every day, from morning to midnight, with the sole purpose of being able to finance its cultural activities (it is its main source of income). The Bar de l'Antic Teatre always offers a quiet atmosphere, with a magical interior terrace and garden. Don't go there with the intention of starting the party. It's not conceived for that. You can't book a table either. You will have to arrive, go to the bar, order whatever you want (breakfast, coffee, tea, snacks, sandwiches, juices, soft drinks, beers, cocktails…) and go out to the garden to get a table.
Address: C/ Verdaguer i Callís, 12 – 08003, Barcelona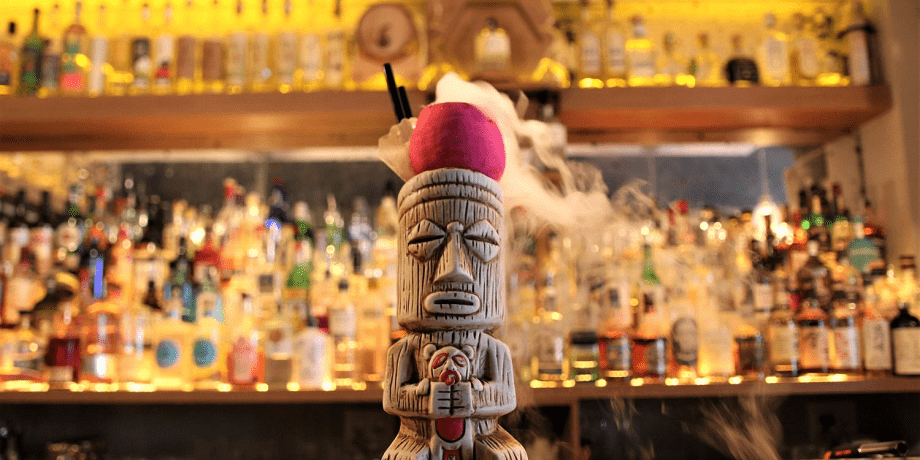 What will be the star drink of the Bloody Mary Cocktail Lounge? If you think it's the Bloody Mary… you're right (it wasn't too hard either). They have up to 10 different types of Bloody Mary on the menu and hundreds of thousands more in their imagination, which they improvise every day. Let yourself be surprised while his usual rock and jazz proposal runs through your veins. Located between the Gracia neighbourhood and the centre of the Diagonal Avenue, the Bloody Mary Cocktail Lounge offers high-quality drinks and original food in an especially quiet atmosphere.
Address: C/ Ferrer de Blanes, 3 – 08012, Barcelona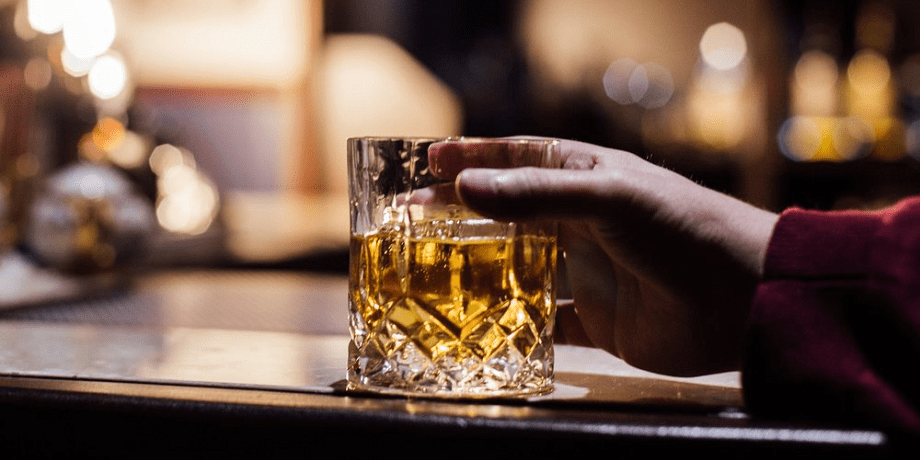 We know that sneaking into an illegal place always makes you feel hot. The Tuxedo Social Club hides behind a fake bookstore. There are no signs of any kind and only members can enter (although you can become a member right outside the door). If you've ever been to a party in Berlin, you'll know the rules: no pictures, no phone calls. The name of the club is in honour of its star drink, which is the original Tuxedo from 1882. Once, an expert from Barcelona's bars said that "the Tuxedo Social Club is a place to drink and to learn to drink". We couldn't agree more.
Address: C/ Gombau, 12 – 08003, Barcelona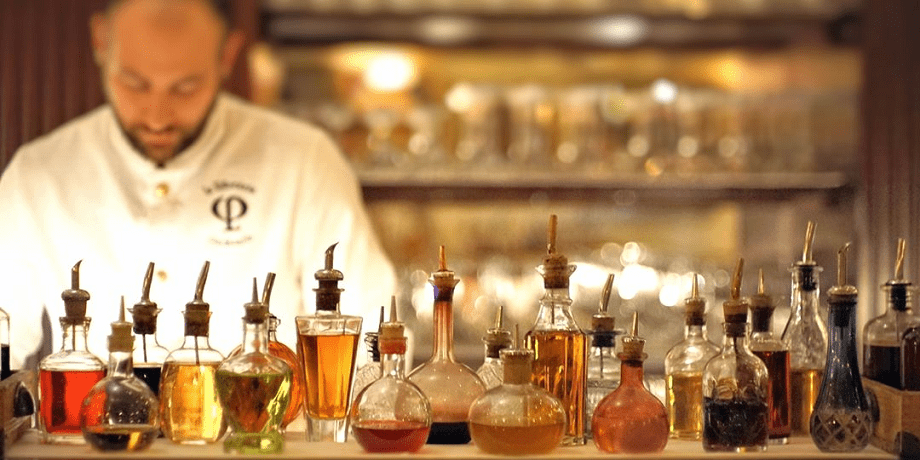 Les Corts, despite having one of the main attractions of Barcelona (the Camp Nou stadium), is not usually a neighbourhood especially visited by tourists or foreigners. This gives it a special charm, more local, authentic and traditional. One of its most beautiful squares is Plaça Concordia, near which you will find La Llibreria. It looks more like a 16th-century bookstore, as do the clothes and looks of its bartenders. Its menu allows you to travel around the world, discovering the flavours -some softer and others stronger- of each continent. This is an ideal place to surprise your partner or your friends, as long as your mood is calm. La Llibreria is not a place for scandals and pre-party moods.
Address: C/ Dr. Ibáñez, 24 – 08014, Barcelona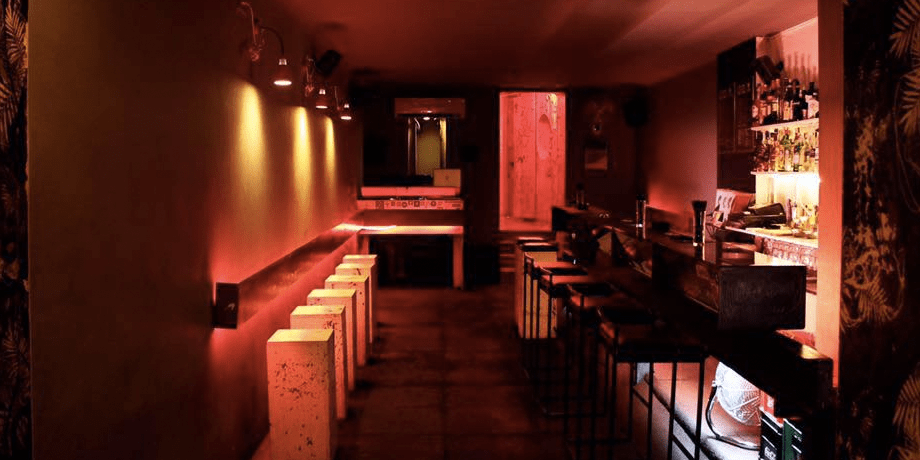 If someone in Barcelona tells you they love electronic music and the clubbing culture, but makes you hesitate, give them the ultimate test: ask them about Switch Pocket Club. In the heart of Gracia, you can find this small and cosy disco-bar with an underground air, which opens every night of the week. There are always DJs in charge of the music, and its bar is usually frequented by many of the great artists and DJs who live in the city. Without a doubt, Switch Pocket Club is the big secret of Barcelona's underground clubbing scene.
Address: C/ Francisco Giner, 24 – 08012, Barcelona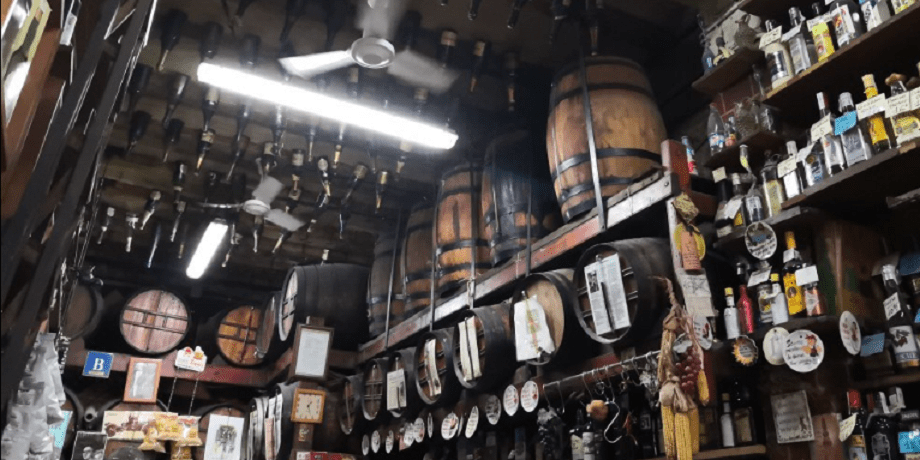 The Bodega E. Marín is a classic: this is one of the most authentic wineries in Barcelona. It is one of those places where the hours can fly by while you observe its details and history. It is a hundred-year-old winery, opened in 1916. At Bodega Marín, you can taste a wide variety of wines and vermouths. It is a very small place, which makes it also very special. You cannot miss its homemade tapas either, always at a very good price and difficult to find in other bars. We especially recommend their roe deer stew. Besides, you can order any of their drinks in bulk to take away, which is not easy to find somewhere else!
Address: C/ Milà i Fontanals, 72 – 08012, Barcelona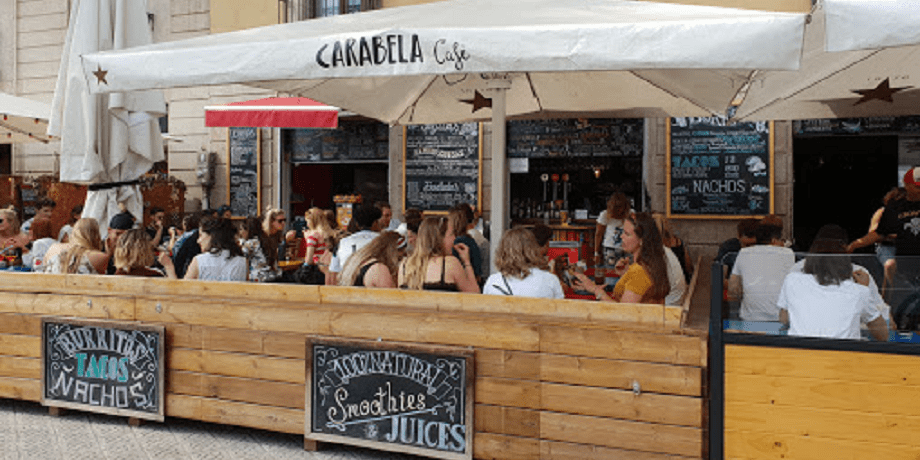 The magic triangle: the Barceloneta, El Born and the Gothic. And, where they all connect, stands the Carabela Café, a Tex Mex bar & restaurant very popular among ex-pats (foreigners living in Barcelona). With a spacious open-air terrace (which also opens in winter, pulling in heat and awnings), Carabela is filled every night with young and international crowds. Groups of friends gather here for a few beers (don't miss out on the many Mexican beers available), micheladas, margaritas and, if you get hungry, burritos, tacos, nachos and anything else a good Mexican might crave.
Address: Pas de Sota Muralla, 3 – 08003, Barcelona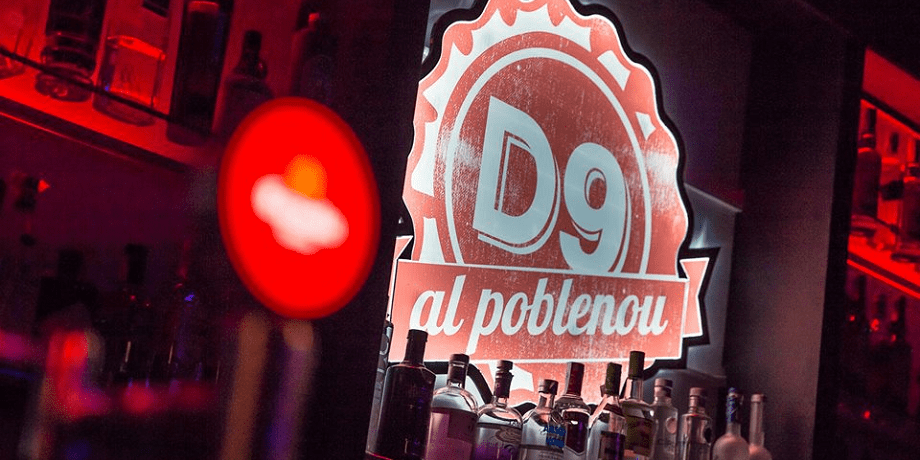 Does it look like you're in for a long night? The D9 is one of those bars that are great for pre-parties before going to a club or disco. Its atmosphere is 100% young (and, on nights like Wednesday or Thursday, it is especially student-friendly) and, therefore, its prices are very affordable and adapted to the wildest subsistence economies of Barcelona's nightlife. It is very close to the famous Razzmatazz, so if that is your final destination, a visit to the D9 is always a good idea. If you arrive before 11 pm, you can even order something to eat, such as a sandwich or some chicken wings.
Address: C/ Pallars, 122 – 08016, Barcelona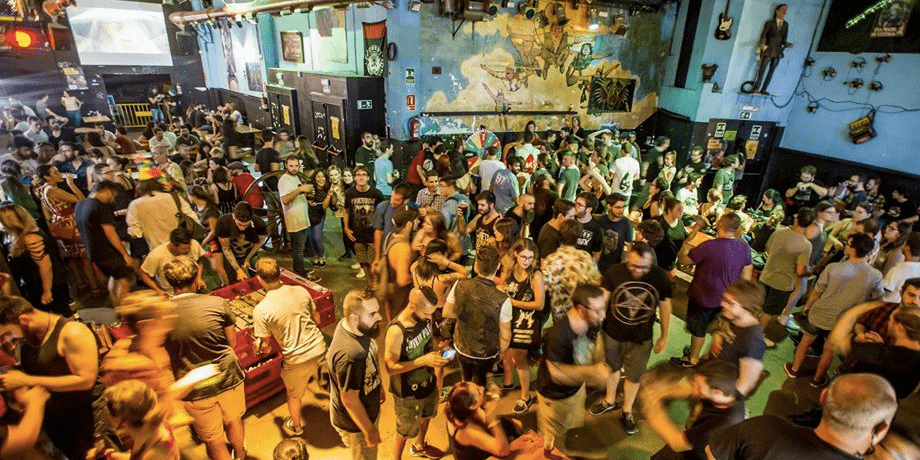 Poblenou is the neighbourhood where the vast majority of Barcelona's technology business conglomerate is located, especially due to its tech district, known as 22@. There, in the heart of the Poblenou district, is the Dixi 724, a classic of the area. We are talking about a large bar, easily recognizable by the small plane hanging from the ceiling. Its atmosphere, like that of most bars in the neighbourhood, is youthful and easy. For this reason, Dixi 724 is an ideal bar to warm up before going to one of the nightclubs or discos in the area.
Address: C/ Pallars, 115 – 08018, Barcelona
"We are the day and the night" and "we are what we eat". With these two statements, Ethniko Barcelona was introduced to the city when it was inaugurated in May 2019. During the day, Ethniko is a bar/restaurant. At night, it mutates into a cocktail and drink bar with a dance floor and DJ booth. Its atmosphere is young and cosmopolitan, it maintains a certain hipster and cool touch, as is the music that is usually played there. Local DJs from the city, generally of deep house, ethnical and derivative styles, frequent its booth. Ethniko is a coordinate to keep in mind for the first beats of a party night in Barcelona. In their restaurant, their focus is the famous Mediterranean Diet. As they themselves say, "not because we are in Spain, but because, over the centuries, it has been proven to be the healthiest diet in the world".
Address: Pg. Joan de Borbó, 74 – 08039, Barcelona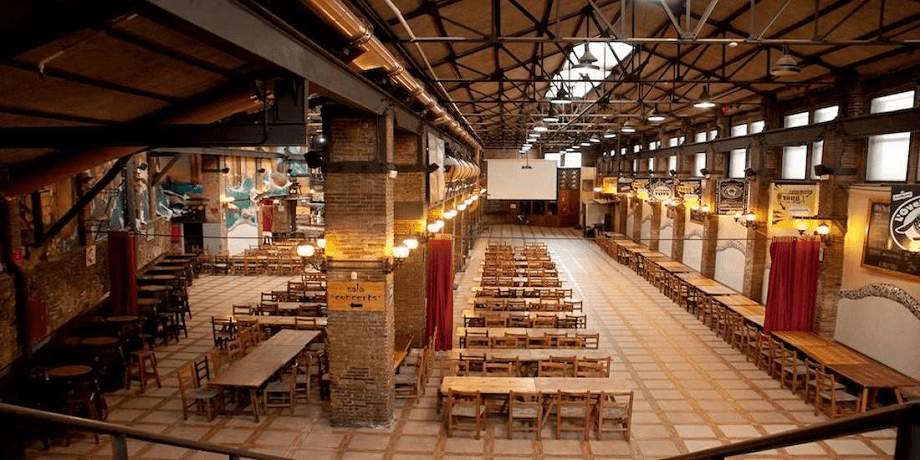 If we were asked about ONE bar to go to in Barcelona before going to a club, we would always recommend L'Ovella Negra. It's… not a classic, but even more. It is a must, a place of worship for the master brewers of Barcelona. L'Ovella Negra is a macro-brewery of large dimensions, long tables and high ceilings. Beers, drinks, a little dinner, music and noise in the background, and you'll be ready to go to the disco you choose (Razzmatazz is just five minutes away by foot). Ah! And its prices are not expensive at all. Hard to sell it better, right?
Address: C/ Zamora, 78 – 08018, Barcelona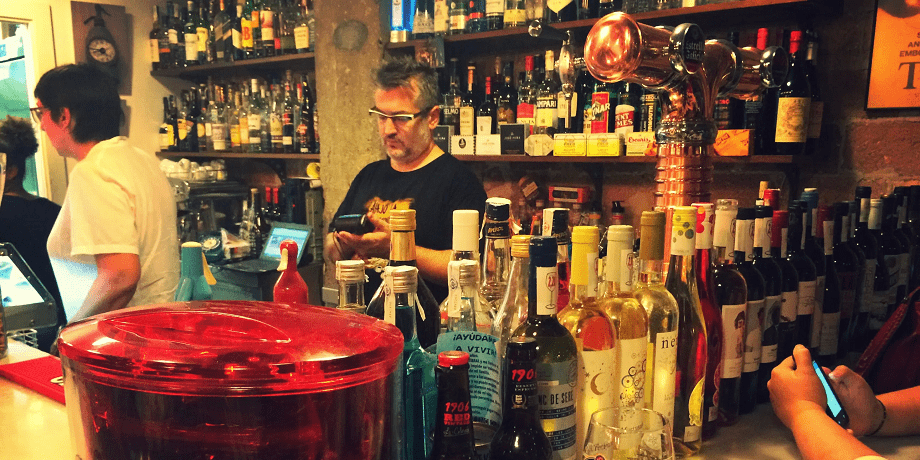 Many people think it is the pa amb tomàquet or the patatas bravas, but the truth is that one of the most popular hobbies of Barcelona is the weekend vermouth. Whether on Saturday or Sunday, going to Senyor Vermut at the time of the vermouth is a real odyssey. In that apparently harmless corner of the left Eixample, you can find one of the best vermouths in Barcelona (if not the best). Obviously, if you prefer to opt for a beer or any other type of drink, Senyor Vermut will satisfy your needs. Even if you have a strong appetite, you can try any of its many types of croquettes, its pimientos del padrón or its… yes, patatas bravas.
Address: C/ Provença, 85 – 08029, Barcelona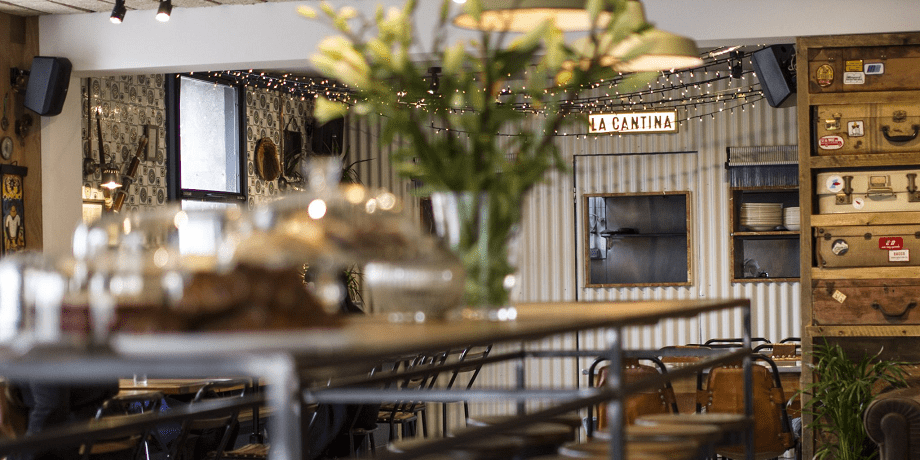 In Barceloneta, and very close to the sea, you will find one of the best ex-pat environments in Barcelona. Mr. Robinson is very close to the metro station. Its restaurant hours do not leave anyone hungry, but it is its bar facet that has made it a reference for the thirty-something foreigners living in the city. Loud music, sometimes even with a DJ, young and trendy people, and a passion for partying is widespread. Mr. Robinson always tempts. And it never disappoints.
Address: Pla de Palau, 16 – 08003, Barcelona
(Cover Image: © Alexander Popov on Unsplash)
59