Electronic music in Barcelona sounds louder than ever on Wednesdays at Opium. Since several seasons ago, that is the day of the week destined by one of the most famous clubs in the Port Olímpic area to the mainstream electronic music scene. The WEDJS sessions count and have already counted with some stars such as Martin Garrix, DJ Tiesto, DJ Sneak or even David Guetta. Although some of them have been great in the history of pure genres, like trance, all of them currently belong, without a doubt, to the scene of what is popularly known as EDM (electro-house and commercial dance). However, on August 8th, it was the day in which even the defenders of the alternative sound fixed their eyes on Opium; he visited Eric Prydz's residency at Hï Ibiza the previous night and was going to perform at Medusa Beach Festival next weekend, so the Canadian Deadmau5 didn't lose the opportunity to visit WEDJS.
Joel Thomas Zimmerman (that's his real name) has been a revolutionary. His particular vision of electronic club music and particularly electro genre has led him to be one of the key artists in the evolution of both modular sound and production. We are talking, without a doubt, about one of the best producers in history. With his red mouse head with eyes and mouth lit in bright green, the superstar appeared on the scene at 2:30 am. For 45 minutes, he opted for techno music, something totally unexpected by most of the attendees who crowded the venue. There was no space for more people. Reaching the front rows was impossible. There, the most dedicated fans waited to hear his idol's best pieces, something that, in that point, didn't seem like it was going to happen.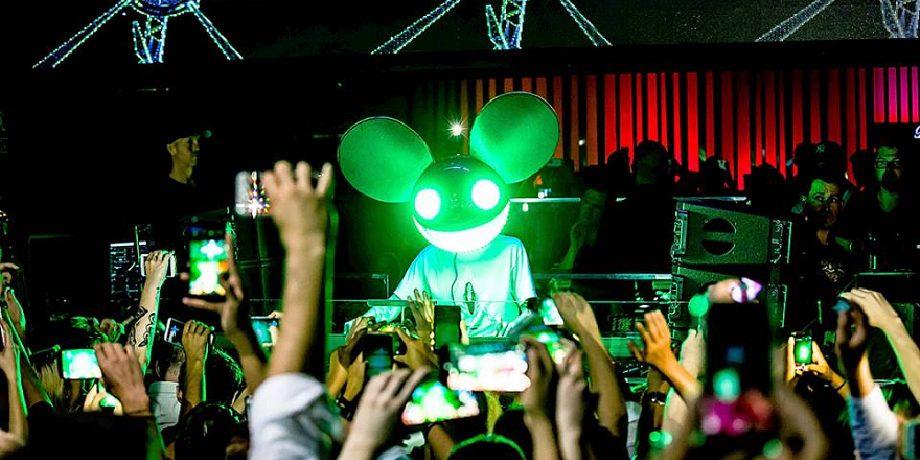 'A Further Existence', by Enrico Sangiuliano, was the only track we could recognize during those first 45 minutes in which the selection proposed by Deadmau5 didn't dazzle an audience that was waiting for him almost hysterically and that, little by little, was going down, getting asleep by those techno rhythms to which it wasn't used at all (everybody could notice it easily). As if it was scheduled (maybe it was), after 45 minutes, Deadmau5 changed radically. A surprising mix that combined the Stephan Bodzin's remix of Pan-Pot's 'Sleepless' with the Deadmau5's 'I Remember' co-produced by Kaskade made hundreds of smartphones to be raised to the sky (some even with the flash activated) to record the moment on their reels. It was Zimmerman's first big hit. It was what the people had gone to see. It was what the people wanted.
From that moment on, the Deadmau5's sound didn't leave us. One after another, as if it were a predesigned playlist, his different biggest releases sounded. 'Monophobia' was probably the flattest of them all. On which was the one that took the audience to the highest point there is no doubt: 'Ghosts' n Stuff'. Rob Swire's vocals, who had already appeared in 'Monophobia', caused a thunderous shouting around us. There was no one there who didn't know the lyrics by heart; we lived a show with 100% purest concert style. There were still 15 minutes left, but Deadmau5 ended his work and left in the player the extended version of 'Strobe', which has a similar duration.
It finished thus a not very convincing performance, in which Deadmau5 tried to surprise with techno, first, and to make sure the shot, later. With the first, he didn't cause a great sensation nor was able to string together a musical narrative that engaged the audience properly. With the second, he managed to get the great audience there, mostly inexperienced and unattentive, to take a few leaps, lose the voice and go home satisfied. So was the night with Deadmau5: peculiar, strange, complex, difficult to understand. As is he as a whole. A unique guy.
(Cover Image: © Opium Barcelona)
1