Every year, tens of thousands of people from five continents are left at the door of the greatest experience of their lives. After few minutes, Tomorrowland sells its 180,000 weekly full-weekend passes (the three-day format is repeated in the last two weeks of July in the holy grounds of Boom, a town located almost halfway between Brussels and Antwerp). We're talking about more than 350,000 people who enjoy an unparalleled experience every year, in which the best electronic music of all (yes, all) genres converge in 16 stages (none of them, by the way, spares production expenses). Tomorrowland offers those lucky ones a complete trip to a fantasy world in which the mainstream DJs play the main role.
Until now, those who couldn't attend the festival had no choice but to follow it via streaming from home. But, since last year, the UNITE with Tomorrowland initiative brought Belgian madness to many countries around the globe. Barcelona was the Spanish city chosen by the organizers. On this next Saturday, July 28th, the Parc de Can Zam, located in Santa Coloma de Gramanet (city adjacent to Barcelona), will once again take fans from all over Spain to the hills of the most demanded electronic music festival.
Afrojack, Armin van Buuren and Dimitri Vegas & Like Mike, via satellite
These are the three names that will connect live with the festival in Boom. The first of them will be the Dutch Afrojack, who will act from 8:50 pm to 9:50 pm. Nick van de Wall has been on the top of electro-house and Dirty Dutch music for more than 10 years. Both genres take EDM to an accelerated range marked by sharp and demanding sounds. From 9:50 pm to 10:50 pm, the relay will be carried out by his compatriot Armin van Buuren, the greatest referent of European trance music and a regular at the festival. Finally, from 10:50 pm to 11:50 pm, the residents and ambassadors of Tomorrowland, the Belgians Dimitri Vegas & Like Mike, will offer their house and big room sounds to the whole planet from the great hills of Boom. In addition, visual effects and pyrotechnics will also be completely synchronized!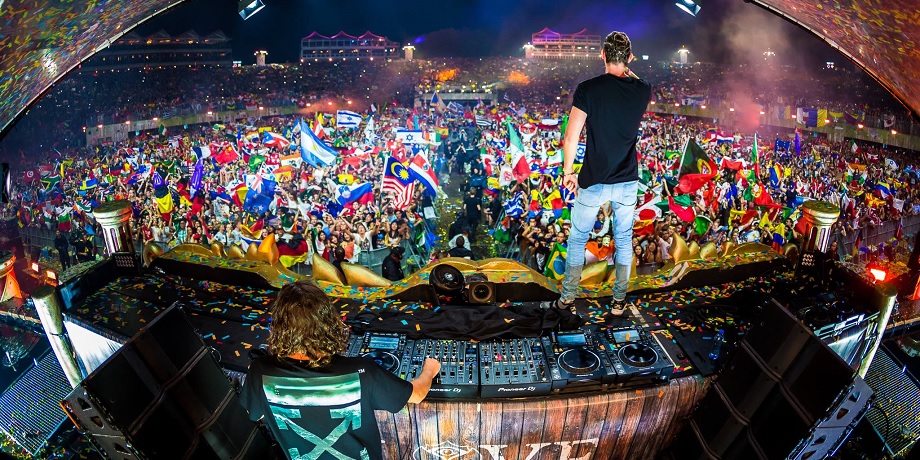 But Barcelona will not only dance for three hours. In addition to that satellite connection, UNITE has prepared us up to 9 hours of live music. From 3:00 pm until 3:00 am, the Parc de Can Zam will jump, shout and dance with DJs who have already performed in this edition of Tomorrowland, such as the Dutchmen Quintino and Yves V, the Swede Steve Angello and the idol of masses Steve Aoki. Galantis, Kungs, Double Pleasure, Ofenbach, Albert Gonzalez and the b2b by Albert Nevé and Abel Ramos complete the line-up of a day that will be recorded forever in the memory of Barcelona and in the golden books of this paradise called Tomorrowland.
Where: Parc de Can Zam
When: Saturday, July 28th
Lineup: Afrojack, Armin van Buuren and Dimitri Vegas & Like Mike (satellite connection) + Quintino, Yves V, Steve Aoki, Galantis, Steve Angello, Kungs, Double Pleasure, Ofenbach, Albert González and Albert Nevé b2b Abel Ramos
(Cover Image: © Tomorrowland)
0