Plaçeta, Fabeles and Casa. These are the names of the three stages that will make Vila Habana the paradise of any dancefloor music lover located around Barcelona this weekend. MO_BA is born, a micro-festival with a boutique format that proposes two 16-hour days in which a curated, select and very alternative artists selection attracts the attention of those most demanding clubbers. Vila Habana is a colonial Cuban style house, located in a 100% natural environment, surrounded by greenery, forest and mountains, but which is only 20 minutes away (by car, train or bus) from the centre of Barcelona. There, from 2 pm on Friday, the three stages await us with their L-Acoustics sound and an ideal decoration so that our senses can fly freely. It is an extensive and complex line-up full of names that may not be familiar to the general audience, so let's try to put some light over the MO_BA program.
These are the 4 'MUST' on Friday
We could discuss it, but we do believe that four names are above the rest on MO_BA's first day. By timetable order, the first is the Dutch San Proper. It's the greatest DJing star in Amsterdam; it's impossible for a Dutch clubber not to recognize his face, his appearance, his always peculiar way of dressing and acting. As unpredictable is his behaviour as his musical selection. Who could be similar to his style? Nobody. Dr San Proper is unique and unrepeatable. He's not used to acting nearby Barcelona, so MO_BA is, without a doubt, a unique opportunity to meet him in person and see him (also, very closely) live. Take care because his set starts at 8:30 pm on Friday at the Fabeles Stage!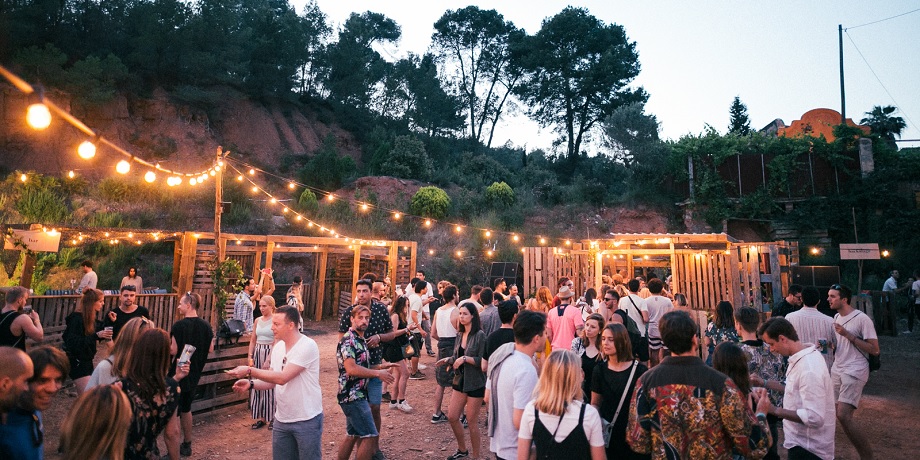 In that same stage the day will get closed by Rebolledo (from 12:30 am to 2:30 am) and DJ Seinfeld (from 2:30 am to 4:30 am). Rebolledo is a good friend of Maceo Plex. He has published much of his stuff on Ellum and he's half of the acclaimed duo Pachanga Boys. He dominates lo-fi house, nu-disco, deep genres and house music in general with enviable self-confidence. About DJ Seinfeld, few things haven't been said yet. Maybe you've seen him out there like Rimbaudian or Birds Of Sweden (his two other aliases). Deep house, acid house, breakbeat, jungle… From 124 to 130bpm, the Swedish selector always finds the ideal moment to strike a blow that leaves the crew frozen. We're talking, without a doubt, about one of the great hidden talents of the international scene, a guy who, based on divine equalization, manages to be emotional and aggressive in equal parts.
With him, the party won't be ended. The Fabeles Stage will begin its rest at 4:30 am, but the Plaçeta Stage will remain active until 6 am with Tama Sumo. The German DJ has been playing discs around the globe for 25 years and, mainly, in Berlin. It's not by chance that she is a Panorama Bar resident and that she has published music in Ostgut Ton (both, Berghain's marks). Whenever Berlin's industrial underground rhythms reach Barcelona, the darker souls of the city awaken and concentrate around them. MO_BA won't be an exception. MLiR's, Wrong Therapy's and Joakim's (in the Plaçeta) and Lovefingers's (in the Fabeles) are other notable performances. Much of the local talent convened will have its place in the Casa Stage.
Saturday is the big challenge
If you miss out Wrong Therapy on Friday, don't panic. On Saturday, he repeats from 10 pm to 12:30 am at the Fabeles Stage. Although, there, two shows need special attention, without detracting, of course, Virginia's closing. First of them is the one by the collective Horse Meat Disco. Its own name already clears doubts: disco, funk and even house rhythms (if the dancefloor claims it) is what this group of British collectors and music lovers will bring to MO_BA between 7:15 pm and 10 pm). Tiger & Woods won't go so far from there at the same stage. Larry and David form one of the best-positioned duos regarding melodic house and dance-soul productions. Their turn will go from 12:30 am until 2:30 am.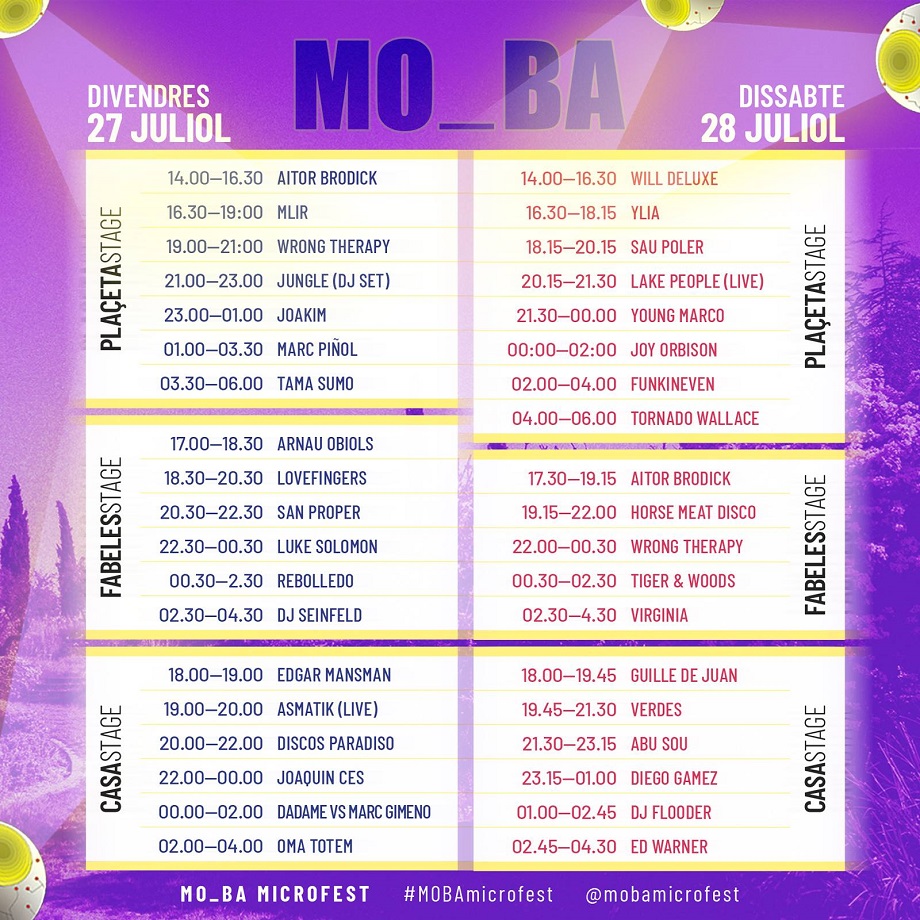 The problem will be to organise the planning in order to not miss out al what happens at the Plaçeta. After the warm-ups by Will Deluxe and Ylia (this last one is one of the most outstanding emerging talents of our city), the also local Sau Poler will delight the MO_BA audience with its succulent and deep melodies with high emotion and feelings (it will be between 6:15 pm and 8:15 pm). It's a perfect name before getting carried away by the excitement of Lake People's live act. We would dare to call it deep house if it weren't for the fact that even the word "house" is too aggressive for the floating musical journey in charge of this German performer. His show will go from 8:15 pm until 9:30 pm.
Eclecticism is the word that best defines and encompasses the four guys in charge of closing the Plaçeta Stage. The Dutchman Young Marco (9:30 pm to 12 am), the British Joy Orbison (12 am to 2 am) and FunkinEven (2 am to 4 am) and the Australian Tornado Wallace (4 am to 6 am) have extensive collections both analog and digital, which allows them to adapt with mastery to the crowd's demands. MO_BA's atmosphere will be first level demanding, avoiding recurring sounds and always looking to discover something new. It's exactly for this reason that seeing these four contrasted DJs in such a situation and in an extended format (all sets last, at least, 2 hours) is a maximum interest claim. The Xceed crew will be giving everything in the first rows of the different stages and… yeah! We hope to see you all!
DAILY TICKETS AND FULL PASSPORTS
(Cover Image: © Vila Habana)
0